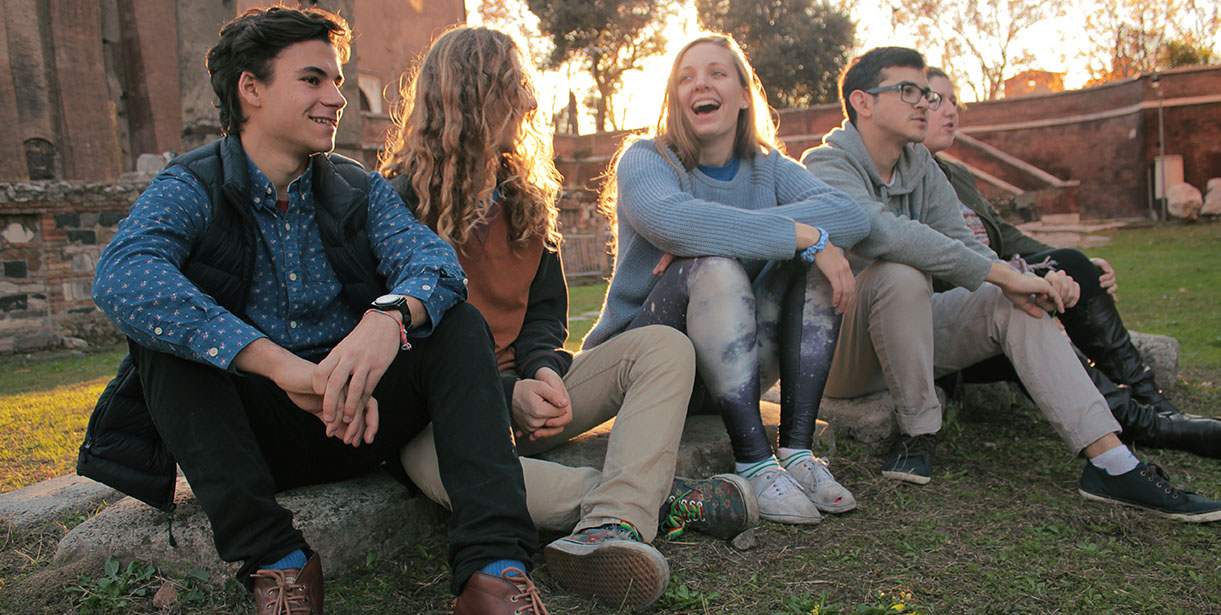 Meet UD World Scholars
The World Scholars community is 800+ strong and growing. The members of the Class of 2026 represent 38 majors, 7 Colleges, 31 Honors students, and 16 states and territories.
Meet some UD World Scholars below and email us at go-global@udel.edu for an opportunity to meet with current World Scholars.
Samaij Sanders
Class of 2023
Major:
Meteorology & Climatology
Study Abroad Destination:
Greece
"I thought I knew myself, but being immersed in the World Scholars program allowed me to discover additional characteristics that I didn't know I had, such as adaptability within dynamic environments and an ability to lead in these settings."
Shawn Temple
Class of 2022
Major:
Energy & Environmental Policy 
Study Abroad Destination:
New Zealand
"Being a member of the World Scholars community has greatly impacted my college experience in all the best ways. It has given me a strong sense of community and allowed me to form relationships with other Scholars and International Students."
Morgan Kline-Hill
Class of 2022
Major:
Elementary Teacher Education
Study Abroad Destination:
Italy
"I think what makes Worlds Scholars so special to me is that the program allowed me to be independent and navigate an entirely new atmosphere, but with a huge group of amazing people who are supporting you, abroad and here at home." 
Ryan Doyle
Class of 2021
Major:
Honors Music
Study Abroad Destinations:
Bulgaria, France, Spain
"As a Latin American student looking to explore my family's heritage, this program has been invaluable. As a young American hoping to have an international career, the opportunity to live abroad and interact with other cultures is even more important."
Karelin Torres
Class of 2021
Majors:
Anthropology & Spanish Studies
Study Abroad Destinations:
Argentina, Spain
"The World Scholars Program has allowed me to experience adventures and cultures that I might not have been able to otherwise, and has allowed me to realize what I really want to do with my life-- volunteering."
Grant Mobley
Class of 2021
Major:
Economics
Study Abroad Destination: 
Spain
"Through my semesters abroad and programming on UD's campus, I have gained the ability to adapt to any situation and thrive in new environments. I have also gained my closest friends and a family that will support me anywhere I go."
Caitlin Rulli
Class of 2020
Majors:
Honors Nutrition and Dietetics
Career:
Dietetic Intern, Montclair State University
Study Abroad Destinations:
Spain, Italy
"Over the years, I have learned how to challenge myself, how to get out of my comfort zone and how to take advantage of every opportunity - not to mention the amazing places I've traveled to and people I've met."
Matthew Anderson
Class of 2020
Majors:
Honors Three Languages, English
Career:
Fulbright English Teaching Assistant (Taiwan)
Study Abroad Destinations:
Spain, China
"The program has allowed me to immerse myself in different languages and cultures, make local connections, and understand 'foreign' places on their own terms, as a part of today's world where interconnectivity does not always mean a global sense of community."
Leah Manfra
Class of 2020
Major:
Communication
Career:
Assistant Manager, Tokyo Steakhouse
Study Abroad Destinations:
Italy, China
"Living in iHouse my sophomore year was a fantastic experience because I was able to learn about Chinese culture from the international students who lived on my floor. This was a perfect segue to my study abroad in China."
Vincent Curatolo
Class of 2019
Major:
International Business Studies
Career:
Project Management for Bank of Tokyo 
Study Abroad Destinations:
Italy, Czech Republic
"On campus, I joined globally-focused organizations, enhanced my language skills, pursued international internships and met people from around the world. These experiences were not only fun, but led to me landing a job at the Bank of Tokyo."
Megan Pacitti
Class of 2019
Majors:
Linguistics and Spanish Studies
Career:
Fulbright English Teaching Assistant (Brazil)
Study Abroad Destinations:
Italy, Spain
"As a World Scholar, I learned about Fulbright as soon as I arrived to campus and immediately knew I wanted to apply. I've taken courses in three languages and have been exposed to many teaching styles around the world."
Aubrey Inkster
Class of 2019 
Majors:
Plant and Soil Science and Anthropology
Career:
NSF research in Urban Ecology
Study Abroad Destinations:
Italy, Argentina, Panama, Morocco
"Since our first semester in Rome, we've all grown in our own ways. While we don't see each other as often, we're still close. It's nice having that niche you belong to, and even within that there is a spectrum of people. It's beautiful seeing how everyone fits."
New Journeys for First World Scholars
Thirty students turned the tassel on their graduation caps on June 1, 2019 and became the first graduates of the University of Delaware World Scholars Program, a distinctive four-year global experience.  
The Class of 2019 earned degrees in 23 majors, pursued more than 20 minors and studied on 6 continents. Equally important, the students left the University with a new understanding of the world — and themselves.