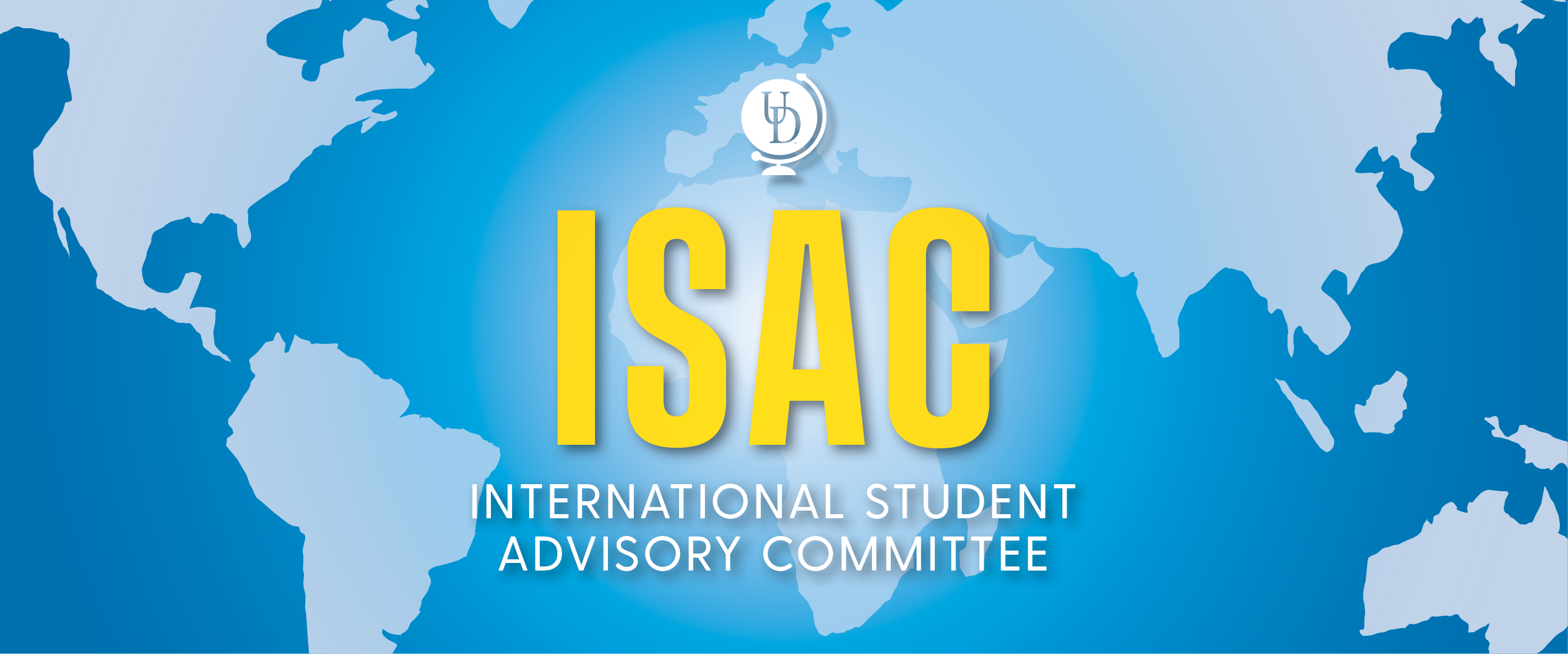 The International Student Advisory Committee (ISAC) is designed for students looking to play a leadership role in representing the international student voice and perspective. 
 
By joining ISAC, you will help CGPS' mission of promoting and facilitating intercultural understanding and global awareness at the University of Delaware while participating in opportunities for your personal and professional development. ISAC members are selected by CGPS through a competitive process.
Represent the international student body as needed in campus focus groups and other assessment projects.
Maintain open channels of communication among international students, international student groups/organizations, and OISS and University officials.
Provide a forum for discussion on issues affecting the international student experience at UD.
Serve as the International Orientation Student Leaders for undergraduate and graduate international orientations in late August - September
Support CGPS's engagement initiatives through programs such as the International Coffee Hour as well as other cultural and service initiatives.
Participate in the development and implementation of CGPS programs, events and educational workshops.
ISAC Membership Expectations & Benefits
Membership Expectations
Members are a diverse group of current UD international undergraduate and graduate students. 
Members are volunteers and are selected through a competitive application process.

Members serve terms for one academic year (fall and spring semesters).  

Members are not expected to volunteer more than 30 hours a semester.

Members can re-apply to join CGPS ISAC for additional years.
Membership Benefits
Lead in connecting CGPS, international student organizations and campus and community resources at the undergraduate and graduate level.   

Guide strategic decisions regarding the international community at UD and help new international students integrate into the campus community.

Meet with CGPS leadership at luncheons with the Associate Deputy Provost, Ravi Ammigan and other University officials.

Receive a letter of recommendation for service and contribution to CGPS and UD.
Past Activities
Meet with Associate Deputy Provost of International Programs to discuss campus services
Represent international student body on student panels and resource tables at UD events
Help welcome new international students at Fall and Spring International Student Orientations
Share cultural activities with families staying at the Ronald McDonald House in Wilmington
Help clean up litter during City of Newark events
To Qualify and Apply
To qualify for ISAC, applicants should be at UD for at least two academic semesters and maintain a GPA of 2.8 or above. Applicants should attach a resume or CV to their application. Applicants will be invited to interview with CGPS to discuss their expectations and vision of leadership for the international community.