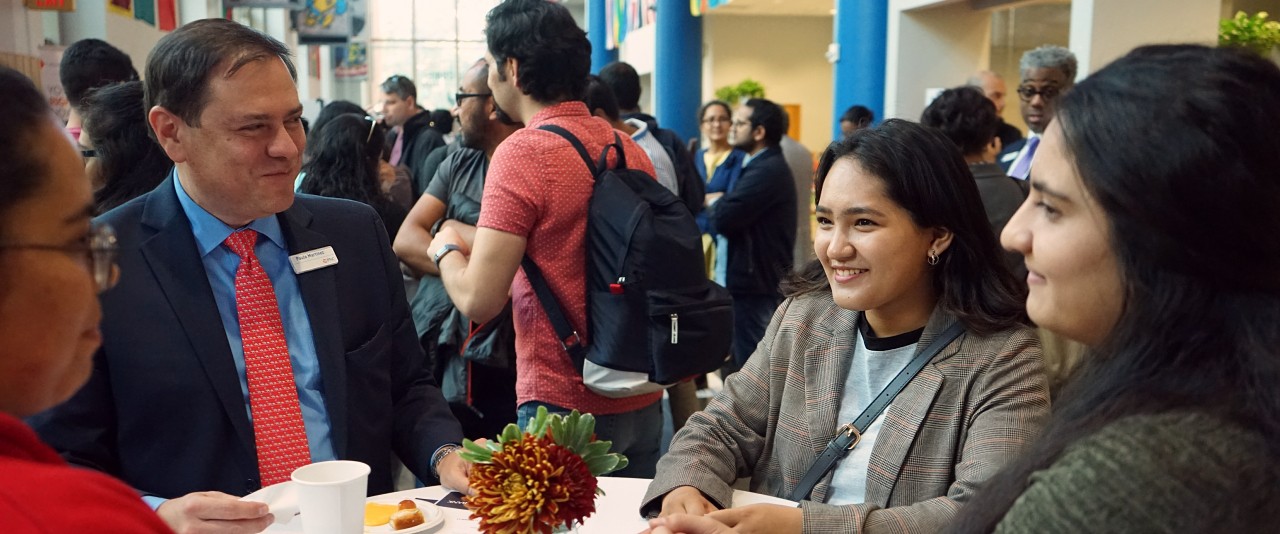 Hosting H-1B Employees
When hiring foreign nationals to work for the University of Delaware, it is strongly recommended departments contact CGPS as early in the process as possible.
If you might be sponsoring a foreign national for H-1B status, to assure there will be no delay or interruption in employment, contact CGPS at least six (6) months prior to the desired start date or expiration of the foreign national's current immigration status.
Please note that immigration regulations are subject to change and can vary depending on the particular case or situation. Always consult CGPS for the most accurate information. CGPS is here to help you and your employees navigate the immigration process.
The H-1B visa category is for foreign nationals who are offered temporary employment in the United States to render services in "specialty occupations."
Employment Offer: An offer of employment is required from an U.S. employer who must file the petition, pay the foreign national regularly, and supervise the foreign national's work. A foreign national cannot self-petition for an H-1B visa.

Temporary: H-1B employment must be temporary, even if the foreign national is coming to the university to fill a permanent position.

Specialty Occupation: The foreign national must be coming to the U.S. to work in an occupation that requires (a) theoretical and practical application of a body of specialized knowledge, and (b) a bachelor's or higher degree in a field related to the occupation.
H-1B status is employer and position specific. Employment is limited to work for the sponsoring H-1B employer and work in the position specified in the H-1B petition. If the University of Delaware is filing an H-1B petition for a foreign national, unless and until a different employer files an H-1B petition, that employee may only work for the University and only in the position specified in the H-1B petition. If the employment changes in any material way (such as a significant change in job duties, location, full or part-time, etc.), CGPS must be informed. CGPS will review the change and determine whether the change requires an amendment to the H-1B petition. If an amendment is required, it must be filed before the employment change takes effect.
Example 1: Foreign national working for the University of Delaware as a post-doc in the Department of Biological Sciences is offered a post-doc position at a different university. New employer must file a new H-1B petition.

Example 2: Foreign national working for the University of Delaware as a Research Associate II in the College of Engineering is offered a position as a Lab Manager in the same department. Material change in employment–new position. Contact CGPS before change takes effect.
In order to file an H-1B, the University must offer the foreign national a wage equal to or exceeding the required wage for the position. For more information about the required wage, including how CGPS arrives at the actual wage, prevailing wage, and required wage, please see the "Required Wage" section below.
Many potential H-1B employees have previously been in the U.S. in J exchange visitor status and may be subject to the 212 (e) 2-year home-country residency requirement. Prior J status holders who are subject to this requirement are not eligible for H-1B status until they fulfil the requirement or obtain a waiver. CGPS can work with the foreign national to navigate this requirement before the H-1B petition is filed.
Note regarding current J Status holders: Current J status holders who plan to seek a waiver must contact the CGPS in regards to their visa status before beginning the waiver process, as it could impact their eligibility for J-status extensions.
ISSS Disclaimer: The information contained on this web site is provided as a service to international students, faculty, staff, employees, and administrators at the University of Delaware, and does not constitute legal advice on any immigration, tax, or other matter. As legal advice must be tailored to the specific circumstances of each case, and laws are constantly changing, nothing provided herein should be used as a substitute for the advice of official counsel. For assistance on your immigration status, we encourage you to contact an ISS advisor for specific guidance at oiss@udel.edu.