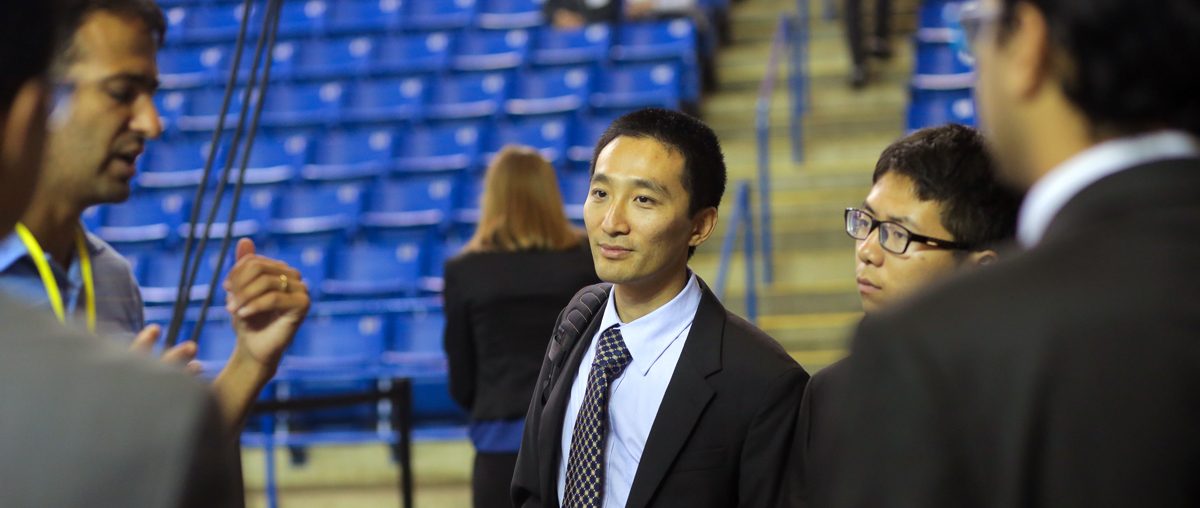 Career Readiness
Career Readiness takes many different shapes and forms depending on the person. UD's Career Center and CGPS work closely to support the career development and success of undergraduate and graduate international students and alumni. The Career Center is a comprehensive resource for all things career-related. Whether you are exploring career options, seeking employment after graduation, or considering graduate school, the most effective career decisions begin within the Career Center.
In collaboration with CGPS, the Career Center offers a wide range of career readiness programs and services dedicated to our international students, including a staff position dedicated to serving and supporting their unique needs. This Assistant Director of International Student Career Readiness, also called the Career Readiness advisor, works in the CGPS office and is available to meet one-on-one and through events offered throughout the academic year. 
Read more below about the resources that are available for international students at UD. Please also note that the official UD Career Center website has many more resources in addition to the information below. You can visit the Career Center site at https://www.udel.edu/students/career-center/.
It is important to note that F-1 and J-1 visa statuses have different on-campus, off-campus and post-graduation requirements. Before seeking any form of employment (paid or unpaid), you should learn about restrictions, requirements and deadlines, by reviewing the CGPS Employment page and seeking guidance from CGPS. Information regarding international student employment eligibility and requirements is important and sometimes changes. The immigration advisors at CGPS are informed of current government regulations and are available to assist you with any questions regarding employment eligibility.
Career readiness has been defined as "the attainment and demonstration of requisite competencies that broadly prepare college graduates for a successful transition into the workplace."
Career Readiness. National Association of Colleges and Employers (NACE), 2017

Students become more career-ready when showing competency in:
Critical Thinking/Problem Solving: Exercise sound reasoning to analyze issues, make decisions, and overcome problems.
Oral/Written Communications: Articulate thoughts and ideas clearly and effectively in written and oral forms to persons inside and outside of the organization.
Teamwork/Collaboration: Build collaborative relationships with colleagues and customers representing diverse cultures, races, ages, genders, religions, lifestyles, and viewpoints. The individual is able to work within a team structure, and can negotiate and manage conflict.
Digital Technology: Leverage existing digital technologies ethically and efficiently to solve problems, complete tasks, and accomplish goals.
Leadership: Leverage the strengths of others to achieve common goals, and use interpersonal skills to coach and develop others.
Professionalism/Work Ethic: Demonstrate personal accountability and effective work habits, e.g., punctuality, working productively with others, time and workload management, and understand the impact of non-verbal communication on professional work image.
Career Management: Identify and articulate one's skills, strengths, knowledge, and experiences relevant to the position desired and career goals, and identify areas necessary for professional growth.
Global/Intercultural Fluency: Value, respect, and learn from diverse cultures, races, ages, genders, sexual orientations, and religions.
At the Career Center, we recognize career development as a journey. We encourage students to look at career counseling and coaching as a multi-meeting endeavor. So whether your plan is to return home after graduation, gain work experience in the U.S., or continue your education, you are encouraged to meet with a career counselor to help you with some of the following:
Personality and Professional Exploration

Networking and Job Fair Preparation

Job and Internship Search

Graduate School Preparation

Interview Preparation

Negotiating a Job Offer
Benefits of Working with a Career Counselor:
Increase Awareness (Inward and Outward). Determine potential career paths by taking skills and personality assessments, exploring career communities and finding connections for informational interviews and networking.
Find Career Fit. Identify your passions and values to highlight possible careers, industries or organizations of interest.
Set realistic goals. Learn what it takes to create your own future and manage your professional expectations.
Take action. Plan experience such as shadowing, volunteering and internships.
Get unstuck. Develop soft and hard skills needed for post-university success and learn how to problem solve when boundaries to success appear.
Create multiple possibilities for the future. Discover what it means to develop a career path, not just to find a job.
A resume is a marketing tool and an extension of your professional brand. An effective resume showcases your experience, achievements and strengths, relating them to a specific position by using key words and highlighting relevant experiences. Developing an effective resume plays a major role in creating a successful job or internship search in the U.S.

The Career Center website includes helpful resources to help you write your U.S. style resume.

It is important to also note some of the following U.S. Resume differences:
Content on a U.S. Resume
Personal information (full name, phone number/email)

Link to LinkedIn profile (optional)

Relevant coursework (optional)

Education

Relevant work experience (internships or jobs)
Content Not Needed on a U.S. Resume
Personal Information like age, gender, marital status, religious beliefs, race/ethnicity and home country

Immigration status

Photo

International permanent address

TOEFL scores
Resume Tips
If you plan to include overseas experience or education in your resume, it is helpful to provide a frame of reference for the employer. You may have some relevant work experience or education that you received in your home country that you wish to include on your resume. 
Introduce employers to foreign companies and schools by providing a frame of reference. For example: "A $10 million marketing firm," "MIT of Turkey," "One of the top five universities in China," "Nigerian version of McDonalds."
Other tips include:
Emphasize strong English skills on the resume. For example: "Translated written and spoken English on a daily basis for two years."

Check for grammatical and spelling errors, as well as awkward use of language.

Have your resume reviewed at the Career Services Center.

You can view various resume samples by going to the resume & cover letters resource.

VMock
Searching for jobs and internships can be a daunting task, but having a strategy and knowing where to look for opportunities will make the whole process much easier. Learn how to develop a strategy on the Career Center Job & Internship Search page.

Job/Internship resources for international students:

HANDSHAKE: Handshake hosts thousands of job and internship opportunities. Additionally, log in to your Handshake account to access other great resources, such as CareerShift and Glassdoor for even more great opportunities!
Goinglobal
Networking is defined as an association of individuals having a common interest, formed to provide mutual assistance, helpful information and the like (dictionary.com). It is an important piece in creating an effective job and internship search in the U.S. and abroad.

You can learn more about the importance of networking and the many opportunities to build on those networking skills on the Career Center site.

LinkedIn

UD CAN
Beyond the resume and cover letter, interviews help employers learn more about how your academic background, skills and experience match the requirements of a job opening. At the same time, employers are evaluating your communication skills and other traits to determine if you will fit with the organizational culture.

The interview process can be intimidating if not prepared. Visit the Career Center site to read of the many resources for preparing for an interview.
Will attending graduate school help you develop your abilities and achieve your goals? A graduate degree is a prerequisite to entering certain careers, such as law, medicine, and university teaching. Therefore, to pursue such a position, an advanced degree is required. Another motivation for attending graduate school is to receive further in-depth training and study in a subject that particularly interests you either for purposes of career advancement or for personal satisfaction. To receive more guidance on any graduate school questions, visit the Career Center Graduate School page.
Frequently Asked Questions
As an international student, working in the United States can prove to be challenging at times. OISS is dedicated to helping you navigate through the immigration process and to better understand the employment benefits and requirements of your visa type. And the Career Center is focused on helping you become more career ready! Through our one-on-one appointments, workshops and communication efforts, we strive to equip you with the right tools and resources to aid in your career success.

Although these topics are discussed in counseling appointments and workshops, below are a few common questions that you may be asking yourself:
ISSS Disclaimer: The information contained on this web site is provided as a service to international students, faculty, staff, employees, and administrators at the University of Delaware, and does not constitute legal advice on any immigration, tax, or other matter. As legal advice must be tailored to the specific circumstances of each case, and laws are constantly changing, nothing provided herein should be used as a substitute for the advice of official counsel. For assistance on your immigration status, we encourage you to contact an ISS advisor for specific guidance at oiss@udel.edu.