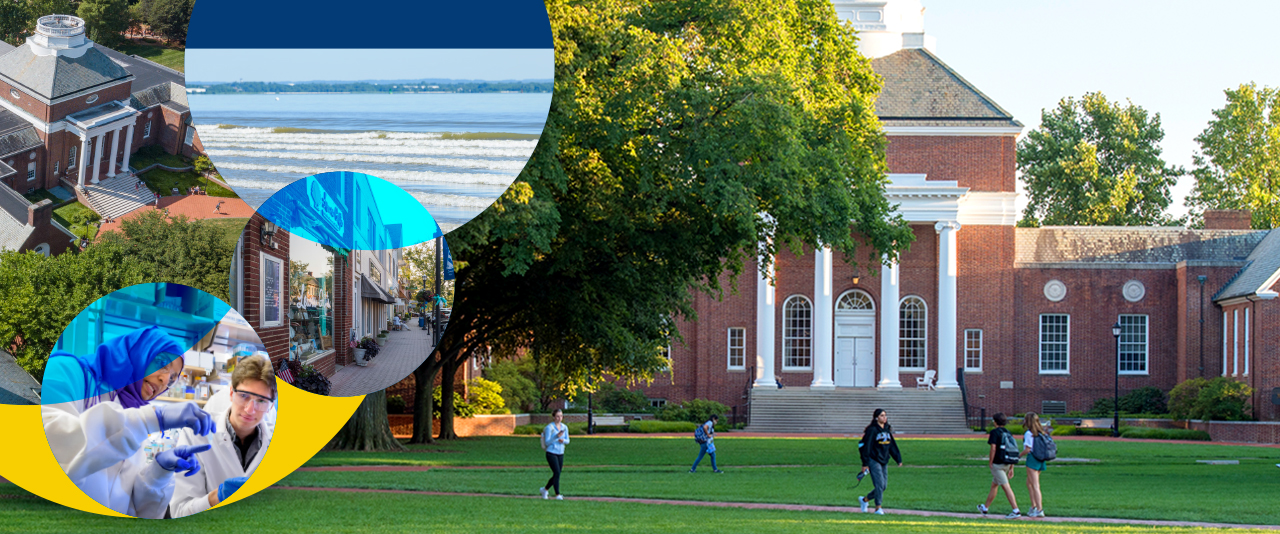 UD and the State of Delaware
A Message from President Assanis

The First State … the Diamond State … the Blue Hen State — Delaware is undoubtedly a special place. Those of us fortunate enough to live and work here know that this is home to a rich and broad diversity of cultures, histories, perspectives and opportunities. As I always say, Delaware has it all.
Without a doubt, Delaware's greatest strength is its people. Wherever my wife, Eleni, and I go in the state, we are inspired by their energy and optimism.
The University of Delaware is inextricably tied to the state's remarkable past, actively shaping its dynamic present and deeply engaged in realizing its exciting future. UD is proud of its extensive and enduring contributions to our state, and we are honored to be a part of Delaware's vital growth and limitless potential. 
 

Dennis Assanis
President, University of Delaware
Fueling Delaware's Economy

The University of Delaware has a
$3.2 Billion Impact 
in the state, fueling Delaware's economy. 

Supporting jobs statewide
6%
of the state's total workforce
 
$1.3 billion 
in earnings from those jobs
in annual spending by UD on salaries, goods, services and events

$515 million
in capital spending by UD in 2019-2022
 
$167 million 
 spent by students and visitors annually
generated in the economy for every $1 invested by the state*

$1.2 billion
in additional combined earnings for Blue Hen alumni, thanks to their UD education
$97 million 
generated in state tax revenue
* In operating appropriation
Educating Delaware's Students for Success
Serving the First State's Needs
Spending State Funds Responsibly
The State of Delaware's annual appropriation supports about 13% of the University's operating expenses. The appropriation is used to help provide lower undergraduate tuition rates for Delawarean students, as well as provide scholarships for Delawareans based on financial need. The University also uses funds from its endowment to augment this support. This results in an in-state undergraduate tuition rate that is more than 60% lower than the rate for non-residents; most Delawareans pay even less because of additional support.
The state appropriation is also used to support excellent programs for students, enable research projects that yield state-wide impact and support initiatives that engage and benefit the entire community.
The table below summarizes the University of Delaware's fiscal 2021 operating expenditures funded by State of Delaware appropriations. More detailed reports can be found at the Vice President of Finance website.
 

Salaries

and wages

Benefits

Scholarships

and awards

Supplies, travel, and other

Total

Current funds - state appropriations

General unrestricted operations
$74,396,840
 22,463,660 
-
-
 96,860,500 
State scholarships
-
-
 11,542,800 
-
 11,542,800 

Restricted

College of Agriculture and Natural Resources
 3,572,334
 1,303,308
-
 1,454,558
 6,330,200
College of Arts and Sciences
 865,433
 324,047
-
 138,499 
 1,327,978
College of Business and Economics
 1,241,689
 469,738
-
 110,973
 1,822,400
College of Earth, Ocean, and Environment
 604,002
 226,436
-
 38,362
 868,800
College of Education and Human Development
 1,925,054
 714,240
 1,479
 244,327
 2,885,100
College of Engineering
 
 613,033
 236,267
-
-
 849,300
College of Health Sciences
 604,539
 234,561
-
-
 839,100 
Biden School
 
 802,952 
 243,430 
-
 21,140
 1,067,522

Other programs

Delaware Biotechnology Institute
 364,986
 153,014
-
-
 518,000
Diversity Enhancement
 126,479
 58,795
-
 70,526
 255,800

Total state appropriations

$85,117,341
 26,427,496 
 11,544,279 
 2,078,384 
 125,167,500