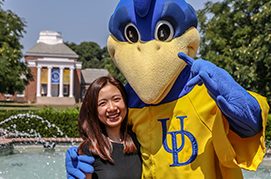 Admissions & Transfers
There are multiple ways for students to apply and be admitted as undergraduates to the University, including:
All students who apply for direct admission as freshmen by January 15 and furnish us with SAT or ACT scores are automatically considered for scholarship awards. We invite you to explore our world and consider joining our academic community!


Incoming students may be asked to attend other orientation activities depending on their academic level and program, but the CGPS International Student Orientation (ISO) is MANDATORY for international students.
Learn about how to Prepare to Become a Blue Hen
Learn about International Student Orientation

Undergraduate students may be required to take placement examinations or attend special meetings for new students. Questions about such requirements or about other details of your academic program should be addressed directly to your program office. Admission and degree requirements are explained in the UD catalog.
ISSS Disclaimer: The information contained on this web site is provided as a service to international students, faculty, staff, employees, and administrators at the University of Delaware, and does not constitute legal advice on any immigration, tax, or other matter. As legal advice must be tailored to the specific circumstances of each case, and laws are constantly changing, nothing provided herein should be used as a substitute for the advice of official counsel. For assistance on your immigration status, we encourage you to contact an ISS advisor for specific guidance at oiss@udel.edu.