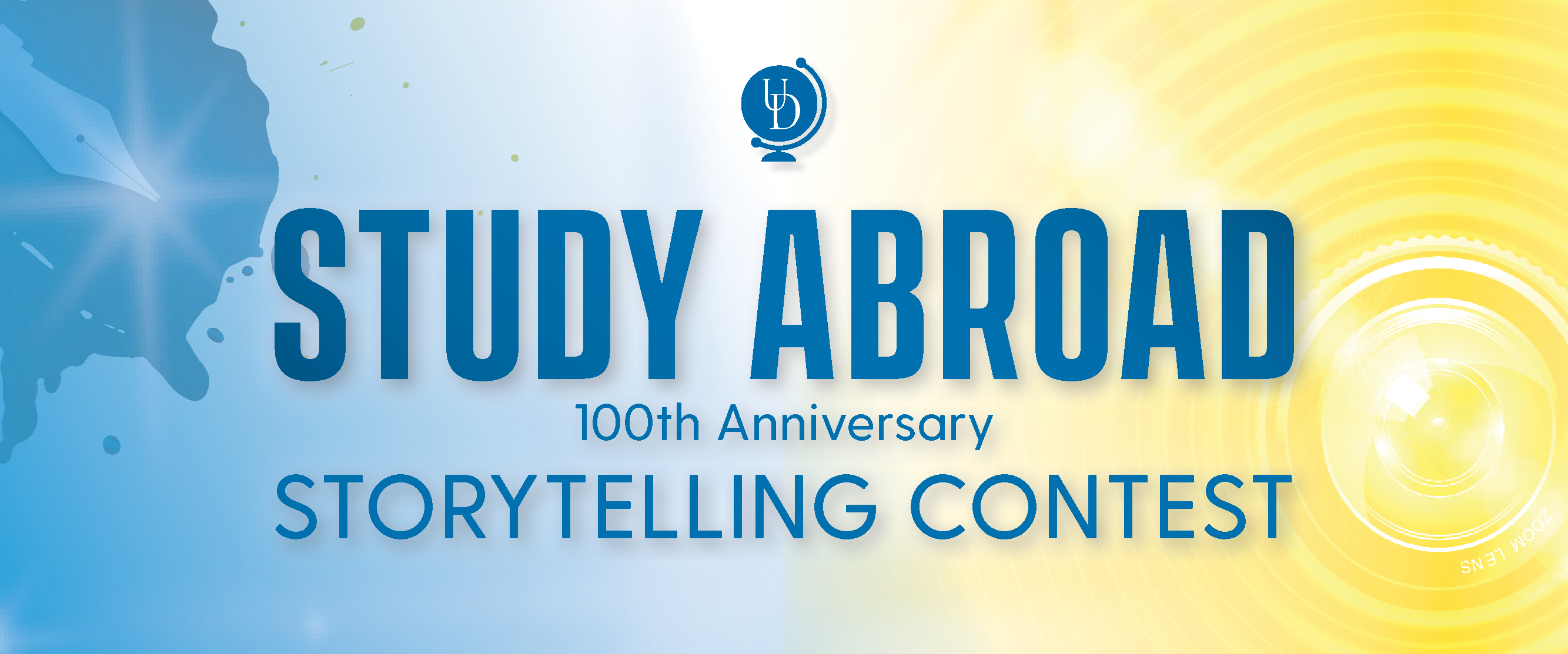 Study Abroad Storytelling Contest
In recognition of the 100th Anniversary of Study Abroad at UD and in the U.S., the Center for Global Programs and Services expanded its annual Study Abroad Photo and Video Contest to include a new Essay category. We also opened up the contests to anyone who has participated in a UD study abroad program. We're excited to see and read the stories from current students, alumni, and faculty as we celebrate this milestone.
Study abroad in the U.S. launched at the University of Delaware on July 7, 1923, when a group of eight UD students spent their junior year in France, immersed in French language and culture. The program was the brainchild of Raymond W. Kirkbride, a young modern languages professor and World War I veteran. The University's program was hailed nationally and internationally for its success in promoting cross-cultural education and today boasts more than 100 programs in 40-plus countries. This storytelling contest is an important part of celebrating UD's rich history and global impact.
Find all of the details for this year's contest below. Participants may enter one, two, or all three of the contest categories, which will be judged independently by panels of judges from CGPS and campus partners. Winners will receive prizes that will be announced by mid May through CGPS and UD communication channels.
How Will You Share Your UD Study Abroad Story?
Photo Contest
Students and alumni were invited to join the 2023 photo contest as we celebrated 100 years of study abroad. The photo contest theme is Living, Learning & Loving the Location.
Read about the required categories below, but we encourage you to make them your own. We have provided examples of the kinds of photos that could fit into each category - and those that have won in the past - but we are excited to see how you define them for yourself! 
We can't wait to see your photos!
Student Winner
Sally Bornhorst
Sheep Stares
Alumni Winner
Kevin Johnson
Laundry Day
Alumni Judge's Choice
Savannah Wallett
Hawaiian Green Sea Turtle
Student Judge's Choice
Hanna Parikh
Via Vespa
Student Winner
Isabel LeCompte
Student Draws Fontana dei Quattro
Alumni Winner
Kevin Johnson
View from an Open Casket
Alumni Judge's Choice
Kevin Johnson
Not a Bad Window in Rome
Student Judge's Choice
Hanna Parikh
Museo dell'Opera
Student Winner
Ruby Zegowitz
Oranges in Morocco
Alumni Winner
Kevin Johnson
Ortho-ducks
Alumni Judge's Choice
Lucy Davies
Mountainside Salt
Student Judge's Choice
Yasmine Awayes
Foggy Morning in Caceres
Essay Contest
In honor of the 100th Anniversary of Study Abroad, CGPS launched a new tradition at UD: the collection of student, alumni and faculty narratives that help tell the story of the impact of study abroad on their student experience and life after graduation while promoting intercultural learning and engagement.
The essay prompts encourage students, alumni and faculty to tell their study abroad story to a broad audience in the form of a personal narrative.  The study abroad essay contest  mirrors the the popular annual International Students Essay Contest from which winning essays were recently published in a book commemorating the stories and experiences of international students over the past decade.
Participants in the Study Abroad Essay Contest may be selected for inclusion in a publication by Open Journals in Education (OJED).
Video Contest
Video allows us to "show and tell" in a way that a static image or written story sometimes cannot. Combining sight, sound, and motion, video can evoke emotion and convey a story in a matter of seconds. So what better way to ask students and alumni to share their UD study abroad experiences than to include a video category within the storytelling contest?
Social Media:
All members of the UD community are invited to contribute to the story of study abroad by including #UDAbroad (and #UDAbroad100 this year) in your posts. In addition, like and mention @UDGlobal on Instagram and Twitter to appear on official University social media.
Remember to use good judgment when creating posts as content can go anywhere on the Internet, and represent the University, as well as yourself.