Global 360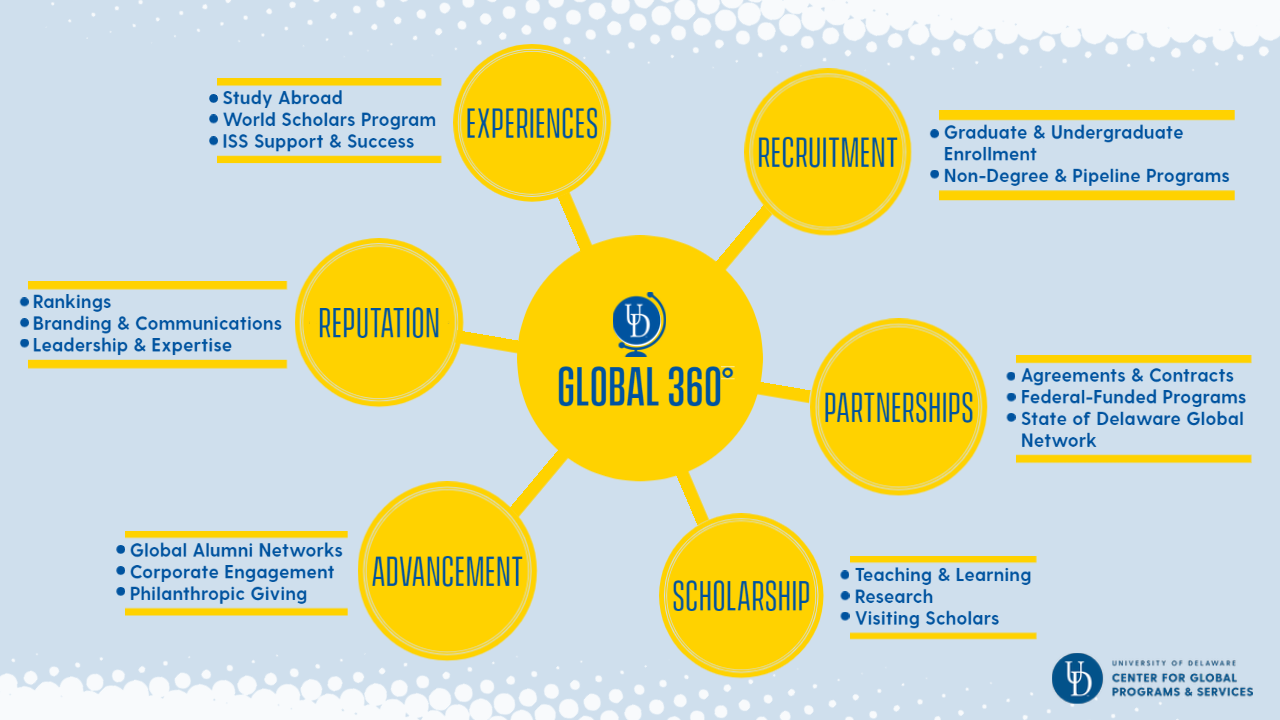 The Center for Global Programs and Services established a highly collaborative and multi-pronged strategic approach, known as the Global 360 model, to advance internationalization and global engagement at the University of Delaware. In support of the University's strategic priority for expanding interdisciplinary and global opportunities, and in alignment with recommendations from the ACE Internationalization Lab Report, Global 360 serves as a roadmap for infusing international perspectives throughout the University's scholarship, research, and service missions. It draws from six dimensions of institutional engagement to increase UD's collective impact and visibility around the world:
Experiences: Innovate and expand inclusive global education opportunities through study abroad, the World Scholars Program, and international student and scholars support and success. 

Recruitment: Increase international undergraduate and graduate enrollment through intentional, collaborative efforts, including the development of non-degree pipeline programs. 

Partnerships: Lead the development of strategic international agreements and contracts, engagement with federally funded programs, and connection with the State of Delaware's global network. 

Scholarship: Bring visibility and support to global experiential learning and research on campus and around the world. 

Advancement: Advance our campus, our community, and our world through cultivating global alumni networks, corporate engagement, and philanthropic giving. 

Reputation: Strengthen and elevate the University as a premier research institution though global rankings, branding and communications, and leadership and expertise in the field of international education.
The CGPS Global 360 model builds upon UD's legacy and contribution to international higher education in the U.S. by sustaining its pioneering approach to internationalizing the curriculum and student experience while innovating fresh ways to nurture and engage global citizens across the globe. By engaging a diverse group of stakeholders in the internationalization dialogue, Global 360 ensures a more coherent presence for all things international and increases international exposure for all members of the campus community. It optimizes UD's impact as an international university.
Global 360 Dashboard
The CGPS Global 360 Dashboard highlights UD's global impact through its connected network of students, institutional partners, scholars, and alumni.
Notes: 
*Data on institutional agreements and partnerships, international student and scholars, study abroad, and World Scholars was obtained from CGPS systems and aligns with the IIE Open Doors reporting standards for the 2021-22 academic year. 
*Figures on international research activities were provided by UD's Office of Institutional Research and Effectivness.
*International alumni data was provided by UD's Development and Alumni Relations team.