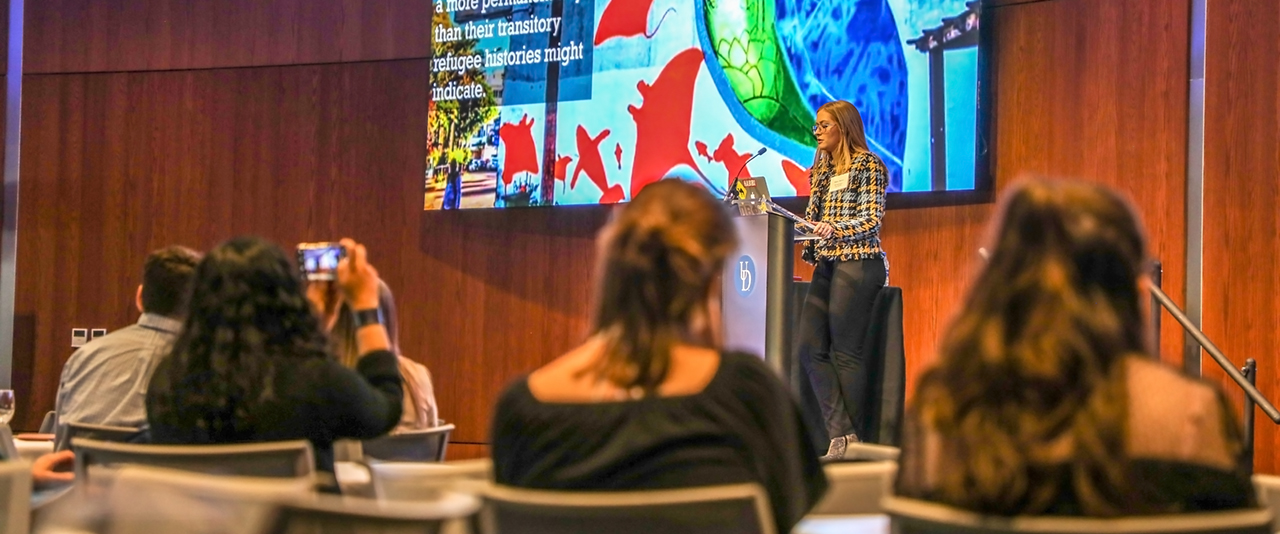 UD World Scholars Spring Symposium
Welcome!
The Spring Symposium is the culminating event of the UD World Scholars Program, in which we recognize and celebrate members of our community. To graduate with World Scholar recognition, students must meet Program requirements throughout their undergraduate career, including study abroad in years 1 and 3, residence in International House Living Learning Community, on-campus global engagement and participation in the World Scholars Spring Symposium.
For the Symposium, graduating Scholars must develop a project that allows them to draw upon their World Scholar experiences, to share their knowledge and excitement with others, and provides tangible evidence that they have met Program outcomes. From "Theory of Constituent Power in Uruguay & Venezuela" to "Equity in Education in Israel" to "A Shakespearean Literary Tour of Europe," Symposium projects reflect the diversity of academic, cultural and professional interests of members of the World Scholars community.
We invite you to join us at our annual event and to enjoy the profiles and projects of our most recent cohort here.
Watch the 2021 Symposium Recording
Keynote Speaker
Lakia Poole
Regional Recruiter, Peace Corps and Retired Peace Corps Volunteer, Eswatini, 2016-2019
Lakia Poole currently serves as a Peace Corps Regional Recruiter in both Maryland and Delaware. A career in the nonprofit sector with a focus on youth and gender equity has allowed her to work with incredibly resilient communities, from Midwest America to southern Africa. Her passion for this work, along with her interest to apply such a role to a global framework, led her to pursue gender-based consultancy work in Ghana, as well as a long-term goal of becoming a Peace Corps Volunteer, working as a Youth Development Specialist, and later a Gender Specialist in her third year extension of service.
Ms. Poole obtained a Bachelor's degree in Women's and Gender Studies and Screenwriting at the University of North Carolina at Greensboro, and a Graduate Certificate in Women, Gender and Sexuality Studies at The George Washington University. She serves on ad hoc task teams and executive boards within Peace Corps headquarters that champion the empowerment and equity of women within the federal agency as well as those who participate in and benefit from Peace Corps programming.
Notable accomplishments that Ms. Poole has been fortunate to partner in include six-figure funding for youth drop-in centers, comprehensive sexuality and health program development for adolescents and their families, microfinance projects for rural women farmers and nationwide gender-based violence prevention initiatives with a United States Ambassador-led task team. Across her roles, Ms. Poole remains committed to opportunities that connect passionate people with equitable work that transforms communities.
The World Scholars Class of 2021
Sarah Koury's Legacy
A member of the World Scholars Class of 2021, Sarah Koury followed her wanderlust across the globe. A double major in International Business Studies and Marketing, Sarah studied abroad in Madrid, Spain in the fall of her freshman year and planned to study and intern in Sydney, Australia during her junior year. Although Sarah passed away in the spring of 2018, her spirit is still very much alive in the UD World Scholars Program.
Sarah's Clovers
According to Sarah's closest friends and family, Sarah believed she was lucky. Combining her love for travel with her favorite holiday (St. Patrick's Day) and clovers (which she drew everywhere!), "Sarah's Clovers" was born. Through this online initiative, friends and family, including members of the World Scholars community, are asked to "Paint a rock with Sarah's classic green clover comprised of three hearts" and to "Place it somewhere special, old or new." In Sarah's honor, World Scholars will have an opportunity to place Sarah's clovers in their first-year location or another special destination abroad. Photos may be posted to the Facebook community and can be added to the special Google Map developed by fellow members of the World Scholars Class of 2021.
Sarah Koury Travel Award
During her freshman fall abroad in Madrid, Spain, Sarah also traveled to Portugal, Italy and Morocco. Realizing that some students may not have the financial means to cross additional borders while abroad, Sarah's parents - Marcy and Mace Koury - decided to make a recurring gift in Sarah's honor. Each year, a first-year World Scholar will be chosen to receive a $500 travel award in Sarah Koury's name, to fund additional travel during their World Scholar semester abroad. Others who wish to make a gift in Sarah's honor may do so through the UD Global online giving form. Donors should designate the World Scholars Program as the recipient of the funds and, within the "Special Instructions" section, should state that the gift is being made in honor of Sarah Koury, Class of 2021, to support additional travel by a UD World Scholar while abroad.
CGPS ON SOCIAL
@UDGlobal
#OISSCoffeeHour
#UDAbroad
#UDWorldScholar