UD World Scholars Program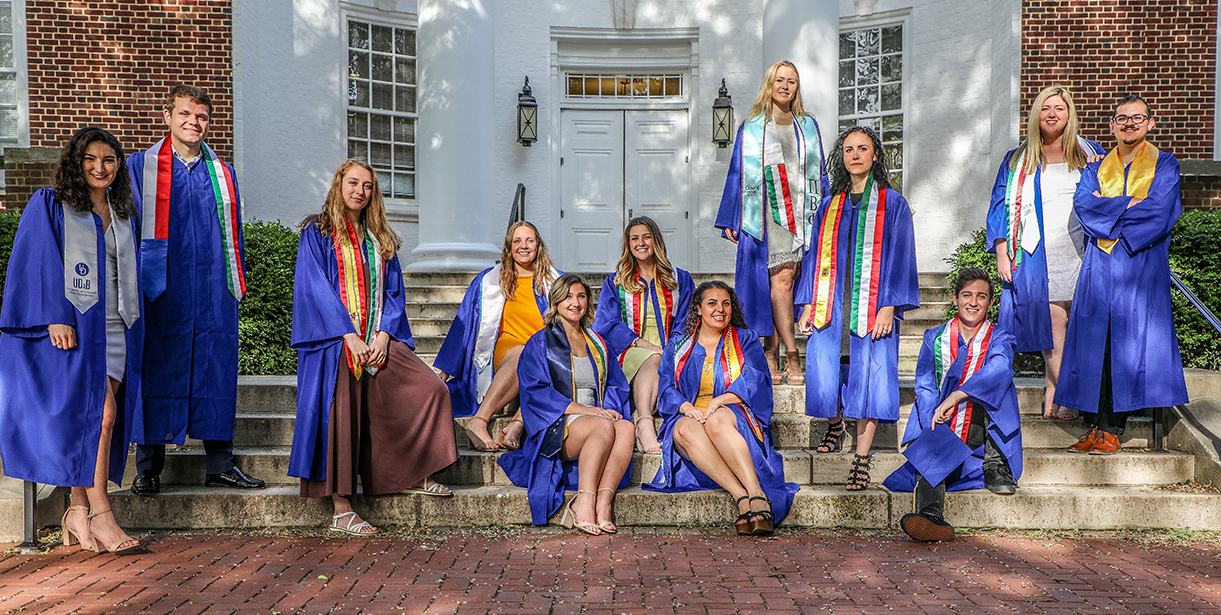 UD World Scholars Comprehensive Plan
The University of Delaware World Scholars Program is a four-year structured program that provides a complementary framework for internationalizing a student's academic program of study. World Scholars enroll in the Program at the start of their undergraduate careers and are highly motivated and top performing students with a strong interest in global issues. Through active engagement and reflection, both on-campus and abroad, World Scholars acquire the skills and competencies needed for success in an increasingly interconnected world.
Program Requirements
World Scholars are admitted to the Program during the formal undergraduate admission process and must confirm their intent to enroll at the time of deposit. Scholars may pursue a range of academic majors but are encouraged to include a globally-focused minor. In order to graduate with World Scholar recognition, participants must complete all Program requirements, including:
*Students who encounter obstacles in meeting these requirements due to financial or curricular restraints must communicate immediately with Program leadership to develop alternative and appropriate means toward Program completion. Scholars who are unable to provide a compelling argument or are unable to meet agreed upon alternatives will be excused from the Program.
Program Outcomes
The Center for Global Programs & Services (CGPS) strives to create an extraordinary student experience and to cultivate graduates who will extend the impact of our community on the region and the world. The World Scholars Program, administered by CGPS, directly supports the University's General Education Initiative for undergraduate education to prepare students who are "engaged in the world around them" and are "equipped with the essential skills necessary to thrive in a rapidly evolving world including the ability to be a lifelong learner, creator and innovator." Upon completion of the UD World Scholars Program, participants will be able to:
Identify and communicate effectively the value of their acquired intercultural skills and experiences;

Demonstrate a sophisticated understanding of the complexities and norms of other cultures and the interconnectedness with their own;

Navigate and adapt to new situations and experiences with an advanced level of comfort, competence and flexibility;

Participate, as engaged and informed citizens, in cross-cultural dialogue, diplomacy and resolution of global issues; and

Develop relationships with and contribute to a global University community.
Program Policies & Scholar Responsibilities
In addition to meeting stated Program requirements, World Scholars are expected to:
Attend mandatory events noted on the semester calendar and participate in monthly Community events. Students should review the semester calendar prior to the start of each semester and add Scholar events to their personal calendars. Students must email Program leadership, by the first week of classes, with potential schedule conflicts. In order to maintain active status, Scholars may not miss more than one mandatory event per semester, excluding those missed due to unforeseen circumstances or emergencies. Events noted "Optional, but encouraged" are not mandatory.

Communicate effectively with World Scholars leadership and community. World Scholars should review Program communications, including monthly eNews, Facebook posts and UD emails, on a regular basis. Scholars who do not receive or have access to these communications must inform Program leadership immediately so that we may assist in resolving these issues. When communicating with Program leadership, Scholars should utilize UD email and should include the salient issue in the subject line of the email. World Scholars are also expected to communicate questions or concerns, and to inform us of life and academic events that may impact their involvement in the Program.

Complete program surveys, assessments and assignments by stated deadlines. World Scholars are expected to complete post-program surveys for each program attended and pre- and post-study abroad assessments each time they participate in a study abroad program. Scholars must also complete assignments by the deadlines printed on their semester syllabus. Survey responses allow us to refine our programming and to assess the progress of Scholars throughout their four-year participation in the Program. Completed assignments provide evidence of skills acquired.
Program Leadership
World Scholars can expect to receive support, guidance and mentorship from Program leadership throughout the Program experience. Prior to the start of classes each semester, we will provide Scholars with a semester calendar featuring mandatory events and "optional but encouraged" events. We will communicate with you through a monthly eNews that is distributed via Constant Contact, through regular posts on our class Facebook groups and via UD email. We will attempt to respond to your questions or concerns within 48 hours, during business hours. If we do not have the information you need, we will provide you with contacts and resources so that you are able to pursue additional inquiries. We value your insights, and will ask for and incorporate your feedback into the continued development of the UD World Scholars Program.
Amy Greenwald Foley, Ed.D., Associate Director for Global Outreach, agfoley@udel.edu

Meghan Gladle, MA TESL, World Scholars Program Coordinator, gladlem@udel.edu

Center for Global Programs & Services, Elliott Hall, 26 E. Main Street, Newark, DE 19716
Assessment
World Scholars will be assessed in the following ways:
Meeting Program requirements -- registration review in UDSIS and attendance taken at mandatory events

Evidence of skills acquired -- receipt and review of assignments

Growth and development -- comparative review of survey and assessment results, including the CGPS Global Engagement Measurement Scale (GEMS) and Student Outcomes Data
The World Scholars Comprehensive Plan may be revised or adapted. Revisions will be communicated to Scholars via email.