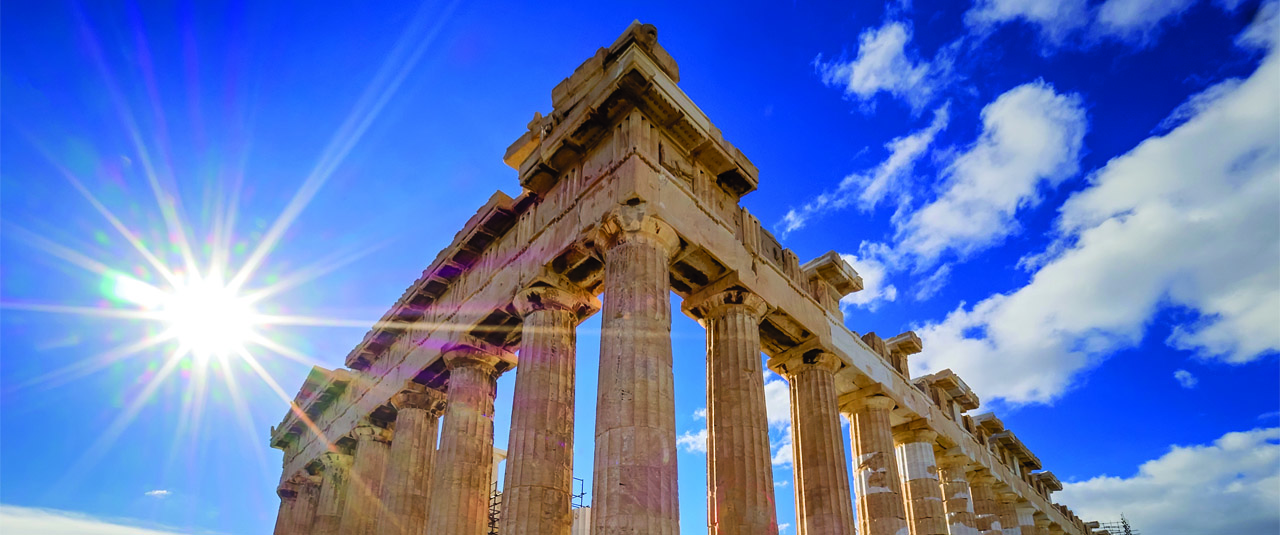 Become a World Scholar
The first month in Madrid, I felt like I had known my classmates for years ... I saw things I thought I'd only see in a textbook.

Class of 2020, History Major
The first month in Madrid, I felt like I had known my classmates for years ... I saw things I thought I'd only see in a textbook.

Class of 2020, History Major
WELCOME TO THE WORLD STAGE
In the fall of 2015, the University of Delaware created the World Scholars Program for select, high-achieving undergraduate students who wish to explore and develop into scholars of global ambition. Choosing from a wide range of majors, World Scholars are supported in their studies with internationally-focused academics, experiences and opportunities that will prepare them to live, work and study anywhere in the world.
The UD World Scholars Program encompasses all four years of your college career, beginning with the first semester of your first year studying in Italy, Spain or New Zealand. The program continues with a combination of local and international experiences, including the choice of a globally-focused minor, an on-campus living and learning community, a second study abroad opportunity your junior year, language offerings, a senior symposium, and a myriad of networking opportunities.
World Scholars enjoy engagement with visiting foreign dignitaries and diplomats and earn a spot in UD's global community of international students and scholars. Scholars receive guidance and mentorship while they pursue opportunities with the world-renowned U.S. Fulbright Commission, Peace Corps, and multinational corporations, as well as international scholarships for post-graduate study or exploration.
We invite curious minds to explore Delaware and the world as UD World Scholars.
Why choose Delaware for your global education?
The University of Delaware is a pioneer in providing global opportunities for students. We were the first university in U.S. to launch a Study Abroad program, in 1923, and we continue to be a leader in educating informed, skilled, open-minded citizens of the world. One-third of our undergraduates study abroad in one of our 100+ programs in 40 countries. UD offers 12 foreign languages and 150+ majors and minors, including the recently launched global studies minor.
UD is one of only five U.S. universities and colleges to receive NAFSA's 2015 Senator Paul Simon Award for Comprehensive Internationalization. These prestigious awards recognize outstanding and innovative achievements in campus internationalization.
Located at the center of the East Coast, UD is well positioned to offer a global perspective. Among our alumni are 170+ Fulbright Scholars, Peace Corps volunteers, ministers of foreign governments, international entrepreneurs and U.S. Vice President and former chair of the U.S. Senate Foreign Relations Committee, Joseph Biden.
Freshman Year
UD World Scholars begin their college experience abroad. You may choose to study in Rome, Italy at John Cabot University; Madrid, Spain at Saint Louis University; or Auckland, New Zealand at the University of Auckland. All UD World Scholar sites have been selected for their academic rigor, coursework taught in English, American-style amenities, residential living opportunities, and the quality of advising and support services that will ensure a successful start to your college career.
To support your success while abroad, you will have a team of experts ready to assist you, including academic advisors, career counselors, health and wellness professionals, and Student Life staff. During your first semester, you will enroll in 15-17 academic credits, including an introduction to world politics course. You may choose from a variety of courses, spanning humanities, business, social sciences and the arts, all of which meet UD graduation requirements. Weekends and evenings offer time for activities like club sports, theatre, music and community service. Students also find our World Scholar sites to be perfect home bases for travel in country and across borders.
When you return to UD with your fellow World Scholars in the spring, you will be introduced to the greater UD and Newark community—including upperclassman World Scholars.
Sophomore Year
In your sophomore year, you will reside alongside international students in a living-learning community focused on intercultural understanding and building global competencies. Faculty, staff, upper-class mentors and career counselors will provide programs and resources focused on careers in foreign service, international business and more.
Junior Year
In your junior year, you will head abroad for a second time. Equipped with your prior experience with cultures beyond your own, your next experience will be more immersive and will include academic coursework, as well as an internship, community service or various research activities.
Senior Year
Senior year includes more networking and mentoring opportunities. Members of the UD Fulbright Society and the Institute for Global Studies will mentor scholars in submitting an application to the U.S. Fulbright Student Program for post-graduate research, study or teaching abroad.
The program concludes with participation in a spring Scholars Symposium and recognition for graduating World Scholars.
What Current World Scholars Have to Say
Summary of my semester abroad as a #UDWorldScholar: 118 days, 6 countries, 11 bucket list items, countless memories, and a 4.0 GPA 😊✈️

UD Madrid World Scholar
Summary of my semester abroad as a #UDWorldScholar: 118 days, 6 countries, 11 bucket list items, countless memories, and a 4.0 GPA 😊✈️

UD Madrid World Scholar
Program Costs & Financing
The chart represents estimated costs (based on 2018-2019 school year) for the first semester (fall) of the student's first year. New rates are released every July.
| | Delaware Resident | Out-of-State-Residents |
| --- | --- | --- |
| Tuition* | $6,125 | $16,440 |
| Program Fee** | $8,647 | $8,647 |
| Total Cost for Program*** | $14,772 | $25,087 |

*Tuition charged to World Scholars is the same as that charged to other incoming freshmen at the University of Delaware.
**The World Scholars Program fee is a one-time fee that includes housing, dining, international insurance, select excursions and activities abroad during the fall semester abroad, as well as resources to support student success provided by UD and our partner institutions.
***Additional costs not outlined above include round-trip air travel to the World Scholar site, international visa fees, textbooks and school supplies, as well as personal expenses.
For the typical costs of the second semester in Newark, students should see their Personal Financial Aid and Enrollment Guide, a packet received after admission. Note: Financial aid (federal, state and UD scholarships/grants, along with loans) are split evenly between the fall and spring semesters. Half of the student's overall award will go to support program costs in the fall.
Checklist for Admitted World Scholar Students
Enrolling for your first semester in college brings with it many tasks that you must complete before finishing your senior year of high school. This is even more true of World Scholars, as you will need to apply for a student visa (we'll help!) in May. The following is a basic checklist of requirements and dates. Once you deposit, a more detailed checklist will be available on your admitted student portal.
May 1: Scholars must have a valid passport
May 15: Scholars must purchase plane tickets and send their completed visa applications, with all supporting docs
June 18: Scholars and their families attend Pre-Departure Orientation (alternate date is July 18)
July 8: New Zealand Scholars depart for the fall semester
August 27: Rome Scholars depart for the fall semester
August 30: Madrid Scholars depart for the fall semester
Stay Connected
Follow @UDGlobal and #UDWorldScholar to learn more about our world!
Contact a current World Scholar on Twitter!