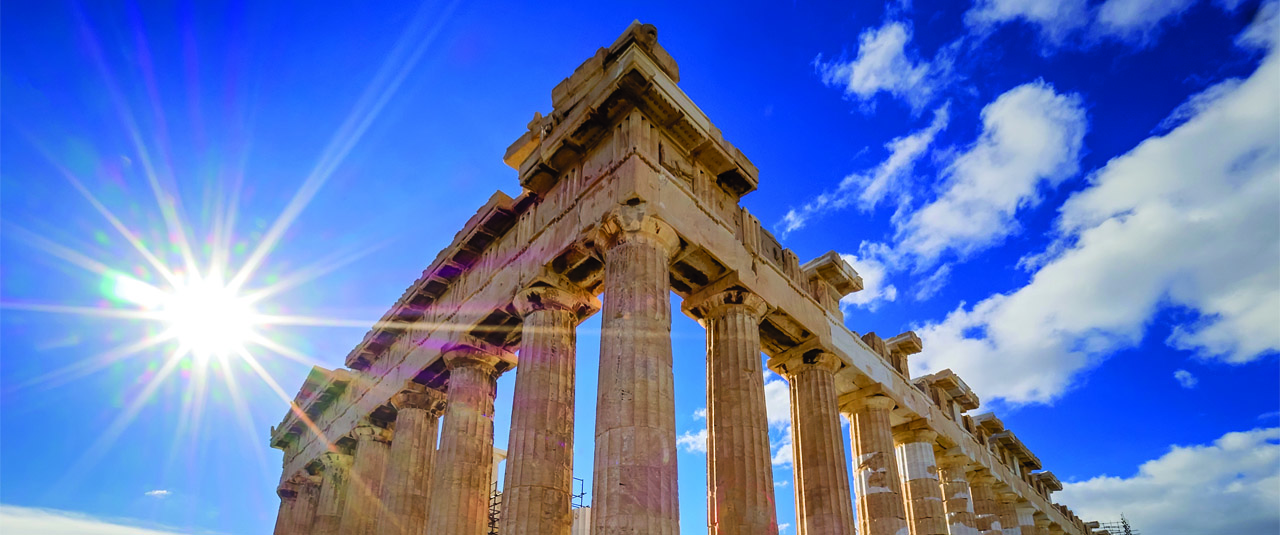 Become a World Scholar
The first month in Madrid, I felt like I had known my classmates for years ... I saw things I thought I'd only see in a textbook.

Class of 2020, History Major
The first month in Madrid, I felt like I had known my classmates for years ... I saw things I thought I'd only see in a textbook.

Class of 2020, History Major
Begin with adventure . . .
Graduate a World Scholar
The World Scholars Program makes global studies and travel integral to all four years of your college education, beginning the first semester of your first year. As a World Scholar, you'll start your college career in Greece, Italy, Spain or New Zealand. There you will study at one of our partner institutions abroad that has been selected for its academic rigor, small class sizes and professors who use the city as a site for active learning.
After your first semester abroad, return for the spring and jump right into UD campus life—join a club, conduct research, volunteer for community service or try out for any of our 36 club sport teams.
Junior year you'll again study abroad at one of over 40 countries in which students regularly travel. Senior year, Scholars network with global professionals, apply for Fulbright awards and participate in a spring symposium.
At the University of Delaware, the spirit of adventure is part of our DNA. For World Scholars, adventure is expanded into an entire college experience, opening new possibilities for global careers and global research. World Scholars begin their college career with adventure—learning new languages, engaging with new cultures and gaining a new perspective on the world.
University of Delaware: A Pioneer in Global Education
As one of the first colleges in the nation, it is no surprise that the University of Delaware was a pioneer in global studies, creating the first U.S. Study Abroad Program in 1923. In the 21st century, our spirit of innovation in international education continues. The World Scholars Program is unique in that it combines two semesters of study abroad—including your first semester of your first year— within your four-year course of study. World Scholars build on UD's tradition of exploration and develop into scholars with global ambition.
First Year
In your first year as a University of Delaware World Scholar, you will spend the fall semester abroad and will transition to UD's main Newark Campus for the spring semester.
During your first semester abroad you will study in either Rome, Madrid, Auckland or Athens, where you will enroll in courses (including Introduction to World Politics) taught in English by an international faculty, earning credits in courses that meet UD graduation requirements. A University of Delaware representative accompanies Scholars to their destination, returning at semester's end to bring students home.
While abroad, Scholars reside in campus housing and benefit from advising, support and resources comparable to those offered on UD's campus. World Scholars then head back to the States for their second semester. Once you arrive on the Newark campus, you will be welcomed with New Student Orientation and our "Spring into Success" weekend program. After arriving on campus, Scholars select a globally focused minor, join a student organization and embrace the next chapter of your college career.
Second Year
You will begin your second year as a resident in the International House, our on-campus international living and learning community, where the conversation about intercultural understanding will continue. Institute for Global Studies staff, upper-class mentors and a team of advisors will provide resources and advice to assist you in your growth as a global citizen.
Third Year
As a complement to your global studies, you will again travel abroad during your third year. Your destination will be based on your academic focus and desired location of study and will include an internship, community engagement or research activity. During this year, you will also be counseled on numerous post-graduate options, like the U.S. Fulbright Program.
Fourth Year
In your final year as a World Scholar, you will enjoy networking opportunities with global professionals and will participate in a spring scholars symposium. Come graduation, you and your classmates will be recognized for your accomplishments as UD World Scholars. From there you will continue on a lifetime of global learning and engagement.
What Current World Scholars Have to Say
Summary of my semester abroad as a #UDWorldScholar: 118 days, 6 countries, 11 bucket list items, countless memories, and a 4.0 GPA 😊✈️

UD Madrid World Scholar
Summary of my semester abroad as a #UDWorldScholar: 118 days, 6 countries, 11 bucket list items, countless memories, and a 4.0 GPA 😊✈️

UD Madrid World Scholar
Program Costs & Financing
The chart represents estimated costs (based on 2018-2019 school year) for the first semester (fall) of the student's first year. New rates are released every July.
| | Delaware Resident | Out-of-State-Residents |
| --- | --- | --- |
| Tuition* | $6,125 | $16,440 |
| Program Fee** | $8,647 | $8,647 |
| Total Cost for Program*** | $14,772 | $25,087 |

*Tuition charged to World Scholars is the same as that charged to other incoming freshmen at the University of Delaware.
**The World Scholars Program fee is a one-time fee that includes housing, dining, international insurance, select excursions and activities abroad during the fall semester abroad, as well as resources to support student success provided by UD and our partner institutions.
***Additional costs not outlined above include round-trip air travel to the World Scholar site, international visa fees, textbooks and school supplies, as well as personal expenses.
To give a rough estimate of the price difference: the cost of tuition and fees for the World Scholars Program is approx. $1,500 more than a typical student living on campus. For the typical costs of your second semester in Newark, see your Financial Aid Award Notice, a packet received after admission. Note: Financial aid (federal, state and UD scholarships/grants, along with loans) is split evenly between the fall and spring semesters. Half of your overall award will go to support your program costs in the fall.
Checklist for Admitted World Scholar Students
Enrolling for your first semester in college brings with it many tasks that you must complete before finishing your senior year of high school. This is even more true of World Scholars, as you will need to apply for a student visa (we'll help!) in May. The following is a basic checklist of requirements and dates. Once you deposit, a more detailed checklist will be available on your admitted student portal.
May 1: Scholars must have a valid passport
May 15: Scholars must purchase plane tickets and begin their visa applications
June 17: Scholars and their families attend Pre-Departure Orientation (alternate date is July 25)
July 17: New Zealand Scholars depart for the fall semester
Aug. 25: Rome Scholars depart for the fall semester
Sept. 1: Madrid Scholars depart for the fall semester
Sept. 8: Athens Scholars depart for the fall semester
Stay Connected
Follow @UDGlobal and #UDWorldScholar to learn more about our world!
Contact a current World Scholar on Twitter!