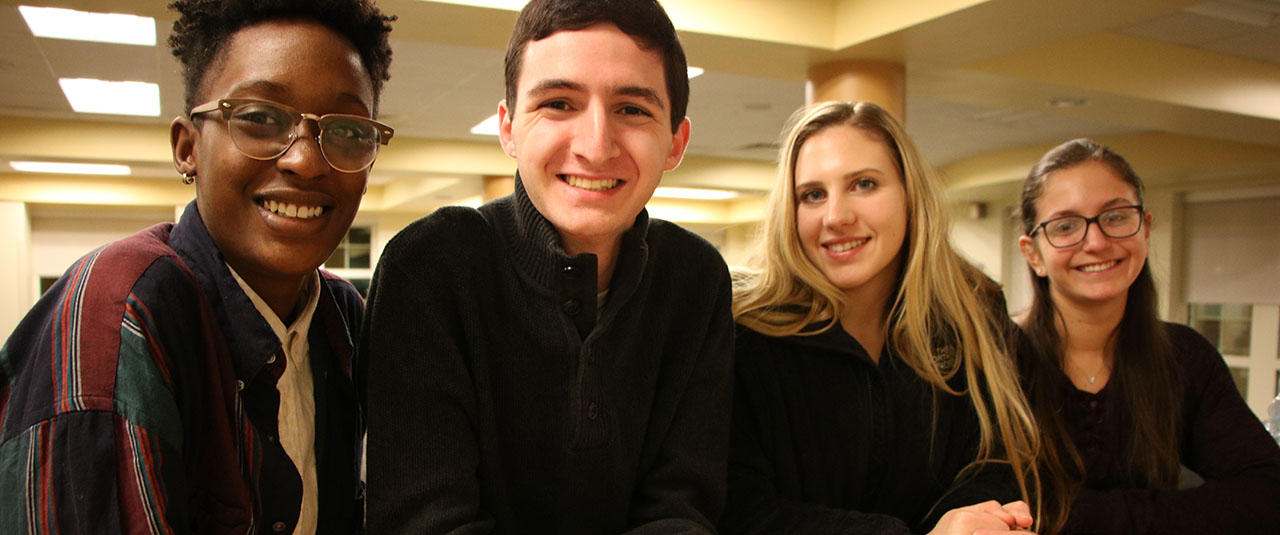 Access:Ability Scholars
Building a World for Every Body
Do you want to be involved in creating accessible, diverse and inclusive environments while pursuing your desired major?
As an Access:Ability Scholar, you will have opportunities to explore, design and advocate for new approaches to disability in partnership with individuals on campus, in the community, nationally and globally.
All majors are welcomed and encouraged as you explore diversity across disciplines.
If we are to achieve a richer culture, we must weave one in which each diverse human gift will find a fitting place.
If we are to achieve a richer culture, we must weave one in which each diverse human gift will find a fitting place.
Program Highlights
Access:Ability Scholars embrace disability and possibility. Scholars' diverse backgrounds and wide variety of majors enrich the learning environment, promote deeper understanding of disability and set the stage for transformative action. Leadership, service, research and independent study opportunities are available.
You may use your experiences toward the disability studies minor and will have the opportunity to live with others who share a commitment to creating diverse and inclusive communities.
EXPLORE
In your first year as a UD Access:Ability Scholar, you will participate in an introductory seminar where you will be introduced to opportunities to explore and broaden your perspectives on disability. You will develop, explore, design, and advocate for inclusive, strengths-based approaches and responses to disability in ways that also connect to your major.
EXPERIENCE
Following the introductory seminar, you will have multiple opportunities to participate in a variety of activities, building a portfolio of experiences that highlight:
what you have learned personally and professionally about specific disability issues;

how other aspects of human diversity intersect with specific disability issues;

connections to disciplinary, interdisciplinary or multidisciplinary approaches to disability issues, including relevant ethical implications of such approaches;

how you have engaged with people with disabilities and their allies in transformative ways.
Create, Innovate, Transform
As a senior, you will be encouraged to pursue an independent project focused on disability, which may relate to your major. The project will build upon your earlier work in the program and engage people with disabilities and/or their allies in project design, implementation, or interpretation. You will create a portfolio, performance or other product that represents your work to a broader audience and describes relevant contributions to your particular field of interest and the disability studies field.
Network
Throughout your program of study, you will have the opportunity to participate with other Access:Ability Scholars in social and networking events twice each semester. As a Scholar you will be connected to the University's Center on Disabilities Studies, its national and international networks and advanced undergraduate and graduate mentors who share your passion. Support for conference travel scholarships and disability-related study abroad will be available on a competitive basis.
Specialized Coursework
DIST 100 - Access:Ability Introductory Seminar (1 credit)

DIST 200 - Access:Ability Experience (variable 1 – 3 credits, repeatable)

DIST 400 - Access:Ability Senior Project (3 credits, optional)
Up to 9 credits of Access:Ability coursework can be applied to the 18-credit Disability Studies Minor.
Resources
The Access:Ability Scholars Program is administered by UD's Center for Disabilities Studies (CDS) and the College of Education and Human Development, which also support the Disability Studies Minor – a program that enrolls more than 400 students from a wide range of majors in multiple colleges at the University.
CDS is a member of the Association for University Centers on Disabilities. CDS transforms communities through their programs, education, service and research that support inclusion, empowerment and well-being of people with disabilities and their families. Across the University of Delaware's colleges, diverse faculty and students are engaged in an array of research, teaching, service and advocacy that embraces disability and possibility.