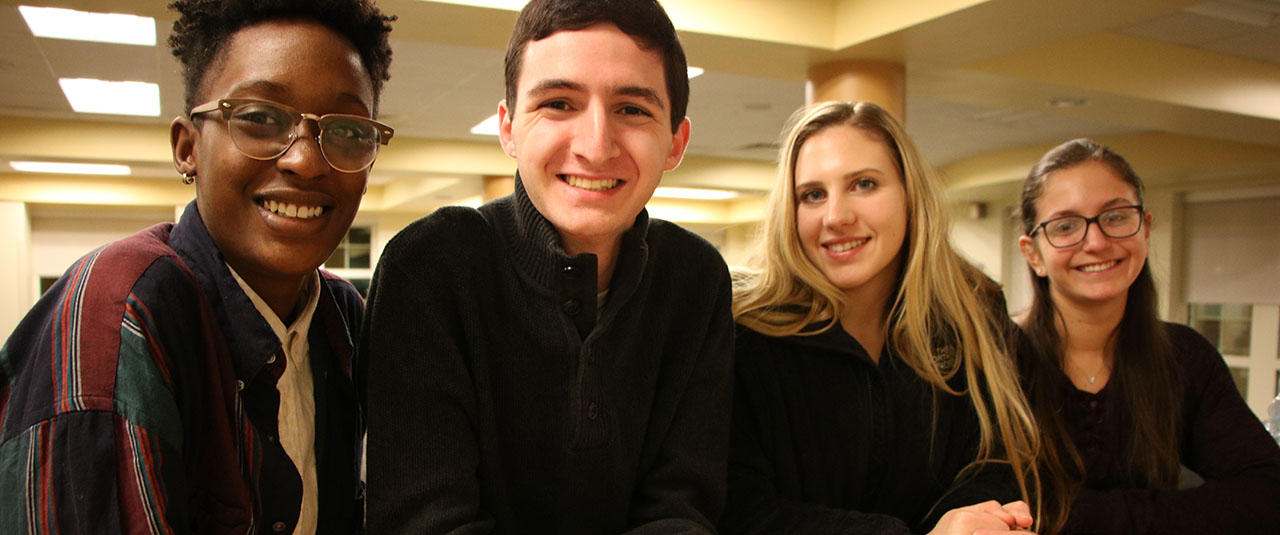 Access:Ability Scholars
Building a World for Every Body
Do you want to be involved in creating an accessible, diverse and inclusive world? Maybe you are curious about...
- Disability representation in the arts or social media
- Innovative products to enhance the health and well-being of people with disabilities
- Policies or practices that support people with disabilities to live, learn and work to their full potential
- Other issues affecting the disability community
Whatever your interests, as an Access:Ability Scholar, you will have opportunities to explore, design and advocate for new approaches to disability in partnership with individuals on campus, in the community, nationally and globally.
All majors are welcomed. Access:Ability Scholars embrace disability and possibility.
If we are to achieve a richer culture, we must weave one in which each diverse human gift will find a fitting place.
If we are to achieve a richer culture, we must weave one in which each diverse human gift will find a fitting place.
How to Apply
The fall 2023 application for Access:Ability Scholars is currently closed. Incoming freshmen and transfer students will be able to apply for fall 2024 beginning in December 2023.

Program Highlights
The Access:Ability Scholars program combines a low number of course credits with a variety of non-credit co-curricular learning opportunities across scholars' time at UD.
Specialized Coursework
DIST 100 Access:Ability Introductory Seminar (required, 1 credit in fall of first year): You will be challenged to think about disability from multiple perspectives and identify opportunities for exploring, designing and advocating for inclusive, strengths-based responses to disability.
DIST 200 Access:Ability Experience (optional, variable 1 – 3 credits, repeatable): Design an independent study to engage with disability through research, service learning or leadership activities.
DIST 301 Disability Studies: Special Topics (optional, 3 credits): Topics vary for this course, which is usually part of a study abroad program (e.g., Disability and Diversity in Thailand).
DIST 400 Access:Ability Senior Project (optional, 3 credits)
Complete an independent research or service learning experience that engages people with disabilities and their allies in project design, implementation, or interpretation.
Everyone in the Access:Ability Scholars must complete DIST 100 (1 credit) and 3 credits of another DIST course or equivalent hours of research, service learning or leadership activities. Up to 6 credits of Access:Ability coursework can be applied to the 15-credit disability studies minor.
Co-Curricular Events
Social Events: Each semester, you will attend one event especially for scholars. Two recent favorites included a workshop on autism and mental health and a conversation about being a disability ally. You will have a choice of three or four topics each semester.
Community Events: Each semester, you will attend one event for scholars that is open to the community. Examples include a screening and panel discussion of the film, Intelligent Lives, and a community roundtable about current issues in the disability community.
Participation in social and community events is noted on your transcript as DIST 150 (0-credit) Disability Community Engagement.
Mentoring
In your first year, advanced undergraduate peer mentors will meet with students individually and in small groups to help you make connections on campus and in the community.
The faculty coordinator is available to meet with you throughout your time at UD to help you plan an independent study, identify other campus and community opportunities and discuss career interests.
Related Programming
You will be encouraged to customize your Access:Ability experience by connecting with other disability-related student groups, study abroad, conferences and other campus and community activities of personal or professional interest.
Scholars often choose to add the disability studies minor, the most popular minor at UD.
E-Portfolio
With support from the faculty coordinator and peer mentors, you will create an e-portfolio on your experiences, highlighting:
what you learned personally and professionally about disability issues
what you observe about intersections of disability and other aspects of human diversity
what you learn about interdisciplinary or multidisciplinary approaches to disability issues, including relevant ethical implications
how you engage with people with disabilities and allies in transformative ways
Completion of your e-portfolio will be included on your transcript as DIST 450 (0 credit) Access:Ability Scholars Portfolio.
Frequently Asked Questions
Access:Ability Scholars is open to first-year and transfer students admitted to Newark campus.
Admitted students can access the essay prompts to apply through their My Blue Hen Home student portal. Students may apply to multiple programs, but will only be admitted to one program.