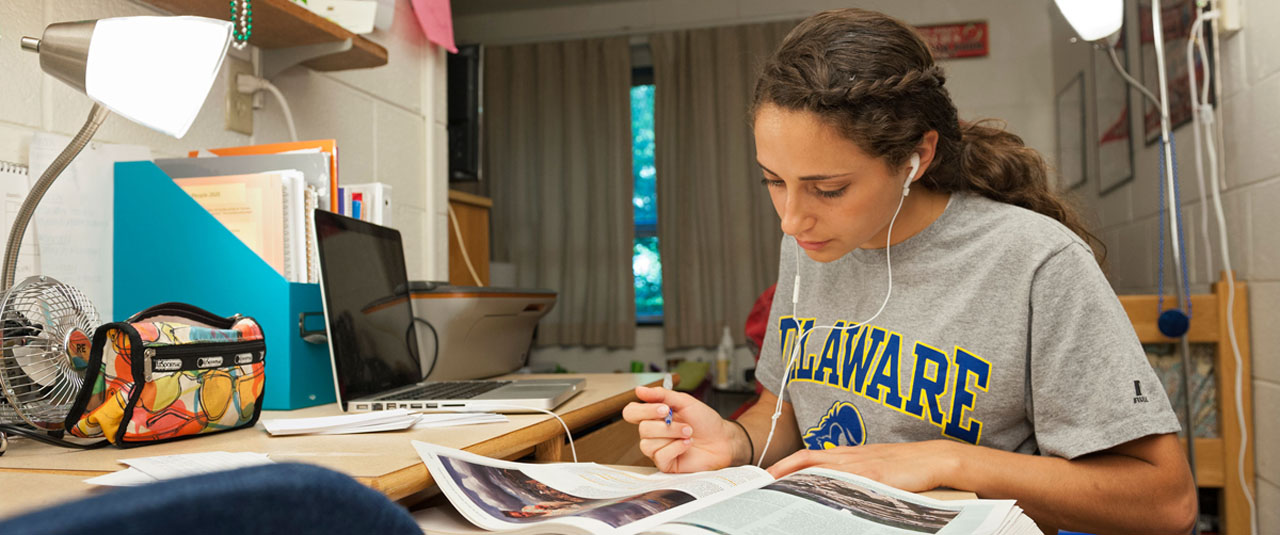 Edge Summer College Program
The Edge summer college program at the University of Delaware offers exclusive opportunities to engaged and talented high school sophomores and juniors across the country. Students have the chance to live and learn on one of the most engaging college campuses on the East Coast.
Why Edge?
The UD Edge summer college program prepares high school students moving into their junior or senior year for a future as a successful college student. By emphasizing academic excellence, practical skill building and student leadership, Edge offers you the challenge, independence and excitement of a living and learning experience that can only be found at a top national university.
From mid-July to mid-August, you will:
Live together in a state-of-the-art residence hall located on UD's beautiful Newark campus

Take two college-level courses, taught by UD faculty, for up to 7 transferrable credits

Participate in a pre-college readiness and resource workshop where you will learn about university resources, writing and research techniques and the college application process

Take part in a variety of social and cultural educational activities
Program Dates
Edge officially kicks off with move-in to a University residence hall on July 8, 2018. Classes will run from July 9 - August 10, 2018.
May 1, 2018: Priority deadline to submit applications. The Edge application is closed for the 2018 program.
May 15, 2018: Priority deadline for submission of all enrollment forms and the $100 program deposit fee. Enrollment forms and deposits may be accepted after the priority deadline until capacity is reached.
July 8, 2018: Move-in day and convocation.
July 9, 2018: Classes begin.
August 10, 2018: Final exams.
How to Apply
To apply to the 2018 Edge session, please complete the following steps by May 1, 2018:
✓ Submit the online application and essay
✓ Have a teacher, mentor or school counselor submit a letter of recommendation via the Edge recommendation form
Please note that applications are closed for the 2018 program.
EDGE Course Information
General Information and Scheduling
Edge courses are designed to encourage you to expand your knowledge in new directions and to provide a supportive environment where learning is valued for its own sake.
Students will enroll in a required, pass/fail, 0-credit Edge Seminar (UNIV 167). Students will also enroll in two courses for a minimum of 6 or, in the case of a class with a laboratory element, a maximum of 7 college credits. Upon successful completion of Edge courses, students earn regular University of Delaware credit. Earned credits may be used at the University of Delaware to fulfill breadth requirements or can be transferred to other accredited colleges or universities.
Edge courses, taught by UD faculty, are college-level classes specifically aimed at high school students. Students enrolling in core courses will attend class with other Edge students.
You may also choose courses from UD's second Summer Session offerings. In these courses, you will attend class with regularly matriculated college students.ath courses will also have additional lab times during the week.
Course Options
Generally, 3-credit courses meet daily, Monday through Friday, for 90 minutes. Class sizes are typically limited to 30 students to give you increased opportunities for class discussion and to ensure attention to your individual needs and interests. Classes are fast-paced, rigorous and intense. You should expect to devote considerable preparation time to each class. Science and some math courses will also have additional lab times during the week.
You are expected to attend every class, be engaged in classroom discussions and activities, conduct yourself in a mature manner and devote significant time to your studies outside of class. It is often suggested that you spend 2-3 hours preparing (studying and reviewing notes, reading, etc.) for every hour you spend in class.
Students who are planning to register for a Math course are required to take a two-hour math placement exam. The placement program is administered by ALEKS (Assessment and Learning in Knowledge Spaces). Additional information regarding the math placement exam and course offerings will be sent to students upon admission to the Edge program.
Edge students will choose at least one of the following Edge Exclusive courses (see below). Edge students will also have the opportunity to enroll in a Summer Session-Second Session course.
Student and Campus Life
Residence Halls
Edge students stay in an air-conditioned residence hall that is within easy walking distance of academic buildings and other amenities. Trained Edge mentor staff provide a community environment in the residence halls that promotes respect for individual differences while supporting personal growth and academic success. Available facilities include a study room, laundry room, kitchenette and a large common lounge.
Rooms
Students share a fully furnished, double-occupancy, air-conditioned room. Males and females are housed separately, but are able to socialize and study together in main lounges and common areas.
Dining
All Edge students have a two-per-day meal plan (breakfast and dinner) that is included with the program fee. Snacks and other dining options are available at various food courts and student centers across campus. Students also have the option of purchasing university Flex points, which allows them to buy food and snacks outside of the dining hall (such as locations on Main Street). Learn more about Flex points.
Campus Facilities
There are many recreational facilities on the UD campus that can be used by Edge students without charge. Basketball courts, large grassy areas, beach volleyball courts and tennis courts are all available on campus. The Carpenter Sports Building can also be used by students wishing to play basketball, climb a rock wall or use exercise machines, to name just a few activities.
Program Fees and Financial Aid
Program Fees
The Edge program fee covers tuition for your courses, housing, a daily meal plan (including breakfast and dinner), library privileges, lab fees, and all group recreational costs. It does not include the cost of books, any other meals or spending money.
• Delaware resident program fee: $4,600
• Non-resident program fee: $7,100
There is a non-refundable, one-time deposit of $100 that is due June 1, 2018.
Students planning to apply for Financial Aid must complete the Edge Financial Aid Form by clicking on the following link: https://apply.udel.edu/register/edge2018aid
Deadline to apply for financial aid is May 1, 2018. Please note that financial aid is limited and does not cover the entire cost of the program.
Edge Extension
Take your Edge experience further with Extension, support for students with disabilities.
For students admitted to Edge with a documented disability, additional support is available. Edge Extension expands on the collaboration, targeted coursework and mentoring the Edge program offers, giving students with disabilities more resources for success.
Students in Edge Extension will enroll in Metacognitive Strategies, a course that will challenge you with the critical skills needed for success in college and beyond. The course will discuss self-advocacy, the impacts of disabilities on learning and the methods useful for success in college. This course is combined with one-on-one academic coaching, allowing you time to ask questions and get assistance from our support staff.
The support Edge Extension offers goes beyond the summer. Throughout the year, Extension provides monthly video chats, newsletters and up to three one-to-one meetings with staff, all meant to reinforce the skills learned at UD.
Financial assistance is available for eligible Delaware residents through the Division of Vocational Rehabilitation (DVR).
Interested students complete the general Edge application. Academic eligibility requirements are the same for Edge and Edge Extension students. Admittance to Edge Extension is dependent on general Edge admission. Students interested in receiving Edge Extension services must provide documentation of a disability for consideration.
Interested? Contact Wes Garton, Edge Extension coordinator for more information, at wgarton@udel.edu or 302-831-7550.
Space is limited, so don't delay!
Edge Program Contacts
Address: 210 S. College Ave., Newark, DE 19716-7202
Phone: (302)-831-8123
Fax: (302)-831-6905
Email: edge@udel.edu