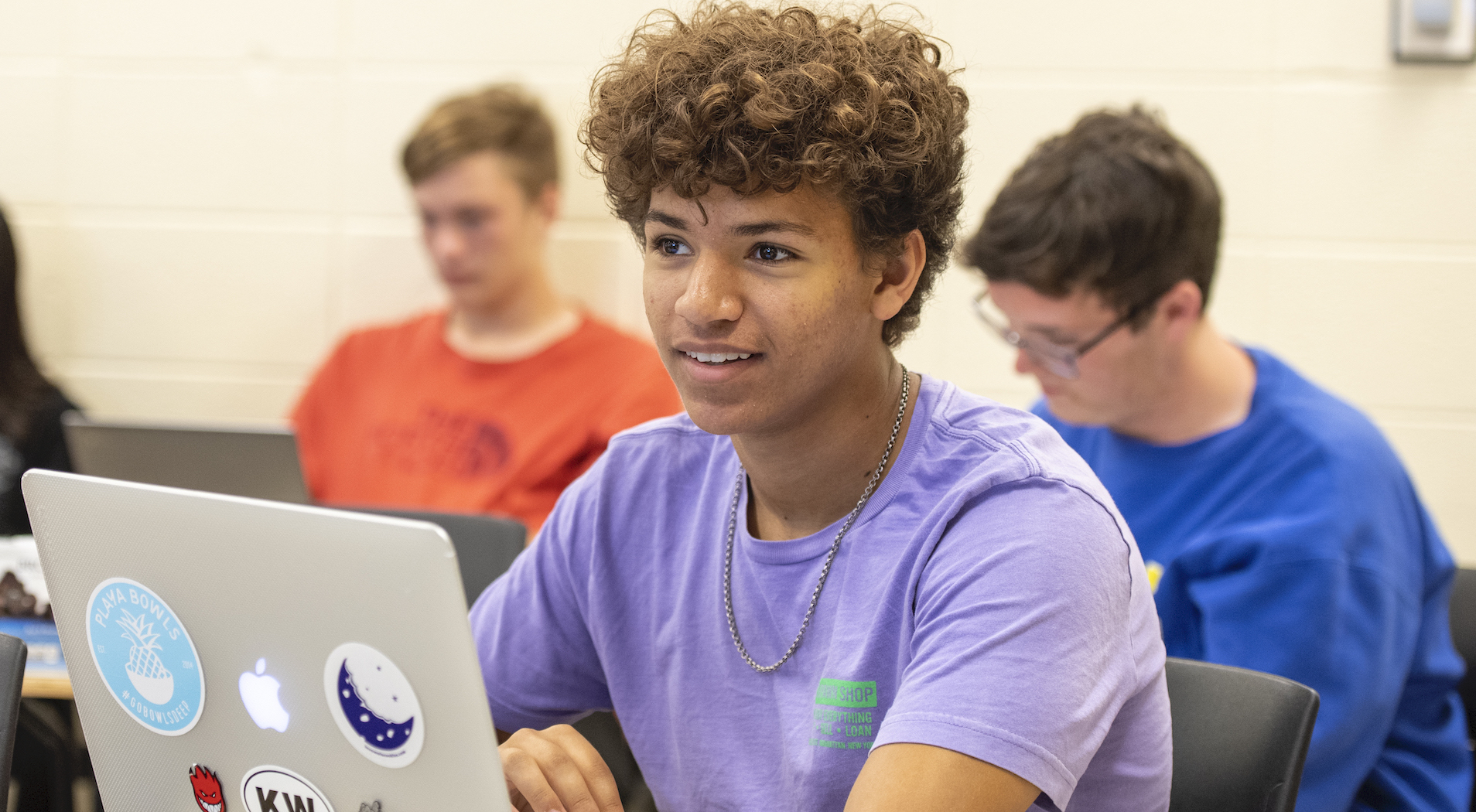 Edge Summer
College Program
The Edge summer college program at the University of Delaware offers opportunities to talented high school students across the country moving into their junior or senior year. Students have the chance to learn at one of the most engaging colleges on the East Coast.
Why Edge?
The UD Edge summer college program prepares high school students moving into their junior or senior year for a future as a successful college student. By emphasizing academic excellence, practical skill-building and student leadership, Edge offers you the challenge, independence and excitement of a learning experience that can only be found at a top national university.

From mid-July to mid-August, you will:
Take two college-level courses, taught by excellent UD faculty members, for up to seven transferrable credits

Participate in a pre-college readiness workshop led by experienced college admissions professionals, where you'll gain insight into the college application process, including what it takes to create a competitive college essay

Engage with leaders and undergraduate students across campus to learn from their stories of personal growth, resiliency, leadership and success
Program Dates
Edge kicks off with a virtual convocation on July 12, 2020. Classes will run from July 13 - Aug. 14, 2020.
July 12, 2020: Virtual convocation to take place at 12:00 p.m.
July 13, 2020: Classes begin.
August 14, 2020: Final exams.
How to Apply
The 2020 Edge application is closed. We plan to open the 2021 Edge application on December 1, 2020.
EDGE Course Information
Edge courses are designed to encourage you to expand your knowledge in new directions and to provide a supportive environment where learning is valued for its own sake.
All Edge students will enroll in the Edge seminar course (UNIV 167) designed to help students learn techniques and skills correlated with college success, as well as gain insight into the college application process from experienced college admissions professionals.
The Edge exclusive courses offer a minimum of six or, in the case of a class with a laboratory element, a maximum of seven college credits. Upon successful completion of Edge courses, students earn regular University of Delaware credit. Earned credits may be used at the University of Delaware to fulfill breadth requirements or can be transferred to other accredited colleges or universities.
BISC 106 Elementary Human Physiology (3 credits): This lecture focuses on the structure and function of humans; mechanisms of maintenance and reproductive behavior.
ENTR 350 Introduction to Entrepreneurship (3 credits): This course focuses on understanding the basic concepts, tools and practices of entrepreneurship and the development of entrepreneurial skills. The entrepreneurial process (opportunity recognition, resource marshaling and team building driven by communication, creativity and leadership) and business planning are emphasized.
ENGL 210 Introduction to Short Story (3 credits): In English 210, the short story is studied as a literary genre with emphasis on structure, technique, style and theme. In order to develop critical reading and writing skills, class discussion and writing assignments will concentrate on the close reading and analysis of short stories from a variety of time periods and cultural perspectives. This summer we will compare short stories that are considered classics with American short stories considered to be the best published this year.
HDFS 201 Life Span Development (3 credits): Exploration and understanding of the social, emotional, cognitive and physical development of the individual from infancy through old age in the context of the family.
PHIL 204 World Religions (3 credits): In this course we will take a critical yet sympathetic view of a wide range of religious traditions, including Native American, Hindu, Buddhist, Daoist, Jewish and Christian. This will require that we allow ourselves both to identify with and to maintain our distance from each of the traditions covered. We propose to explore textual roots and fundamental concerns, and to look for similarities and differences. We will not be experts on World Religions after taking this course, but we will be more sensitive to the kinds of issues at stake in the study of religion, and more familiar with the origins and evolutions of today's living religions, both Eastern and Western. In general, it must be remembered that this is a philosophy class, so that emphasis will be placed on critical thinking, clarity and argumentation.
Program Fees and Financial Aid
Program Fees
The Edge program fee covers tuition for your courses, library privileges, and other program fees. It does not include the cost of books.
• Program fee: $3,680.
There is a non-refundable, one-time deposit of $100 that is due June 1, 2020.
Edge Program Contacts
Nakia Mack, M.Ed.
Director of Pre-College Programs
Tim Danos, M.P.A.
Assistant Director of Pre-College Programs
Address: 210 S. College Ave., Newark, DE 19716-7202
Phone: (302) 831-8123
Fax: (302) 831-6905
Email: edge@udel.edu