Linking Farm Vitality and Health Project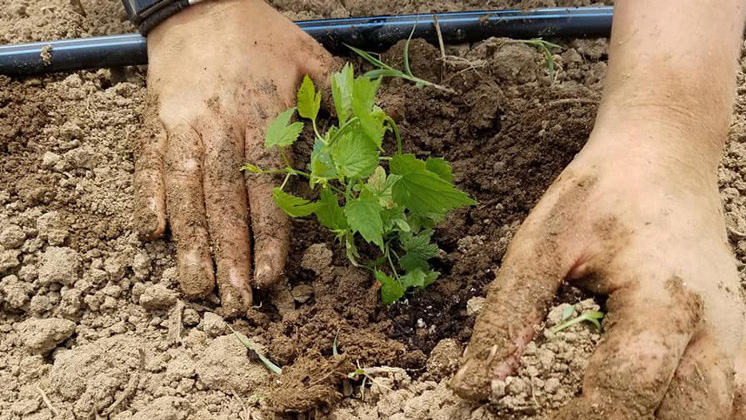 "Linking Delaware farmers to health care options will help farm operators reduce business risks in one of the most dangerous jobs there is," said Maria Pippidis, New Castle County director and Cooperative Extension educator.
About
A 2017 United States Department of Agriculture (USDA) study highlighted many alarming figures affecting the health and wellbeing of the farming population, including:
45 percent were concerned that they would have to sell some or all their farm to address health-related costs

64 percent reported having pre-existing health conditions and were not confident they could pay the costs of a major illness or injury

72 percent carried secondary off-farm jobs for health insurance and financial stability
Additionally, increased use of opioids to handle pain and an uptick in suicides among farming families and supporting professions, such as veterinarians, raise significant concern.
"Focusing on the health and overall wellbeing of our farming community is a critical and timely dimension of the broader efforts in Delaware to drive comprehensive, systemic health care transformation to achieve better care, healthier populations, lower cost and spending, and a better provider and patient experience," said CANR Dean Mark Rieger. "Delaware's agricultural community is a unique and vital part of the state's economy."
"The farming community is asking for guidance and education to achieve better access to care and overall better health," added Michelle Rodgers, CANR associate dean and director of UD Cooperative Extension. "They are calling us to action; we are responding to that call by initiating a dialogue among invested parties. We need to better understand the meaning of the USDA study's findings and the applicability to Delaware — all toward fostering greater communication, community partnering and sharing resources to drive concerted actions to improve the health of the farm community and to ensure the viability of Delaware's farms."
Phase 1 – The Health and Farm Vitality Forum
Any individual or organization with a stake in assuring healthy farm families and prosperous farms in Delaware is invited to attend the inaugural Health and Farm Vitality Forum. 
The forum will bring key stakeholders together from agriculture, health care, health insurance, finance and economic development and government sectors to learn more about issues faced by the agricultural community. Through a facilitated, small group process, attendees will identify key issues of concern in Delaware and potential solutions.
"The goal is to have individuals who are interested in collaborating with others to bring change and work toward local solutions," said Pippidis. "By bringing a variety of stakeholders together from multiple sectors, we are hoping that innovative solutions can be developed."
The forum's topics will include:
Understanding how access to health care impacts farm vitality in the short and long term

Showing the links between farm vitality and the economic wellness of the broader community

Considering health care reform in the state examine how it will impact the farming and rural communities

Reduce the cost for farm operators/employees

Protecting the farm as an asset for future farm operations

Professional development for medical, financial, insurance provider entities

Accessing mental health services

Helping young farmers stay in business.
"The goals of the grant are really community development based," said Pippidis. "We hope to increase awareness of the issues, identify changes that could occur as a result of the forum and determine future next steps and events that will keep change moving forward."
Phase 2 – Strengthening Health and Farm Vitality – Tools You Can Use Webinar
A webinar on health and farm vitality will take place on Oct. 24 from 1 p.m. to 2:30 p.m. EST. The session is designed for farm operators as well as those who support farm operators, including farm risk management personnel, estate planners, certified public accountants, lenders and health care professionals. Participants will learn about the scope of the issue and have resources they can turn to as they council farm operators. This national webinar will help participants better understand the issues and consequences as well as introduce tools they can use as they work with farm clientele. The University of Maryland Extension and University of Delaware Cooperative Extension Smart Choice Health Insurance programs and many other resources will be highlighted. Resources will be posted on the HiredNAg.net website.
Phase 3 – Outreach to Farm Operators
During Delaware Agriculture Week, farm health and farm business risk management programming for attendees will be included into the program.