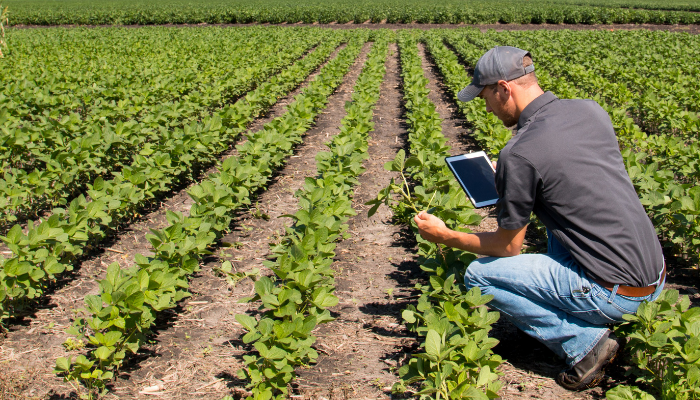 University of Delaware Cooperative Extension provides agribusiness and risk management education to a diverse food and fiber community in subject areas including, but not limited to: grain marketing, business planning, crop budgeting and computer record keeping.
Our programs

Mental Health First Aid Training
Do you know what stress, addiction, and/or mental health disorders looks like in friends, family or colleagues? Do you know what to do when you encounter these types of behaviors?
Why attend? In Delaware our agriculture community is facing many stressors. Those who are in the position to consult and aid them need to know the signs, symptoms and strategies to best serve them. Farm family members also need to know how best to help their loved ones.
What is this training about? The Mental Health First Aid training is an 8 hour evidence based program that introduces participants to risk factors and warning signs of mental illnesses, builds understanding of their impact, and overviews common ways to help and find support. Using interactive educational methods, you'll learn how to offer initial help in a mental health crisis and how to connect with the appropriate level of care. You will also receive a list of community healthcare providers and national resources, support groups, and online tools for mental health and addictions treatment and support.
A certificate of completion is provided to attendees who attend all 8 hours of the training.
Learn more (and share this flyer!)
Extension Disaster Education Network (EDEN)
EDEN is a collaborative national effort by extension services across the country to improve the delivery of services to citizens affected by disasters.
Farm Succession Planning is a business and risk management practice that is critical to the agricultural Industry and to the health of families and farm businesses.
Linking Farm Vitality and Health
Mental Health First Aid Kit Training (See above)
Farm and Farm Family Risk and Resilience Toolkit - This toolkit provides several tools educators can use to apply the socio-ecological model to risk management and resilience educational programming for farm audiences.
Additional Resources
This series for farm women focuses on developing risk management skills.
This publication is designed primarily to provide information and instruction for producers, grain handlers, and students on how grain is graded.