Contact us
Find a complete listing of our Extension staff and the location of our various offices.
4-H Animal Science
These are statewide large animal science youth programs, designed to engage and excite young people in the STEM based field of animal science while developing life skills such as leadership, responsibility, caring, recordkeeping and good sportsmanship.

Dairy
2021 Delaware Youth Dairy Futurity
All Breed Summer Calves
Co-Chairs: John Hickey & Charmayne Busker
To participate in the 2021 Futurity for Summer Calves, a calf must be nominated by May 1, 2021. All calves, born June 1, 2020 to August 31, 2020 inclusive, of any dairy breed are eligible to enter the Delaware Youth Dairy Futurity. Calves MUST be exhibited by a Delaware State Fair Junior Dairy Exhibitor. Leased animals are eligible and an exhibitor must be named on the last entry on May 1, 2020.
1st payment of $15.00 due on or before February 15, 2021
2nd payment of $15.00 due on or before May 1, 2021
Late Entries: If you do not enter the animal by February 15, there will be a single entry fee of $70.00 due by May 1, 2021.
Purses in this event shall consist of all moneys received by this association in connection therewith by any of nomination fees, grants, and donations from any person or persons or sponsors of this show.
The premium schedule for this class is as follows: 1st place: $450; 2nd place $350; 3rd place $250, 4th place $200, 5th place $100, 6th-10th place $75. The remaining entries will receive no less than $50. Best Bred and Owned will receive $100 in memory of Sam Dixon, Jr. Each exhibitor will receive a Futurity Shirt that must be worn during the show with white show pants. Sizes must be given on the May entry. The premium schedule is subject to change.
Name and Registration numbers must be supplied with each entry. No "papers pending" entries are eligible. A copy of the registration papers must be sent with the final entry. A copy of the signed lease papers must be submitted with the final entry along with a copy of the registration papers.
Animals shown in the futurity are not eligible to be shown in the Junior Dairy Show at the Delaware State Fair. However, the top placing animal for each breed may compete for Junior Champion of the Junior Dairy Show. Exhibitors may use this animal for Showmanship and Fitting. The Futurity is tentatively scheduled for the evening of Saturday July 24, 2021 at the Delaware State Fair.
All entrants must agree to be amendable to all rules and regulations of the Delaware Youth Dairy Futurity and the Show Ring Code of Ethics.
ENTER ALL OF YOUR SUMMER CALVES!
The one you omit might prove to be the Best in 2021
Download / Print Entry Form (PDF)
Questions?
The Leasing Program pertains to registered breeding stock of the following dairy breeds:
Ayrshire
Brown Swiss
Guernsey
Holstein
Jersey
Milking Shorthorn
Downloads
Delaware Cow Camp Registration Information

Activities will be scheduled throughout the camp to give participants experiences
with fitting and showmanship as well as an introduction to some dairy science related topics.

2020 Delaware 4-H & FFA Spring Dairy Expo
Equine
The Clover Quest Trail Challenge
Ride/Drive the First State with Delaware 4-H Horse Program
General Information and Eligibility:
The challenge begins June 1, 2021 and is finished on August 15, 2021
You must be a currently enrolled Delaware 4-H member in good standing and should be enrolled in a horse project. Both hours/miles in the saddle and hours/miles spent driving horses can be counted. 4-H leaders/adults may participate. If adults are competing on a team, the team must contain at least (1) 4-H member.

If you register after the challenge begins, you may only accumulate hours/miles from that date forward, back hours/miles will not be accepted.

Divisions:
Participation Division- For those that want to participate, but not competitively, there is a participation only option. Hours/mileage accumulated will not be considered for end of challenge award recognition. For example- those members who only take a riding lesson once a week.
Individual Division- For those that want to participate competitively. Hours/mileage accumulated will considered for end of challenge award recognition.
Team Division- A full team consists of 4 members, teams of three may also compete. Teams must include at least 1 4-H member. A family unit can be considered a team. Clubs may participate as a team and clubs may submit multiple teams. If participating as a team, select a team name and a team captain. The team captain will be responsible for submitting the team log by the submission deadline.
4-H members are eligible to compete in both the individual and team divisions simultaneously.
Hours/Mileage:
Training/Conditioning and recreational hours/mileage count. Hours/mileage logged during any form of competition do not count. Both hours riding and hours driving may count towards this challenge. Teams do not have to ride together. Your miles and hours can be logged separately. When riding, please keep safety measures such as riding helmets, proper footwear, trail etiquette and social distancing protocols in mind.
Extend Your Knowledge:
Consider reviewing the following free web based resources about trail riding safety and trail etiquette:
Recognition:
Top Placing individuals and teams will be recognized.
All participants will receive a participation certificate at the end of the challenge no matter your accrued hours, mileage or participation level.
To Enter:
Entry is made online via a Google Form. For those competing as a team, submit one (1) completed team entry form via an online Google Form with team captain identified.
Entry will not be considered eligible for awards until your entry form and log form have been received. Mileage and team captain log sheets must be turned in no later than August 23, 2021
Submitting Mileage:
Submit mileage/time logs to Susan Garey truehart@udel.edu
Mileage deadlines: Individuals will report their hours and miles using the provided log form by August 23, 2021. Team members should report their hours and miles to the team captain regularly throughout the challenge.
*Reminder: You do not have to ride together as a team. Miles can be logged separately.*
It is not a requirement to use the apps mentioned below however, here are some apps that you may find helpful in logging your mileage:
Map My Ride

My Tracks-Google

Horse Trail

Equi-Trail

Horse Riding Tracker
We encourage you to take pictures, post on social media and use the hashtags #de4h, #DE4HHorse and #de4hCloverQuest
Get out and enjoy our beautiful state from horseback!
Go Ride!
Delaware 4-H Virtual Equine Art Contest
Entries must include the image of a horse or horses, ponies, donkeys or mules.


Artwork and photographs must be the original work of the entrant. The work must have been completed during the current 4-H year (since Sept. 1, 2020)


Contestants will upload a photo of their artwork to the correct Padlet for their category. Links are provided by category below. This will effectively turn each Padlet into a virtual art gallery for viewing so that all the artwork can be viewed by others.


Contestants may submit one image(no image collages) for judging per piece of artwork with the exception of Class 10 Mixed Media. Contestants will be able to submit two images per piece of artwork in the Mixed Media category in case multiple views are needed.


Contestants may submit more than on entry. A maximum of two entries per individual per class will be accepted.


Artwork must be fully completed when submitted.


The Delaware 4-H Horse Advisory Committee respectfully requires the permission of the artists to reproduce their entries in future promotional publications or articles which advertise the winners, promotes future contests or 4-H equine activities.
Eligibility:

Contestants must be 4-H members that are currently enrolled in the Delaware 4-H program.


4-H members must be between the ages of 5-19 years old as of January 1, 2021.


Age divisions (age as of Jan 1, 2021) are as follows:
Cloverbud (5-7 years old)
Intermediate (12-14 years old)
Junior (8-11 years old)
Senior (15-19 years old)


Entries must be made online via Padlet and will be open between June 1- June 15th, 2021 for uploading contestant's artwork. If you are having technical issues uploading your artwork, please contact Caroline DelVecchio for assistance cadv@udel.edu


Cooperative Extension Education in Agriculture and Home Economics, University of Delaware, Delaware State University and the United States Department of Agriculture cooperating. Distributed in furtherance of Acts of Congress of May 8 and June 30, 1914. It is the policy of the Delaware Cooperative Extension System that no person shall be subjected to discrimination on the grounds of race, color, sex, disability, age, or national origin.


Judging will be completed and awards will be announced by the end of June. Awards for 1st-6th place will be presented for each category in each age division. A Best in Show Champion and Reserve Champion will also be chosen and presented with rosettes and medallions. Cloverbuds will receive participation awards only.


Entries that do not comply with entry specifications will be disqualified.
Delaware 4-H Equine Art Contest Classes:


Download Delaware 4-H Virtual Equine Art Contest info >
Virtual Delaware 4-H Horse Bowl Contest
Online Competition Conducted Between April 2-11, 2021
Registration Open 3/22/21-4/2/21
If you have special needs that need to be accommodated,
please contact the office two weeks prior to the event
so that we can make alternate arrangements.
General Rules, Regulations and Entry
1. Selection of Teams, Contestants, and Eligibility
Youth must be currently enrolled members of the Delaware 4-H Program. Youth can compete in both the individual and team categories. The same score will be utilized for both categories.
Team entries must consist of three (3) to four (4) members each. Teams may be comprised of members from multiple 4-H clubs and/or across counties. We will do our best to create teams for those members who wish to compete as part of a team and do not have a team within their club.
All contestants must have passed their 8th birthday and must not have passed their 19th birthday as of January 1st of the current year.
Contestants may not have participated in a previous National Horse Bowl Contest as an official member or alternate.
Contestants must be entered in the appropriate age division (as of 1/1/21): 8-10, 11-13, 14-19. Any team whose members come from two age groups must compete in the older group.
2. Questions may be from:
4-H Horse Manuals (blue cover 2015 version): Giddy Up and Go", "Head, Heart and Hooves", "Stable Relationships", "Riding the Range," "Jumping to New Heights," "Horse Project Helper's Guide.," and 4-H Horse curriculum corrections found on-line at www.n4hccs.org. 2015 version 4-H Horse Manuals
In addition to the 4-H Horse Project manuals:
Age 8-10:
Horse Care for Kids, by Cherry Hill
Age 11-13:
Your Horse, a step-by-step guide to horse ownership, by Judy Chapple (and age 8-10 material).
Horses and Horsemanship – by Ray Antoniewicz, National 4-H Council
Age 14 and older:
Storey's Horse-Lover's Encyclopedia, edited by Deborah Burns (and age 8-10 and 11-13 material.
Horse Science- by Ray Antoniewicz, National 4-H Council
Questions will be comprised from the following three categories:
Regular questions (worth 1 point each).
Toss-up questions (worth 1 point each) The only difference between a regular and a toss-up question would be that toss-up questions would have a bonus question attached to each and, in general, would be somewhat more difficult than the regular questions.
Bonus questions (worth a pre-determined 1-3 points); Bonus questions will be offered only if a toss up question is answered correctly.
The Qualtrics online platform will be used to administer the contest and will be open for completion between April 2-11, 2021. The system will close at midnight on the 11th. Youth may only complete the contest one time. Youth must complete their own work without any outside assistance (adults, other youth, the internet, reference books etc.)
3. Entries
Youth must be pre-entered to compete in the contest. Entries must be made online via the University of Delaware IdLoom system and will be open between March 22 and April 2.
A valid email address that is used regularly should be used at the time of entry. This email address will receive the contest information and link.
There will be no entry fee for the 2021 contest.
Teams must be preregistered in order to compete in the 4-H Horse Bowl. Entries will not be accepted during the contest. If you have registered for the Horse Bowl, you will receive an email confirmation prior to the start of the contest.
4. Scoring
Individual scores will be calculated based on the number of correct answers Team scores will be calculated by adding the top three scores from a four-member team and dropping the lowest score. In a three-member team, no low score will be dropped.
5. Awards
Awards will be presented to the top placing individuals and teams in each category. The Danish system will also be utilized to present individual awards beyond the top placing individuals. Danish system awards will be based on the following scale:
Blue (90% or greater correct)
Red (75%- 89% correct)
Yellow (74% and below correct)
6. Rules
Youth must complete their own work without any outside assistance (from parents, leaders, other members and teammates, internet searches, reference books, etc.) If special accommodations are needed to complete the contest in this virtual format, please contact Susan Garey truehart@udel.edu or (302)730-4000.
In order to assist with creating a sense of competition in a virtual format, participants will not be able to return to questions.
In order to assist with creating a sense of competition in a virtual format, the questions will auto advance to keep participants from lingering too long on a single question. Youth will have a maximum of two minutes to answer each question before it auto advances.
2020 State 4-H Horse Show
Horse of the Year
Online Lessons
Livestock
Project Guidelines
Vaccination Programs

Livestock Judging Online resources - There are a lot of new educational resources online to assist livestock project leaders in providing educational opportunities for youth under their direction.
Poultry
Avian Bowl - Think you know a lot about poultry? Why not test your knowledge in an avian bowl contest?
Current news on our blog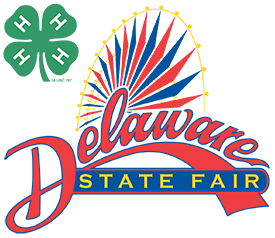 The Delaware State Fair is a terrific opportunity to showcase all you have done in the 4-H program.
Contact information
For more information about 4-H animal science programs, please contact Susan Garey in the Kent County Cooperative Extension Offices at truehart@udel.edu or (302) 730-4000.