The first UD apiary was established in 1949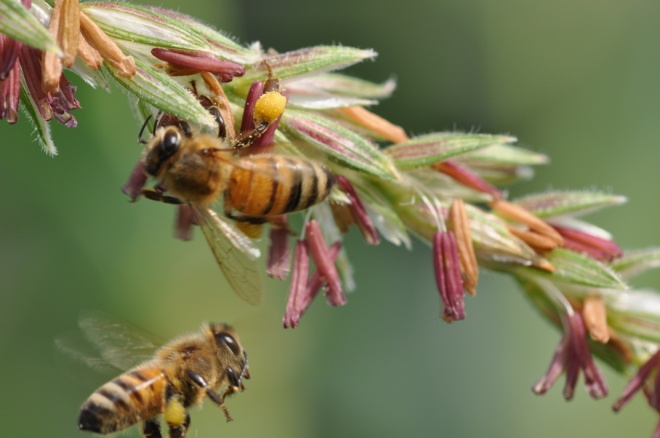 Apiculture, the study and practice of beekeeping, has had a long history at the University of Delaware since its first established apiary in 1949 by Dr. Dale Bray on Newark Farm. The Apiculture Program has flourished over the years and currently has many facets: teaching, extension. and research. The Apiculture Program's main goal is to provide hands-on experience centered on the amazing honey bee and other native pollinators. Equally important is the desire to share the unique life history, biology and ecology of the honey bee with students and future and current beekeepers.
The Apiculture Program has two functioning apiaries that are used for research, teaching and extension purposes. These apiaries are self supported by the honey the bees diligently make every season, which is sold at the UDairy Creamery and vended as "Dare to Bee" honey.
The Apiculture Program at UD shares a unique role with other universities and beekeeping associations in the Mid-Atlantic region in providing the public with information on Best Management Practices and tools to enhance honey production and bee stewardship. UD Apiculture in conjunction with Delaware Beekeepers Association and Delaware State University provides workshops and short courses throughout the year that range from beginner beekeeping to intermediate and advanced topics in beekeeping. These courses are designed to equip and update beekeepers and growers on proper management and new technology in the field. Listings of courses and workshops can be found on the Delaware Beekeepers Association website.
Utilizing citizen science based approaches in conjunction with molecular tools, research at UD covers a wide number of topics from risk management for honey producers to evolutionary biology and population genetics of U.S. Honey Bees.
Additional Resources
Listen to Deb Delaney discuss a hiveful of fascinating topics on WVUD: The Voice of the University of Delaware.