Well Connected Communities
Well Connected Communities is an effort to cultivate wellness across the country.
America's Cooperative Extension System, University of Delaware, in partnership with National 4-H Council, is equipping volunteer leaders to help their neighbors be healthier at every stage of life. With the support of the Robert Wood Johnson Foundation (RWJF), the nation's largest philanthropy dedicated solely to health, these communities are cultivating wellness and fostering a Culture of Health in America.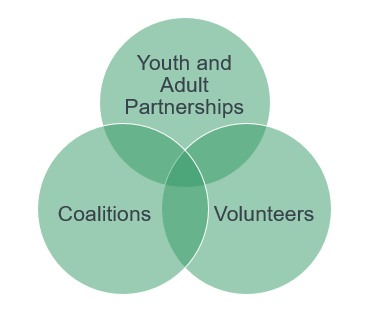 University of Delaware is currently focusing efforts in three communities across the state:
New Castle (Route 9)

The University of Delaware Cooperative Extension has been working with the Route 9 Health Subcommittee, led by WILMAPCO. Learn more about the work of the community residents and partners here: http://www.wilmapco.org/route9/

Dover

The University of Delaware Cooperative has been working with a group of organizations that provide health and wellness education, clinical services and educational supports to youth and teens in the Dover area and surrounding communities.

Seaford

The University of Delaware Cooperative Extension has been partnering with the Sussex Health Coalition for many years to assist in their mission engage the entire community in collaborative family-focused effort to improve the health of children, youth and families in Sussex County. To learn more about the Coalition and the work that they do for the residents of Sussex County, see here: https://www.sussexcoalition.org/. Extension is currently working with the Coalition, Children and Families First, and other partners on the Seaford Community of Hope project. To learn more about the project, click here: https://www.cffde.org/seafordcommofhope
Volunteer
As part of the Well Connected Communities project, we would like to encourage individuals who want to make a difference in any of those, or other communities to become a Master Wellness Volunteer. A Delaware Master Wellness Volunteer is interested in creating a culture of health where they live, learn work and play. Volunteers can be anyone over the age of 18. Interested in making a difference, but not over 18 yet?
Learn more about our Health and Wellness Ambassador program here: https://www.pcsreg.com/health-and-wellness-ambassador-registration.
Master Wellness Volunteers are devoted to changing the health of the residents of communities across the state. As part of the work Extension does with partners across the state, there are specific projects that need volunteer support. Review below for more information on volunteer work and registration.  
How do I become a volunteer?
Complete 40 hours* of training on public health, youth and adult partnerships and specific content around a track of interest

6 hours of in-person core content
17.5 hours of online core content training
10 hours of experiential learning in a topic area of your choice
3.5 hours of practicum – practicing curriculum, shadowing someone else teaching, attending events with an agent, etc.

Choose a project of interest

Food and nutrition education
School and Community Gardens
Well-being education
What will I do as a volunteer?
Become part of the Cooperative Extension team!
Engage in ongoing learning opportunities around health and well-being
Attend coalition meetings to learn more about community needs and current projects
Engage in teaching in the community around specific topic areas
Work on projects that change environments to better support healthy choices
Work in teams of youth and adults to identify and complete projects that focus on health and well-being
*As noted, all volunteers will go through 40 hours of training. If individual is already an Extension volunteer, some hours of training already taken will be honored toward this training.
Questions? Contact Gina Crist, gcrist@udel.edu
Join our next cohort of volunteers which will begin their training in January 2023 and complete by April 2023. More information on registration can be found here: https://ud-pcs.idloom.events/MWVFall2022
Training Outline
An outline of the training is below. The training is self-paced and prepares individuals to work in the community on education, systems and environmental issues that will support healthier communities.
Volunteer trainees will complete the training on their own, with the last 10 hour being spent connecting with county agents and other volunteers to learn more about the county projects and what they may be doing with their volunteer time.