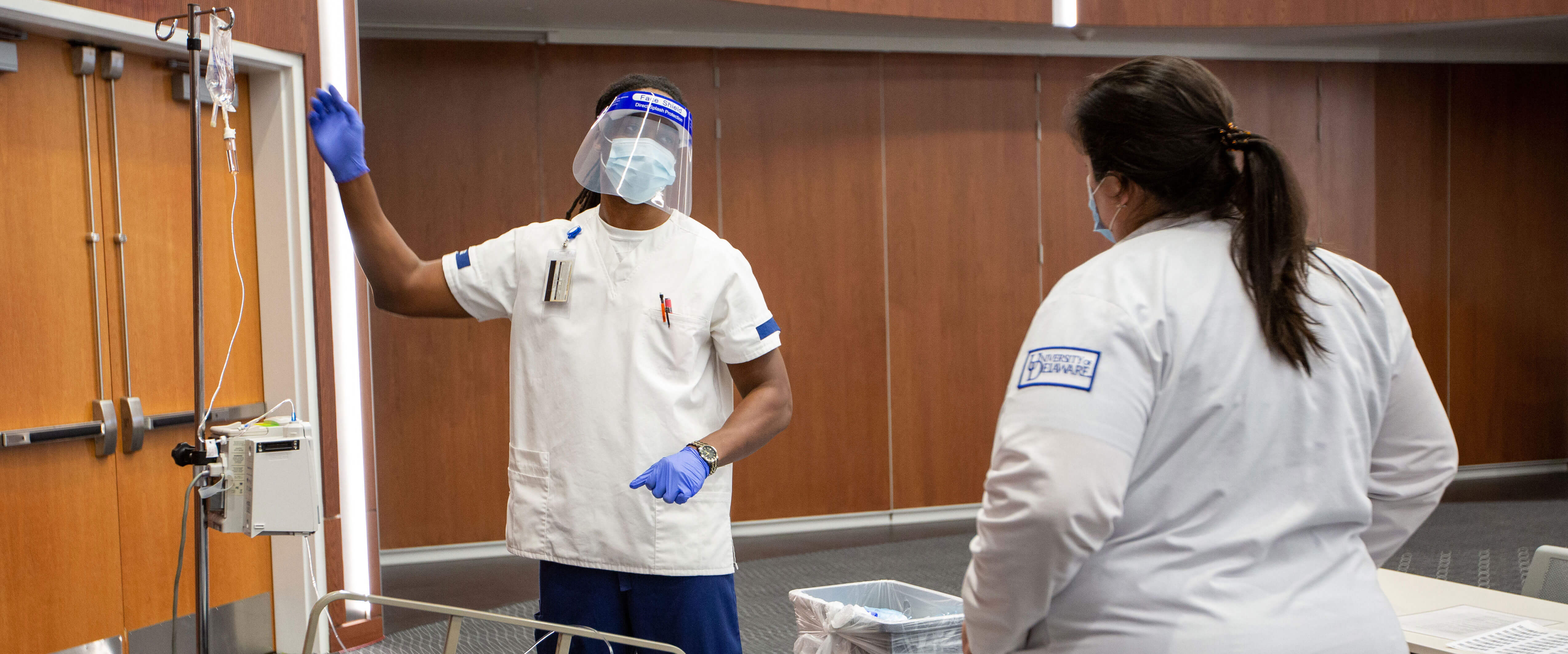 ABOUT US
The University of Delaware College of Health Sciences is a hub of multidisciplinary research, education, patient services and public outreach. Our students are future clinicians, nurses, therapists, scientists and other healthcare professionals who think big, dream bigger and strive to achieve better health for all people. We offer high-quality undergraduate and graduate programs, clinical research projects and a rich array of classroom, laboratory and real-world clinical, service and experiential learning opportunities. Our internationally recognized faculty and staff provide students with the tools to succeed and challenge them to change the world.
Our six departments and numerous programs encompass a broad and dynamic collection of healthcare specialties. In each, we create an experience that shapes changes in practice based on scientific evidence. We translate our strong platform in interdisciplinary science into health practices, therapies and interventions to improve people's lives.
Our students receive early immersion into practice settings and access to our faculty's world-class research programs. As a result, our graduates are well prepared to pursue careers in various health professions, as well as to continue their education in one of the medical fields or enter a field of graduate study. Our ultimate goal is to help students excel in their chosen profession in the arena of health.
MESSAGE FROM THE DEAN
Welcome to the University of Delaware College of Health Sciences!
Today, more than ever, healthcare is being delivered by interprofessional teams that provide person-centered care in clinics, hospital systems, the community, schools and more. While in the College of Health Sciences, you can shape your passion and explore where healthcare can take you, whether that's at the forefront of cancer diagnostics, delivering care in a hospital or long-term care facility, leading the charge in value-based models of prevention and wellness or delivering an exercise prescription to friends and neighbors with chronic disease. Through experiential learning and innovative classroom opportunities, Health Sciences will help you unleash your potential and prepare to be a next-generation healthcare leader. Your journey will take you through many twists and turns, but follow the path with intention and you will shape the future of healthcare delivery for the hundreds of thousands of Delawareans and millions more around the country who will rely on you for their care.
You are the future of healthcare and that future starts today! The sky is the limit!
All the best,
Kathleen S. Matt