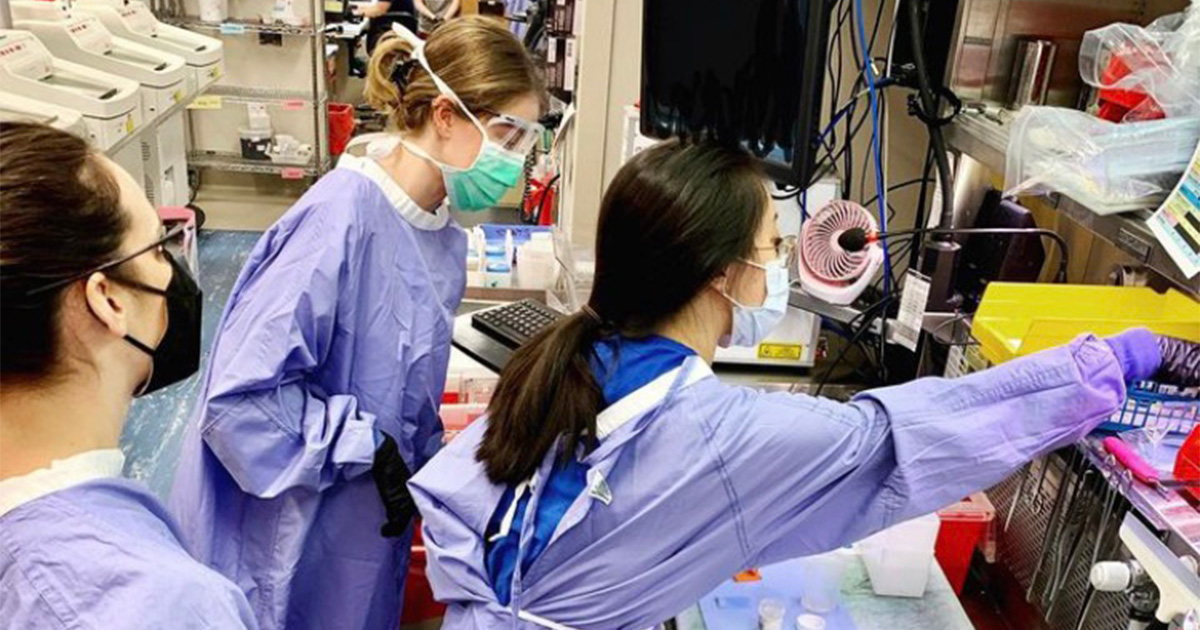 Celebrating Medical Laboratory Professionals Week
April 26, 2023 Written by Amy Cherry | Photos submitted by Jessica McMahon
Jessica McMahon, CHS, Class of 2018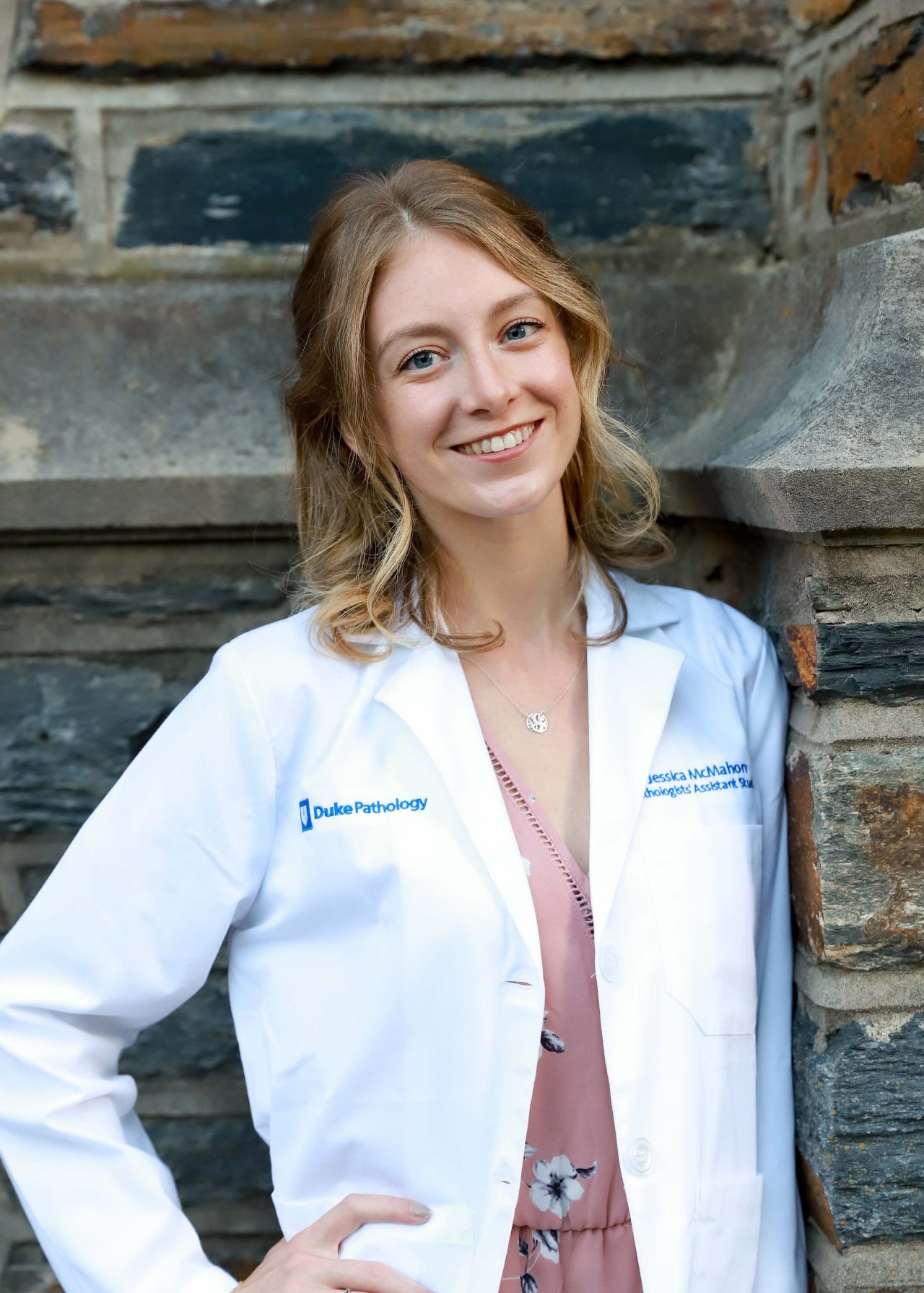 "Embrace the curriculum and spread your wings."
That's the advice that University of Delaware Class of 2018 alumna Jessica McMahon gives to current students majoring in medical laboratory science (MLS).
As a freshman chemistry major, McMahon had no idea the career she'd ultimately pursue as a pathologists' assistant even existed.
She thought she wanted to work in pharmacy or forensics and was considering going to medical school. She loved being in the lab, but the rest of the curriculum wasn't a great fit. She met fellow freshmen in her dorm whose majors were in medical diagnostics. She contacted the Medical and Molecular Sciences (MMSC) Department, where she met Leslie Allshouse, a senior instructor, who guided her through selecting the right major.
"The medical laboratory science major was a perfect fit," McMahon said. "The major was a great way to tie all my interests together; it merged my love of health sciences with spending time in the lab."
The MLS major suffers from a profound lack of awareness. Despite medical laboratory scientists being the unsung heroes of the COVID-19 pandemic, their vital-behind-the-scenes job is little known. Medical laboratory scientists aren't often found at high school career fairs.
"I had never heard of the major before," she said. "When you're at the hospital you never think about the person behind-the-scenes performing those tests."
During her senior year, McMahon secured a job working in a microbiology lab at ChristianaCare, where her interactions with pathologists inspired her to take the next step in her career.
"In the microbiology lab, we shared a lot of specimens with pathology, and that exposure led me to realize that a pathologists' assistant (PA) was a possible career path for me. I shadowed some of the PAs, and I fell in love with it."
McMahon enrolled in the Pathologists' Assistant Program at Duke University School of Medicine and graduated in 2022 and decided to stay. She accepted a position as a pathologists' assistant at Duke University that summer. Working in both surgical pathology and autopsy, she teaches both PA students and residents.  
In surgical pathology, McMahon deals with key specimens that play a vital role in a patient's healthcare.
"Our work informs pathologists who give attending physicians a diagnosis while the patient is still open on the operating table so those surgeons can make real-time decisions on how to proceed with a procedure," she said.
On the autopsy side, McMahon receives patients from the hospital and the community and helps determine their cause of death.
"We examine all of the organs in the body to put together a comprehensive image of the patient, including their health and history, so the pathologist can assist in determining the exact cause of death."
Every day on the job, McMahon is learning.
"I love the variety that I get to see. When I'm on autopsy, we see people from different walks of life with different conditions, and you get exposed to a lot of once-in-a-life-time scenarios," she said. "Duke University is a destination hospital that many patients come to for specialty care. There are several specimens that I get to see here that I wouldn't see anywhere else."
She also hopes to one day inspire the next generation of pathologists' assistants.
"In the future, I'd love to take on a larger role with the program and even become a program director so I can bring more awareness to the program."
McMahon said her bachelor's degree from UD in MLS prepared her perfectly for the first year of Duke's PA program, which doubles as the first year of curriculum for medical school students. In fact, there were even some redundancies.
"I had heard of most of the tests and conditions," she said. "UD's program set me up for success by giving me an extremely solid foundation in everything medical-related."
It was then she also realized, in addition to her MLS background, she was on yet another career path that was profoundly unknown.
"During one-on-one interactions with med students, it was amazing how many future doctors had never heard of pathologists' assistants. So, we're educating incoming doctors about who we are, what we do, and our background impact on patient care."
While the career needs more awareness on many levels, McMahon called it a rewarding one that those with MLS degrees should consider.  
"We have a huge impact on patient care. Our results will diagnose their cancer," she said. "In cases of breast cancer, we can indicate whether a patient might be responsive to certain hormone therapies. All the results, treatments and recommendations from doctors are based on the work we've done.
"Everyone knows that smoking causes lung cancer; breast cancer is on the rise, and prostate cancer is one of the most common cancers in men. These conditions are well-known across the nation, and no one knows how these people get these diagnoses."
She encouraged current MLS majors to explore all career options.
"I have friends who graduated with MLS degrees who are now working in fertility clinics and different research labs. That's something I never thought of while I was in the program," she said. "There's so much you can do, so don't pigeonhole yourself. Be willing and looking to spread your wings and see what impact you can have in the healthcare field. Finding this career, I never would have heard about has changed my life and shown me exactly what I want to do."