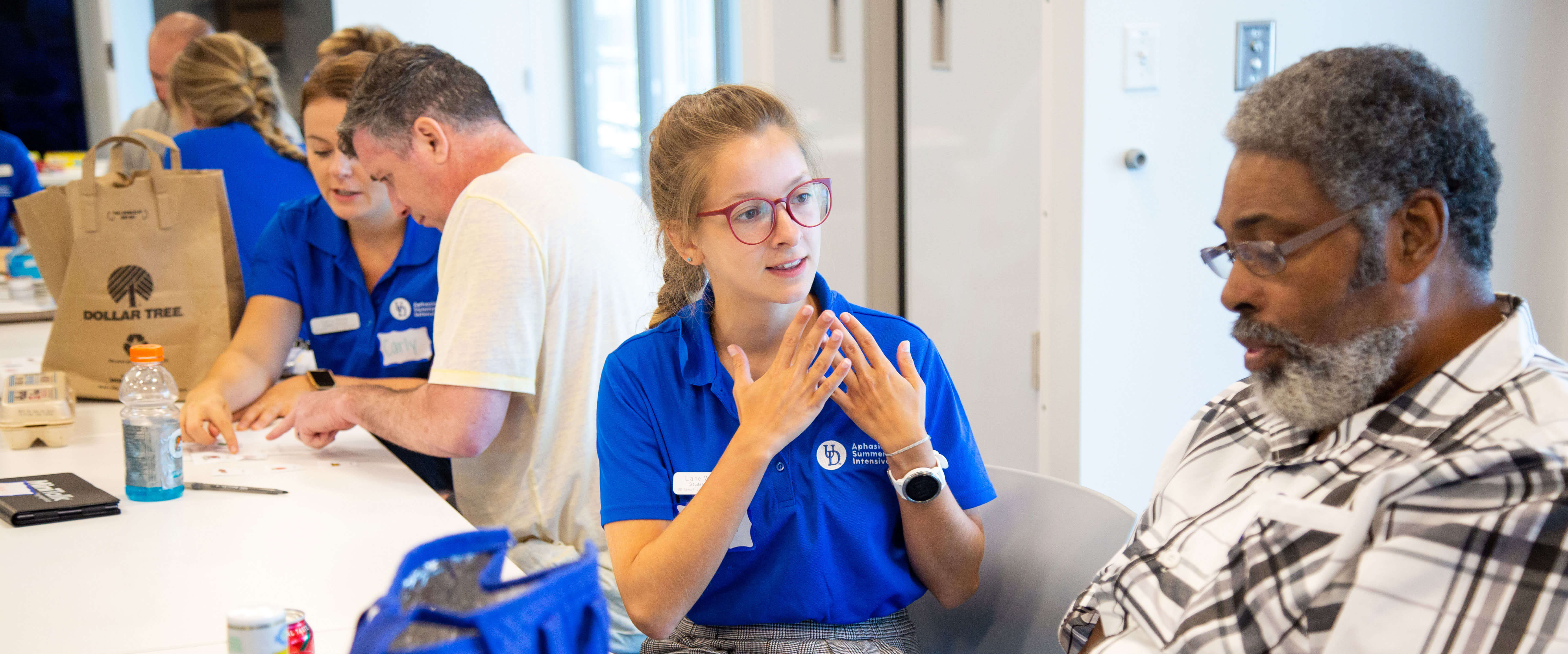 Communication Sciences & Disorders
Communication Sciences & Disorders
302-831-3859
The Communication Sciences & Disorders Department strives to educate the next generation of clinicians and researchers engaged in the management of individuals with communication disorders, to advance our understanding of the nature and management of communication disorders, and to provide high-quality services to individuals with communication disorders. We are a premier innovative center that addresses communication sciences and disorders through multidisciplinary approaches to education, research, and service.
Improv workshop encourages communication for youth with autism: youtube.com/watch?v=_NlZKaBwWmA
OUR PROGRAMS
The Communication Sciences and Disorders Department fosters a unique and unified approach to clinical education and innovative research opportunities, and cultivates collaborative relationships with community, regional, national, and global partners.
SPEECH-LANGUAGE-HEARING CLINIC
The UD SLH Clinic exists to train students on how to translate cutting-edge research, into practice – and practice into the next great research findings. Our Clinic is one of a few University Speech-Language-Hearing Clinics nationally to participate in data tracking for the American Speech-Language-Hearing Association National Outcomes Measurement System. Located in the UD STAR Health Sciences Complex, the Speech-Language-Hearing Clinic has 6 treatment rooms and one large group treatment area. Additionally, a wide range of hearing diagnostic services are available in our audiology suite as well. We are open to the public!
Latest News
April 28, 2022 | Written by Amy Cherry

Mertro Robinson, Mike Janis, and Kerensa Boates have been living with and thriving despite a largely invisible impairment for years. All three were hospitalized and ultimately diagnosed with a stroke that triggered aphasia, a language impairment that affects a person's ability to communicate.

April 13, 2022 | Written by Colin Heffinger

Alyssa Lanzi, Research Assistant Professor for the Department of Communication Sciences and Disorders, received the Mentored Patient-Oriented Research Career Development Award from the National Institute on Aging to fund her research focused on confronting cognitive decline in older adults at risk for developing dementia from Alzheimer's disease.

March 21, 2022 | Written by Colin Heffinger

The College of Health Sciences hosted its 2022 CHS Research Day on Wednesday, March 9 at the Audion of the STAR Campus. Well over a hundred posters were lined along the halls spanning throughout the STAR Campus across two separate poster sessions.