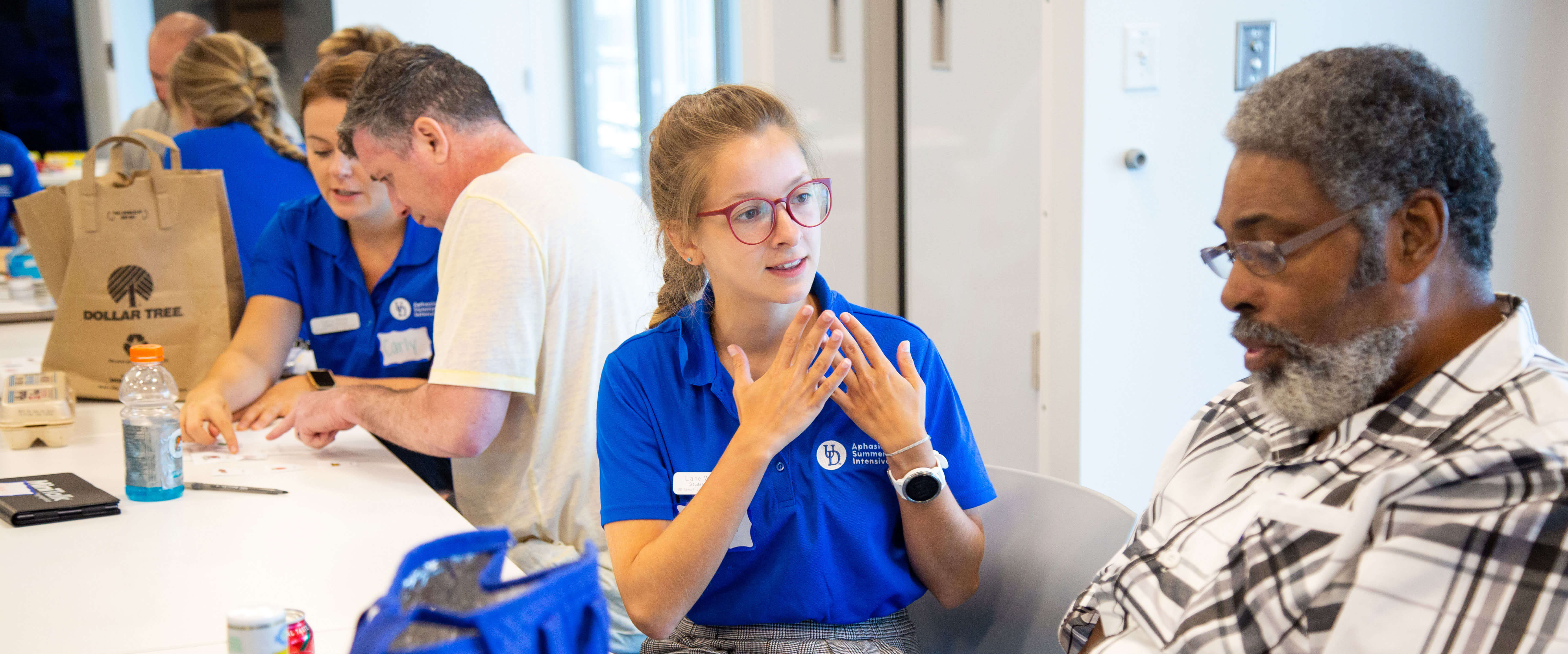 Communication Sciences & Disorders
Communication Sciences & Disorders
302-831-3859
The Communication Sciences & Disorders Department strives to educate the next generation of clinicians and researchers engaged in the management of individuals with communication disorders, to advance our understanding of the nature and management of communication disorders, and to provide high-quality services to individuals with communication disorders. We are a premier innovative center that addresses communication sciences and disorders through multidisciplinary approaches to education, research, and service.
Improv workshop encourages communication for youth with autism: youtube.com/watch?v=_NlZKaBwWmA
OUR PROGRAMS
The Communication Sciences and Disorders Department fosters a unique and unified approach to clinical education and innovative research opportunities, and cultivates collaborative relationships with community, regional, national, and global partners.
SPEECH-LANGUAGE-HEARING CLINIC
The UD SLH Clinic exists to train students on how to translate cutting-edge research, into practice – and practice into the next great research findings. Our Clinic is one of a few University Speech-Language-Hearing Clinics nationally to participate in data tracking for the American Speech-Language-Hearing Association National Outcomes Measurement System. Located in the UD STAR Health Sciences Complex, the Speech-Language-Hearing Clinic has 6 treatment rooms and one large group treatment area. Additionally, a wide range of hearing diagnostic services are available in our audiology suite as well. We are open to the public!
Latest News
January 14, 2022 | Written by Amy Cherry

As hospitals up and down Delaware are struggling to meet patient demand during the latest COVID-19 surge, the Delaware Healthcare Association is seeking volunteers.

December 22, 2021 | Written by Colin Heffinger

Consequences of the COVID-19 pandemic have been particularly hard for the mental and emotional health of late adolescents and young adults, who were pushed to face various challenges including quickly adopting a virtual learning structure and social distancing throughout the nation. An assistant professor at the University of Delaware has collected data before and during the pandemic to analyze its impacts on reducing sleep quality and ultimately worsening executive dysfunction in young adults.

December 14, 2021 | Written by Amy Cherry

Women soccer players face a greater risk of serious injury when heading the ball than men, according to researchers.