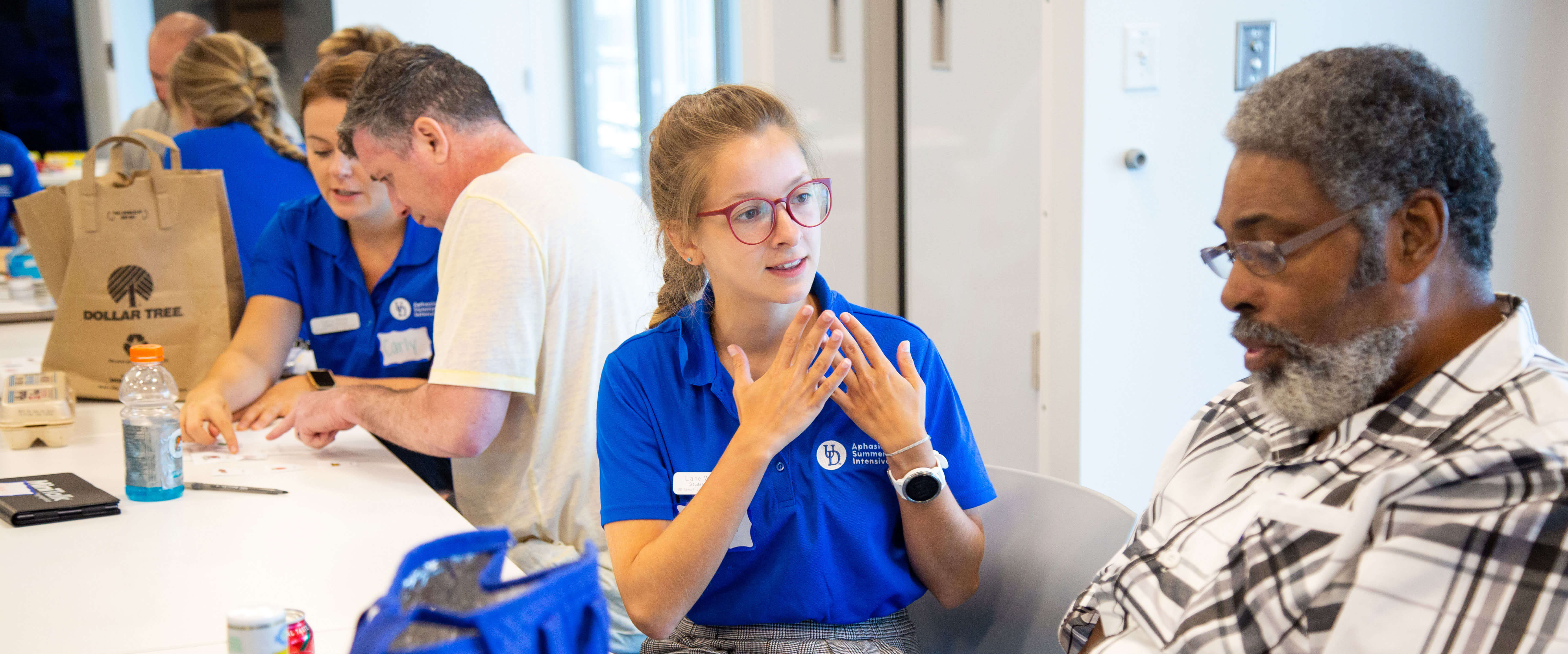 Communication Sciences & Disorders
Communication Sciences & Disorders
302-831-3859
The Communication Sciences & Disorders Department strives to educate the next generation of clinicians and researchers engaged in the management of individuals with communication disorders, to advance our understanding of the nature and management of communication disorders, and to provide high-quality services to individuals with communication disorders. We are a premier innovative center that addresses communication sciences and disorders through multidisciplinary approaches to education, research, and service.
Improv workshop encourages communication for youth with autism: youtube.com/watch?v=_NlZKaBwWmA
OUR PROGRAMS
The Communication Sciences and Disorders Department fosters a unique and unified approach to clinical education and innovative research opportunities, and cultivates collaborative relationships with community, regional, national, and global partners.
SPEECH-LANGUAGE-HEARING CLINIC
The UD SLH Clinic exists to train students on how to translate cutting-edge research, into practice – and practice into the next great research findings. Our Clinic is one of a few University Speech-Language-Hearing Clinics nationally to participate in data tracking for the American Speech-Language-Hearing Association National Outcomes Measurement System. Located in the UD STAR Health Sciences Complex, the Speech-Language-Hearing Clinic has 6 treatment rooms and one large group treatment area. Additionally, a wide range of hearing diagnostic services are available in our audiology suite as well. We are open to the public!
Latest News
December 22, 2022 | Written by Amy Cherry

An Army veteran donated his kidney to a man he met in his car while driving for Uber.

December 07, 2022 | Written by Amy Cherry

The Veteran Patient Experience Academy is an interdisciplinary collaboration that seeks to transform healthcare for veterans by viewing situations through a more human lens and connecting with the emotional side of patient care, improving the overall patient experience.

November 07, 2022 | Written by Colin Heffinger

Hayes Symposium sparks discussion to strengthen suicide prevention strategies.