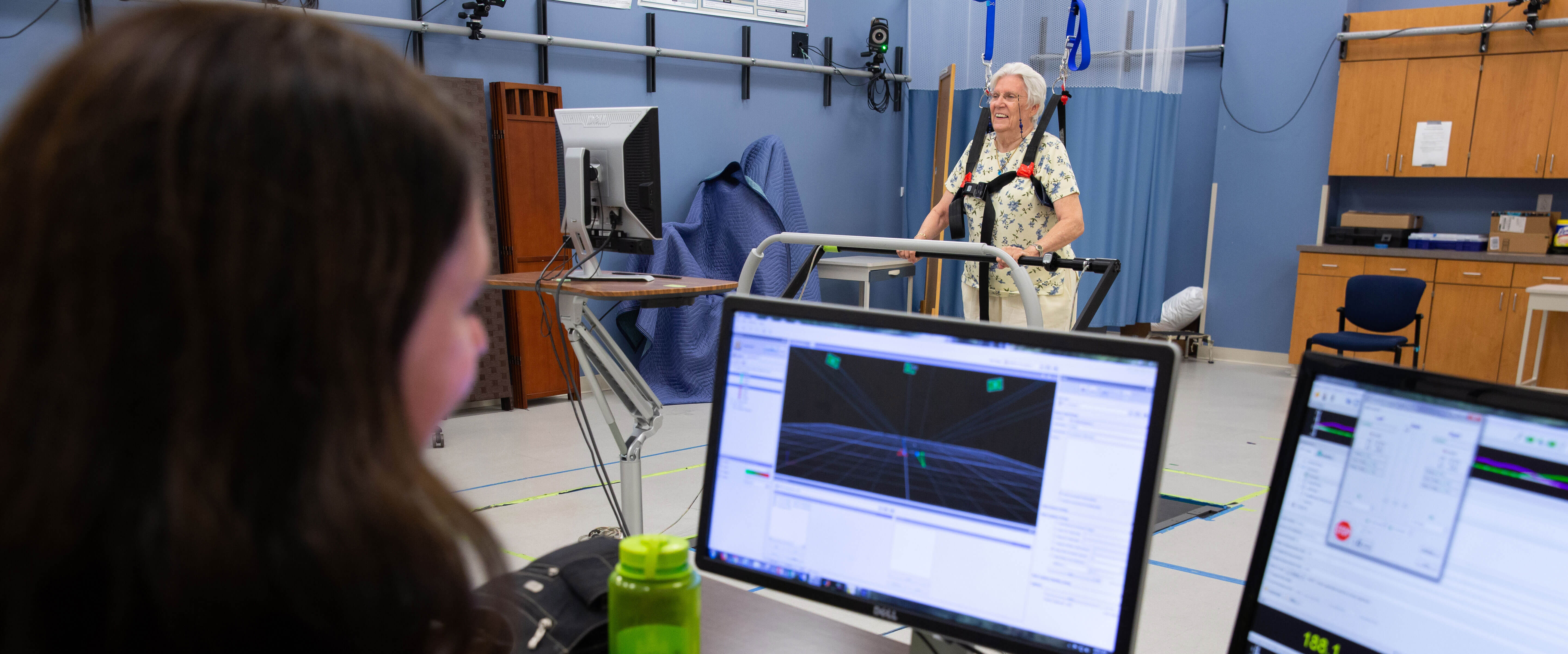 Research That Drives Results
Research in the College of Health Sciences focuses on nearly every aspect of patient care, including prevention, rehabilitation, outcomes and health monitoring. With more than 120 faculty members across six departments as well as other programs, Health Sciences fosters collaboration on research programs that address cardiovascular health, neurological diseases, aging, symptom science and more. Collaboration is not limited to the College of Health Sciences – we work across the University and with external partners on research endeavors that are funded by multiple agencies and organizations, including the National Institutes of Health.
Our research labs also provide an opportunity for students to learn firsthand how research influences care. As we seek ways to develop the next generation of healthcare leaders, we also find more innovative ways to teach students and prepare them for their highly skilled careers. Our goal is to contribute to a healthy Delaware and develop best practices that advance healthcare across the nation and across the globe.
LABS & PROGRAMS
Dedicated to conducting first-rate research that spans across a variety of research topics, our interdisciplinary labs engage faculty and students from across the university. There is unique research going on in each of our departments.
CHS News in Research
May 17, 2022 | Written by Amy Cherry

Osteoarthritis is the most common form of arthritis that affects more than 30 million Americans nationwide. The condition can make simple daily activities, we all take for granted, like walking and opening jars a challenge. While evidence shows that staying active can keep knee and joint pain at bay in those who have been diagnosed with osteoarthritis (OA), many believe exercise is harmful and not helpful. Daniel White, associate professor within the College of Health Sciences' Department of Physical Therapy at the University of Delaware, sought to counter misinformation on that front.

May 09, 2022 | Written by Colin Heffinger

UD professor discovers how apiaceous vegetables reduce toxins from cigarette smoke and air pollution

May 04, 2022 | Written by Colin Heffinger

On Sunday, April 24, the University of Delaware hosted its 2022 Anatomical Donor Service of Gratitude in dedication to the donors and their loved ones who have generously given their bodies to the College of Health Sciences.