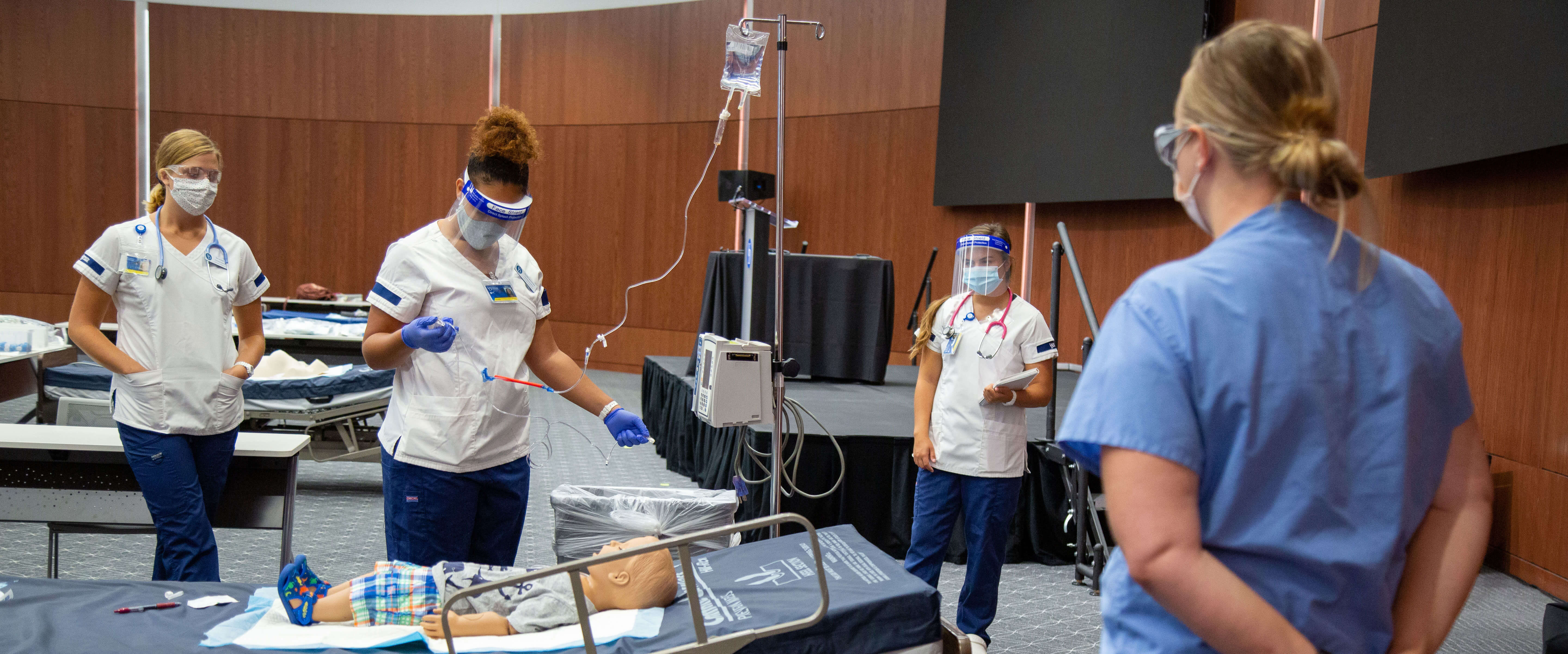 SCHOOL OF NURSING
The School of Nursing offers career-oriented, pre-licensure and graduate nursing education that prepares nurses as population health experts in acute care and settings. In all of our innovative programs, students obtain a breadth of complex healthcare knowledge, clinical reasoning skills, and technological expertise that enable them to deliver high-quality population-oriented healthcare from prevention to end of life. Graduate and doctoral students in practice and research work closely with individual faculty to gain in-depth clinical specialty knowledge or research expertise in several specialty areas including aging, mental health, community engagement and health disparities, and symptom and data science.
Master Of Science In Nursing (MSN)
Master In Nursing Health System Leadership (MSN HSL)
Doctor Of Nursing Practice (DNP)
PhD In Nursing Science
Post-Master's Nurse Practitioner
Why choose University of Delaware's School Nursing?: youtube.com/watch?v=Y8oIuyrkPiA
OUR RESEARCH
Interdisciplinary research in the School of Nursing focuses on aging, symptom science and healthcare innovations including technology and big data analysis. External funding from NIH and other R01-level funded grants put our faculty on the forefront of the science behind healthcare's toughest challenges.
SIMULATION
The UD Center for Simulation Innovation, Interdisciplinary Education, and Entreneurship is a cornerstone of the School of Nursing experience. Innovative programs and state-of-the-art facilities enrich the learning environment for our students, giving them a deeper understanding of patient care.
CLINICAL CARE
UD Health's Nurse Managed Primary Care Center provides a wide range of healthcare services for adults, and gives students the opportunity to put classroom theory into practice.
SON NEWS
March 30, 2021 | Written by Kelly Bothum

Recent renovations to three second-floor classrooms in McDowell Hall are allowing for these accessible learning opportunities that also align with the updated nursing curriculum.

March 24, 2021 | Written by Kelly Bothum

We have celebrated Women's History Month so far by recognizing the historical contributions of women in healthcare and those who have supported the College of Health Sciences over the years. Our focus now is on the present, and in particular, two women who help CHS thrive on a daily basis, even in the midst of a global pandemic.

March 21, 2021 | Written by Newark Post

Lt. Gov. Bethany Hall-Long, who is also a professor of nursing, was among the health professionals volunteering to administer the COVID-19 vaccine Saturday. She said that while large, state-organized vaccination events get most of the attention, community-based sites play an important role as well. "It's where people trust one another," she said.