Doctor of nursing practice (DNP)
The Doctor of Nursing Practice (DNP) program prepares graduates to perform at the highest level of advanced clinical nursing practice. A DNP degree prepares nurses to lead healthcare delivery and influence health policy. UD's program has a population health focus and prepares students to become leaders in practice innovation and development of health systems management to improve the health of diverse populations.
This practice doctoral program is designed to prepare experts in specialized advanced nursing practice. Students will develop their APRN roles through integrative and intense practice immersion experience DNP students work to translate knowledge and improve healthcare delivery and outcomes through the development, implementation, and evaluation of the DNP project.
Working together with experienced faculty and practice experts on their evidence-based practice projects, students gain real world experience as healthcare change leaders.
POST-BACCALAUREATE
Admission to the program is open to students with a bachelor's or master's degree in nursing and U.S. licensure as an RN. A combination of online and immersive learning experiences offers flexibility and convenience for students. Expert faculty with a commitment to student learning and success provide guidance and mentorship during your educational journey. Students with a bachelor's degree in nursing and want to become nurse practitioners may choose one of the following advanced practice tracks:
These programs can be completed in 3 years full-time or 5 years part-time.
POST-MASTERS
Students who have master's degrees in nursing and certification as an APRN may choose to complete the Post-Master's DNP with or without an additional clinical concentration. The program without an additional clinical concentration can be completed in 2 years full-time and 4 years part-time. Completion time for an additional concentration will be variable.
IMPORTANT NOTE: The University of Delaware is required to comply with state and federal laws regarding the delivery of distance education.  Please see the University's State Authorization page for more information.
APPLICATION DEADLINES
April 15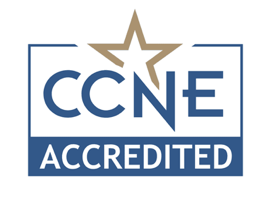 The baccalaureate degree program in nursing, master's degree program in nursing, Doctor of Nursing Practice program and post graduate APRN certificate program at the University of Delaware are accredited by the Commission on Collegiate Nursing Education (http://www.ccneaccreditation.org).