Center for Simulation Innovation, Interdisciplinary Education and Entrepreneurship
Nursing sim-labs open doors to education for National Simulation Week: youtube.com/watch?v=JSfZ8cvGV1g
Why simulation?
Healthcare Simulation is designed to bridge classroom learning with real-life clinical experience, with the goal of improving patient care and developing quality nursing professionals.
Simulation-based experiences are key to learners developing skills, communication, clinical judgment and decision-making.  Learning objectives are developed and achieved through real-life patient care scenarios operated in a safe and constructive learning environment.
The mission of the University of Delaware's Center for Simulation Innovation, Interdisciplinary Education, and Entrepreneurship (CSIIDEE) is to provide state of the art experiential learning opportunities for students in the College of Health Sciences and its community partners through deliberate practice, innovative multimodal simulation-based experiences, and patient-centered interprofessional collaborative practice.
The UD CSIIDEE aspires to become a national leader in simulation education and research to prepare the healthcare workforce of the future. View the CSIIDEE Policy and Procedure Handbook here.
A window into our program
Our state-of-the-art simulation labs resemble current patient care facilities – immersing students in real-life environments.  Hospital equipment, audiovisual technology, high-fidelity mannequins, task trainers, and patient actors from our unique Health Care Theatre program, are utilized to enhance realism and provide an effective learning experience.
In step with the standards of best practice in simulation, our experienced simulation specialists design/develop simulation experiences with specific learning objectives ranging from basic clinical-care skills to more advanced patient care.
On the day of simulation, a pre-briefing is facilitated, giving students necessary information regarding the scenario.  Once the simulation is completed, it is followed by an instructor-facilitated debriefing where students reflect and discuss the experience.  This piece is crucial to student education, promoting knowledge/skill development while enhancing the student's self-awareness, self-efficacy, and patient care competencies.
Inter-professional education (IPE)
The University of Delaware Simulation program deliberately integrates collaborative practice competencies into student learning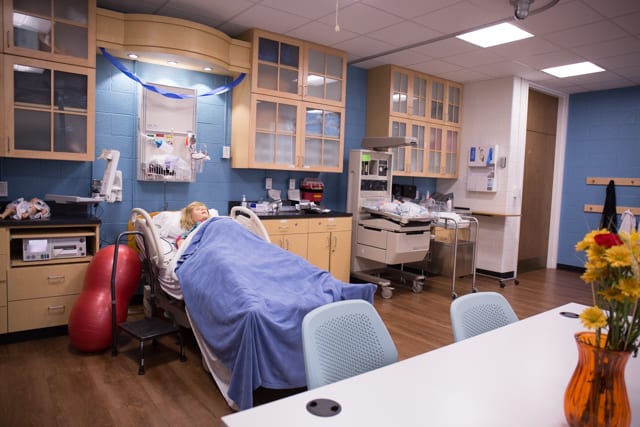 The Maternal-Child Clinical Simulation Laboratory is a state-of-the-art facility designed to enhance learning through immersive simulated experiences and allowing students to work towards skill competency. This lab features:
A 2-bed delivery suite designed to reflect a current maternal clinical setting.
Innovative high-fidelity mannequins including: Gaumard's Victoria® Childbirth Simulator, Newborn Tory® Neonatal Care Patient Simulator, and Newborn Hal® Newborn Patient Simulator
Further immersion in the experience is provided by the Healthcare Theatre Program which casts the scenarios with birthing mothers, patient family members, and support people. Live patients may even birth a baby themselves using the Laerdal MamaNatalie® Birth Simulator.
Technology including audiovisual equipment for recording simulations used in debriefing, as well as computer workstations for online documentation.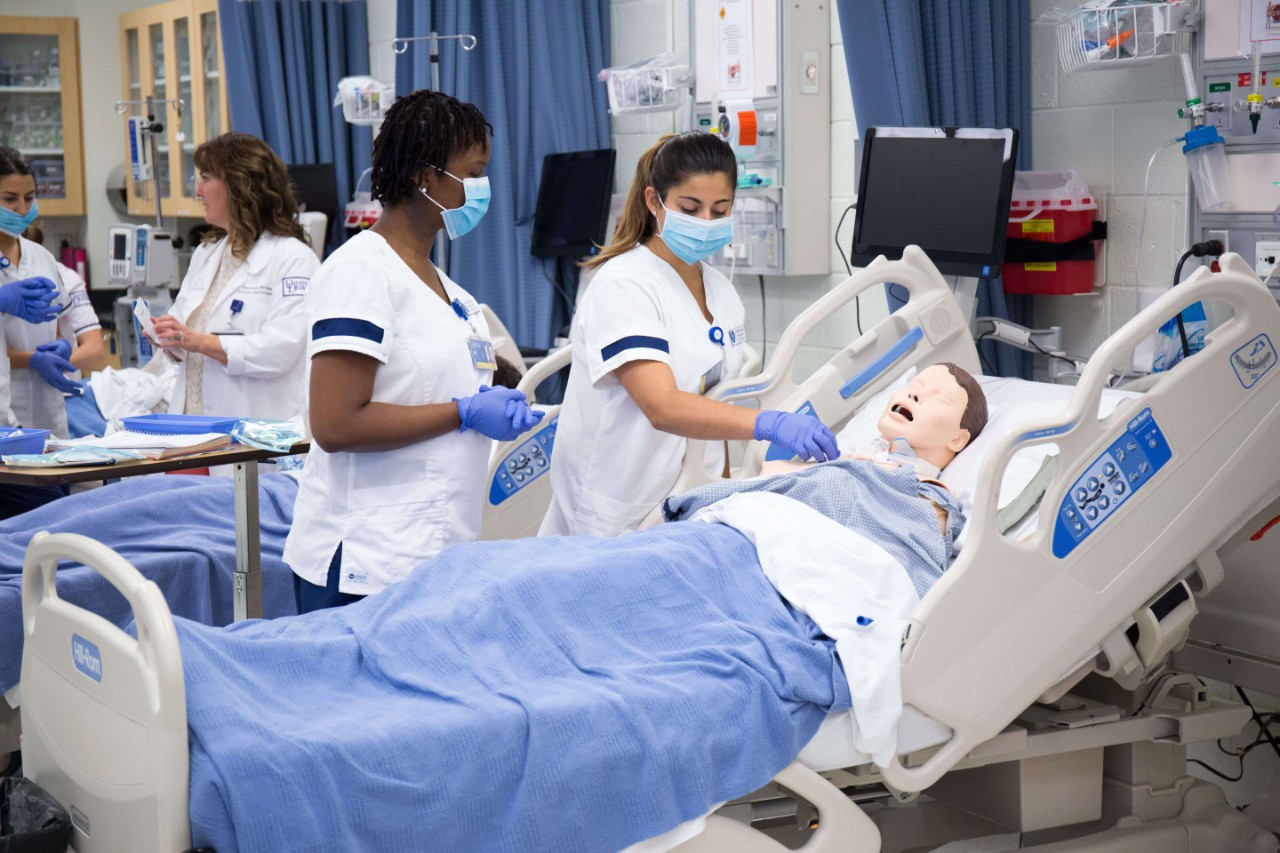 This newly designed lab located in McDowell Hall simulates a 7-bed patient care setting which is used for teaching and practicing fundamental to advanced psychomotor skills
Bed suites come equipped with Laerdal's Nursing Anne task trainers, I/V equipment, functional patient headwalls with simulated oxygen/suctioning, and wall mounted computers for online documentation.
Fundamental Skills include: vital signs, bed bath, toileting
Advanced Skills include: trach care, suctioning, wound care, and medication administration.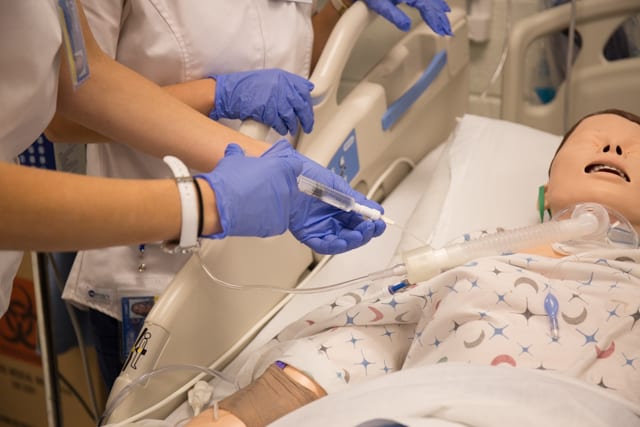 This specialized lab simulates a variety patient care settings where students participate in immersive, small group simulations. Some of the features include:
Mirrored suites joined together by a central control room with audiovisual technology along with a central briefing/debriefing area.
Real hospital equipment.
Two Gaumard Adult HAL® patient simulators.
Home to some of our IPE simulations where nursing students and physical therapy students collaborate to evaluate patients and provide care.
Mirrored suites are joined together by a central control room with audiovisual equipment along with a central briefing/debriefing area.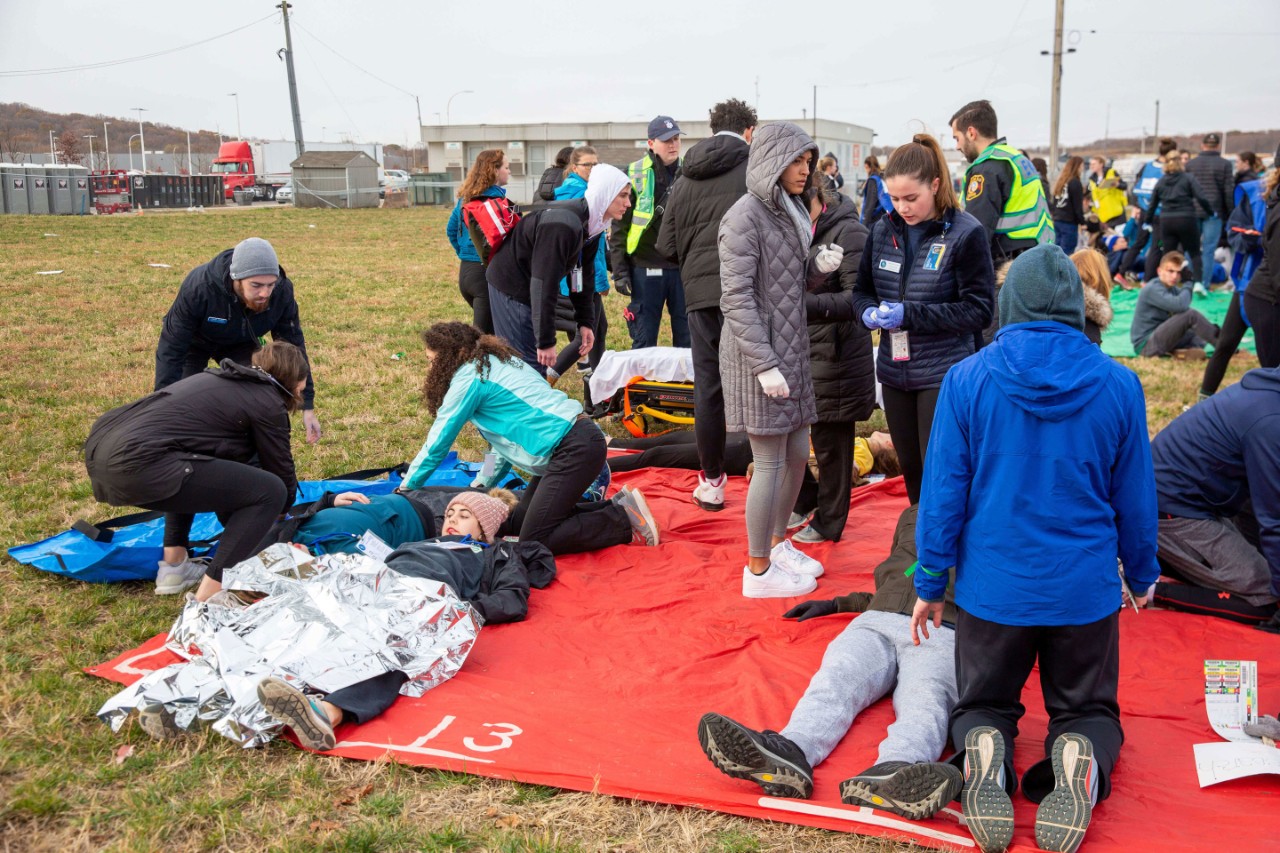 Inter-professional simulation addresses the need for changing educational experiences to collaborative practice experiences to prepare future health care providers for complex patient care
These inter-professional simulated experiences underscore clinical relationships, shared clinical skills, familiarity with other professional roles, and shared mental models to facilitate better patient outcomes.
University of Delaware inter-professional experiences include the following disciplines:
Nursing
Physical Therapy
Athletic Training
Behavioral Health & Nutrition
Community Health partners – Emergency Medicine Technicians, Police, and neighboring educational institutions