Master of Science in Nursing (MSN)
The Master of Science in Nursing at the University of Delaware offers Baccalaureate prepared nurses a program that prepares them for advanced practice roles in today's complex health care systems.
As part of a cutting-edge University, the School of Nursing provides a diverse, energetic and collegial environment for participating in world-class interprofessional education, scientific inquiry and practice opportunities.
UDs highly sought-after faculty prepare the MSN student to provide and manage care for patients — individually and in groups — with emphases on understanding the clinical progression of patients, care transitions and processes, and evidence-based practice.
Students with a bachelor's degree in nursing who want to become a nurse practitioner may choose one of the following advanced practice tracks:
Family/Individual Across the Lifespan (i.e., Family Nurse Practitioner [FNP]) 
Adult-Gerontology Nurse Practitioner (AGNP)
Psychiatric-Mental Health Nurse Practitioner (PMHNP)
Pediatric Primary Care Nurse Practitioner (PNP)
Adult Gerontology Acute Care Nurse Practitioner (AGACNP)
These programs can be completed in 3 years.
IMPORTANT NOTE: The University of Delaware is required to comply with state and federal laws regarding the delivery of distance education.  Please see the University's State Authorization page for more information.
Graduate students in the University of Delaware School of Nursing are held to exceptional standards with an expectation to complete high-quality scholarly writing assignments in a competent manner. All incoming Master's of Science in Nursing (MSN) students are required to complete the free online Scientific Writing course offered through Stanford University to facilitate scholarly writing preparation. This writing course consists of 8 self-paced units that will require 2-6 hours per unit to complete. If you desire continuing education credit, there is an additional fee for this service, however this is not required for our MSN program. Upon completion of the Stanford Writing course, please present a Statement of Accomplishment no later than December 31st of you first graduate academic year. Students are required to upload this document into Project Concert in the Documents tab. You will be introduced to Project Concert during orientation.
Students will be admitted to the program based on enrollment availability and their ability to meet the following minimum recommended admission requirements:
A Bachelor's Degree awarded by an accredited college or university.
RN Licensure in the United States
Official transcripts from all colleges and/or universities attended.
An overall undergraduate GPA of 3.0 or higher
Official results from the TOEFL or IELTS exam taken within the last 2 years (for non-native English speaking applicants only). Applicants must meet minimum requirements for graduate students of the University of Delaware.
UD Tuition
The 2023-2024 UD graduate student tuition rate per credit hour is $1,352.
Tuition Credit
Due to a College of Health Sciences Dean's Scholarship, the student tuition rate is lower than the published UD graduate tuition rate. The final student tuition rate for the MSN program is $815/credit. Please contact the department for more information. 
APPLICATION DEADLINES
April 15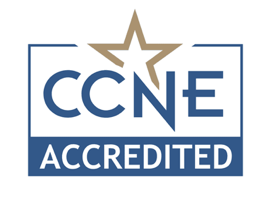 The baccalaureate degree program in nursing, master's degree program in nursing, Doctor of Nursing Practice program and post graduate APRN certificate program at the University of Delaware are accredited by the Commission on Collegiate Nursing Education (http://www.ccneaccreditation.org).