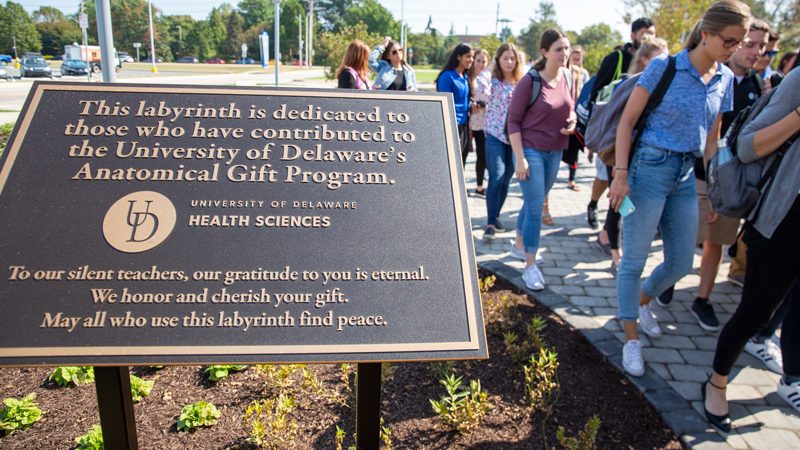 ABOUT THE PROGRAM
Thank you for your interest in the Anatomical Gift Program for the University of Delaware, Department of Physical Therapy.
Anatomical gift donations are used exclusively for anatomical education by students.  We never sell, transfer, or otherwise send anatomical gift donations to be used by other facilities or agencies.  All donations to our program remain at the University of Delaware until the students' anatomical study is complete, at which time, the remains are returned to the funeral home indicated on the Anatomical Gift Donor Form.
If you would like to participate in this very important donor program, please complete and return the Anatomical Gift Donor Form and inform your family or estate of your decision so that they are aware of your wishes. The University of Delaware will be responsible for the costs associated with this program. These costs include transportation, embalming and cremation.
The University of Delaware Anatomical Gift Program welcomes the opportunity to work with all local funeral homes and has worked most closely with Chandler Funeral Home. Please feel free to contact us for a list of all funeral homes whom we have worked with in the past.
Unfortunately, there are occasional situations beyond our control when anatomical gifts cannot be accepted. Such situations include, but are not limited to, certain medical conditions (e.g., HIV/AIDS, Hepatitis, Prion Disease, Tuberculosis, extremity amputation etc.) and limited storage capacity at the University. We regret that this happens, and when it does, we will inform families as quickly as possible and assist in making other arrangements.
We are sincerely grateful for your interest in making an anatomical gift donation. If you have any questions or need additional information, please don't hesitate to contact us.