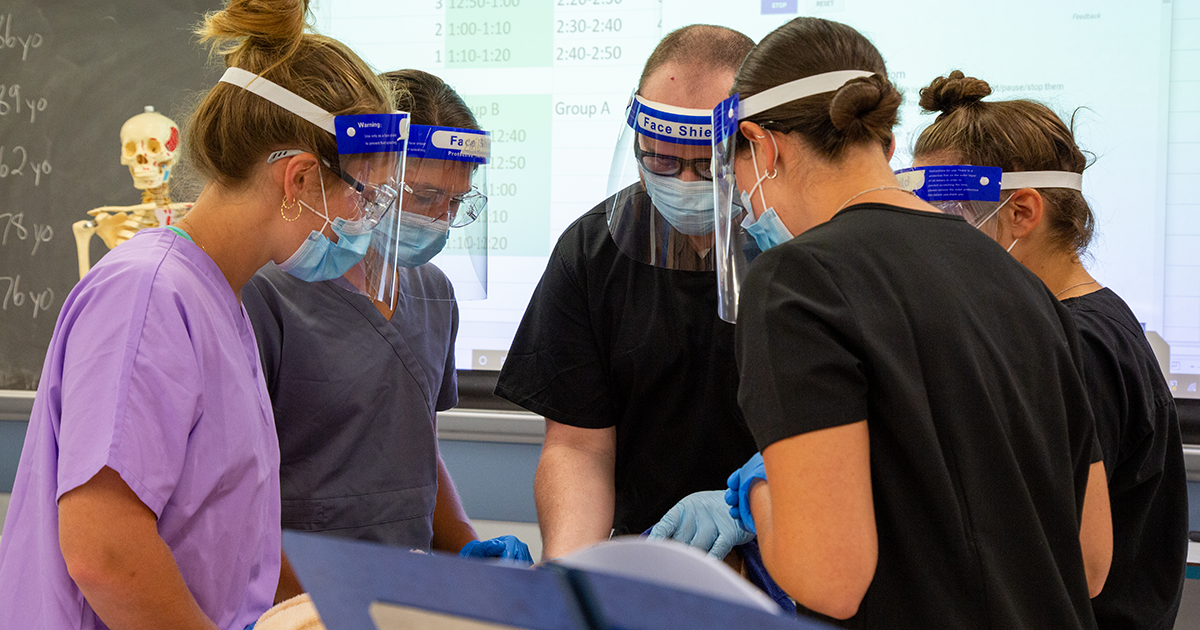 KINESIOLOGY & APPLIED PHYSIOLOGY
KINESIOLOGY & APPLIED PHYSIOLOGY
302-831-3134
Tower at STAR
100 Discovery Blvd,
Newark DE, 19713
Welcome to Kinesiology and Applied Physiology
Ranked 5th of all programs in the country by the National Academy of Kinesiology, Kinesiology is one of the fastest growing disciplines in the U.S.! Whether you are just starting your study of kinesiology or are seeking the expertise to advance the field as a scientist or clinician, we offer a collaborative culture to learn and pursue rigorous research that has immediate impact on the health of society. Our faculty is committed to the discovery and dissemination of new knowledge, the training of the next generation of scholars and ultimately translating our research/education to improve the human condition.
Explore Our Programs
We provide students with a collaborative culture to learn and pursue rigorous research that has an immediate impact on the health of society.
Applied Physiology (PhD)
Biomechanics & Movement Science (PhD)
Athletic Training (MS)
Clinical Exercise Physiology (MS)
Exercise Science (MS)
Exercise Science Minor
Strength & Conditioning Minor
UD Speed Geezers "Shake it Off" through Parkinson's exercise class: youtube.com/watch?v=4ez1MRT9pw8
KAAP NEWS
January 14, 2022 | Written by Amy Cherry

As hospitals up and down Delaware are struggling to meet patient demand during the latest COVID-19 surge, the Delaware Healthcare Association is seeking volunteers.

January 03, 2022 | Written by Colin Heffinger

The renewal of a federal grant to the University of Delaware's Center of Biomedical Research Excellence (COBRE) is enabling the center to expand its research into new aspects of cardiovascular disease while also providing the opportunity for additional graduate students to gain valuable research experience.

December 22, 2021 | Written by Colin Heffinger

Consequences of the COVID-19 pandemic have been particularly hard for the mental and emotional health of late adolescents and young adults, who were pushed to face various challenges including quickly adopting a virtual learning structure and social distancing throughout the nation. An assistant professor at the University of Delaware has collected data before and during the pandemic to analyze its impacts on reducing sleep quality and ultimately worsening executive dysfunction in young adults.
UD preps athletic training students for NFL internships: youtube.com/watch?v=U5YZ-IM5iik
Featured Program
The University of Delaware had two female athletic training students interning for NFL teams – the New York Jets and Los Angeles Rams – during the summer of 2019. The UD Athletic Training department in the College of Health Sciences has had students accepted to NFL internships for years, but female ATs as NFL interns are on the rise. To top it off, UD has nine current athletic trainers working for NFL teams. Those alumni have been critical in helping to provide internship opportunities for current students.
Meet Our New Faculty
Ibra S. Fancher, PhD
Assistant Professor

Vascular function in health and disease:
Mechanisms of endothelial dysfunction in the presence of cardiovascular risk factors (e.g. hypertension, obesity)

Role of smooth muscle and endothelial K+ ion channels in control of vascular tone

Real time recording of mechano-activated ion channels

Translational and systems approaches in identifying novel targets to prevent/reverse cardiovascular disease