clinical exercise physiology - MS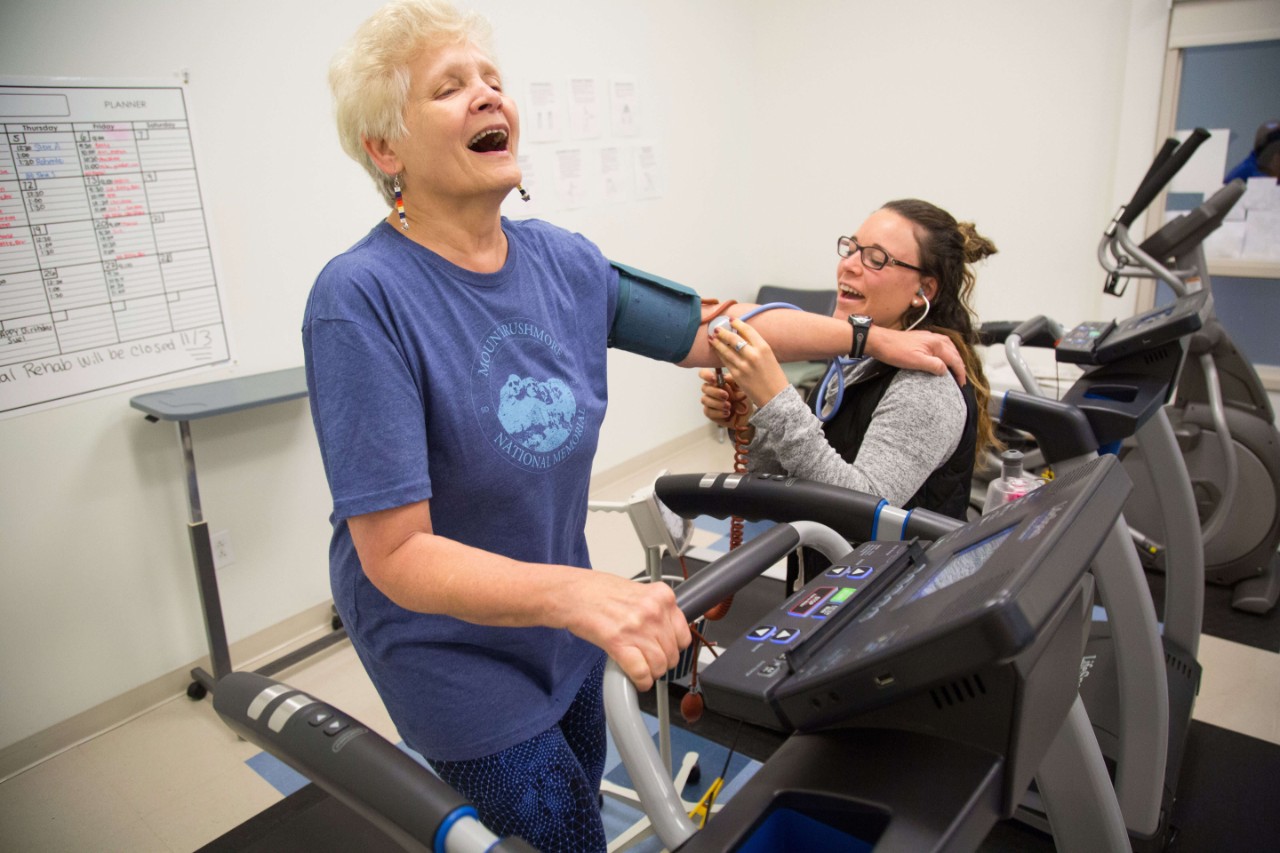 Program Overview
The Master's degree in Clinical Exercise Physiology will provide students with the opportunity to develop an in depth knowledge of and hands-on experiences in preventive and rehabilitative practices for patients with cardiopulmonary, metabolic, and musculoskeletal diseases as well as apparently healthy and low risk populations. Clinicians will act as part of a health care team that develops exercise recommendations, administers diagnostics tests and provides guidance that promotes healthy lifestyles. The Department of Kinesiology and Applied Physiology has state of the art exercise stress testing, body composition, lipid/glucose monitoring, bicycle ergometry and metabolic assessment equipment and highly trained faculty. In addition, this degree will also help students prepare for the American College of Sports Medicine's (ACSM) Certified Clinical Exercise Physiologist (CCEP) exam.
The College of Health Sciences (CHS) and the Clinical Exercise Physiology program embraces diversity, inclusion, connectedness, and professionalism as core institutional values. We believe that a diverse student, faculty, and staff body are critical to our teaching and scholarship and are a much needed reflection of the diverse patients and caregivers for whom we provide care. Beyond the University's code of conduct for students and employees, which we fully support, we have additional standards and expectations for members of CHS and the Clinical Exercise Physiology program due to our important roles and influence in health and healthcare.
Our classes provide the foundation for advanced study and the fundamental clinical knowledge that students will use professionally, regardless of future job title or function. The Clinical Exercise Physiologist concentration is designed to be a 12-month, non-thesis professional degree program. Students wishing to pursue research careers or doctoral degrees may choose to complete the thesis requirements in Exercise Physiology. Students who graduate with a Master of Science in Clinical Exercise Physiology will have maintained a B average in the following courses:
KAAP 665: 12 Lead ECG Interpretation – 3 credits
KAAP 675: Clinical Exercise Physiology I – 4 credits
KAAP 676: Clinical Exercise Physiology II – 4 credits
KAAP 677: Administration and Organization of Cardiopulmonary and Wellness Programs – 3 credits
KAAP 678: Cardiopulmonary Pathophysiology and Pharmacology – 3 credits
KAAP 679: Primary Preventive Medicine Strategies – 3 credits
KAAP 680: Clinical Exercise Physiology Comprehensives – 3 credits
KAAP 681: Clinical Exercise Physiology Competencies Portfolio – 1 credit
KAAP 671: Clinical Exercise Physiology Internship – 12 credits
Students interested in the Clinical Exercise Physiology MS program are encouraged to apply before December 15 for priority consideration. Applications must include 3 letters of recommendations, official transcripts, a resume/CV, responses to three essay prompts, and a GPA of 3.0 or higher. GRE scores are not required. Those applicants who meet the stated minimum academic requirements are not guaranteed admission, nor are those applicants who fail to meet those minimum requirements necessarily precluded from admission if they offer other appropriate strengths. While there are no specific course prerequisite requirements for this program, applicants are encouraged to have previous coursework in Exercise Physiology, Anatomy/ Physiology or related courses. Go HERE to start your application today or email Dr. Brittany Overstreet at bover@udel.edu with questions.
Why University of Delaware?
600+ hours of hands-on clinical experience working with a variety of patient populations

Internship sites are secured for students and schedules are provided on the first day

Program pays for the first attempt of the American College of Sports Medicine's Clinical Exercise Physiologist Certification Exam

CPR and Advanced Cardiac Life Support Training sponsored by the program

Small student cohorts allow for one on one faculty mentorship and training
Graduate Positive Job Placement Rate Following Graduation

Employer Satisfaction Rate
ACSM - CEP Exam First Attempt Passing Rate (National Average 69%)