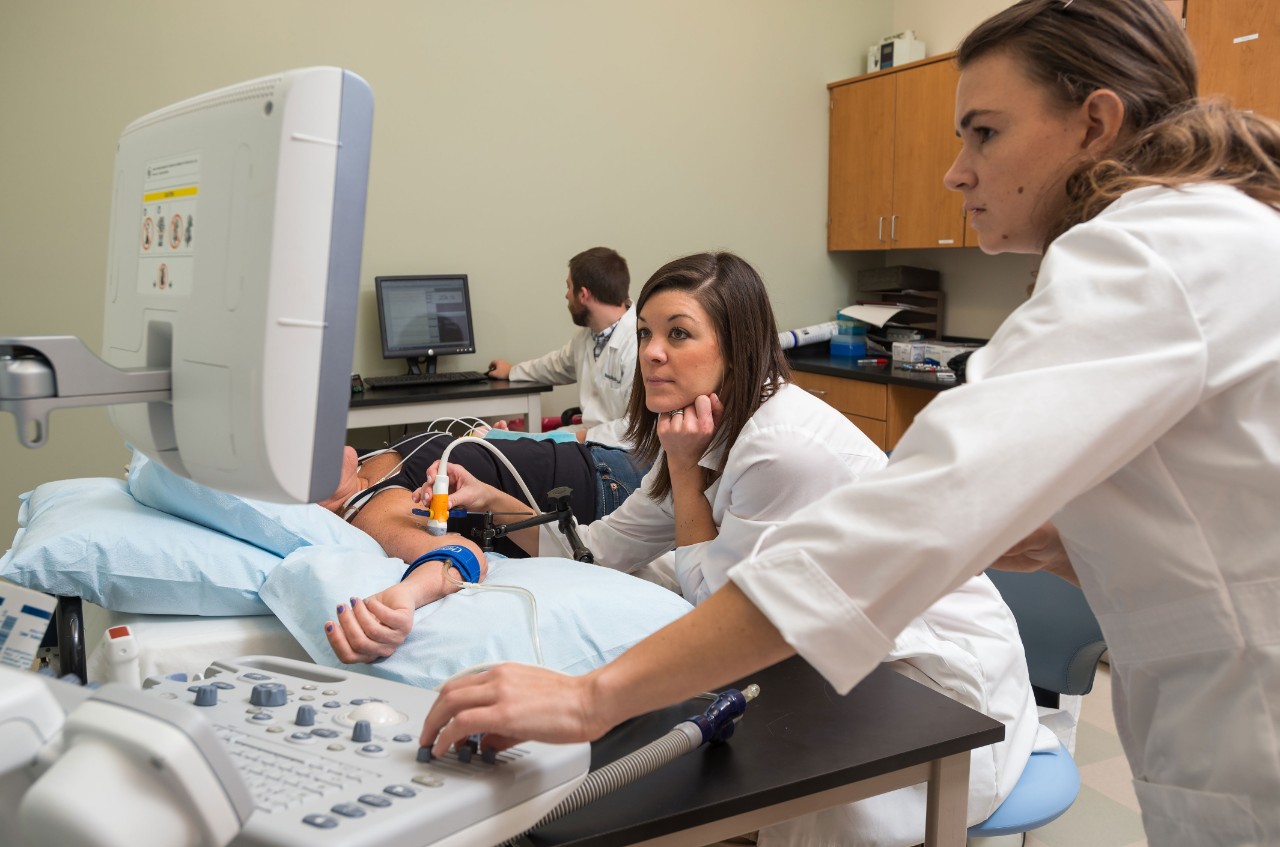 Program Overview
The mission of the Applied Physiology PhD Program is to provide advanced training for students in the field of applied physiology with the goal of preparing students for research-based careers. Areas of in-depth study are driven by faculty research and encompass cardiovascular physiology, exercise physiology, musculoskeletal physiology, and neurophysiology. The programmatic emphasis is on the regulation, adaptation, and integration of mechanisms across all levels of biological organization from molecules to organ systems. New knowledge on health, aging, chronic disease, and injury prevention will be generated and disseminated. Along with in-depth, laboratory-based immersion, the mission of the proposed program is to provide high quality classroom-based instruction through a core graduate curriculum, electives, and seminars.
Degree Requirements
The Applied Physiology PhD Program requires a minimum of 46 credits, including 9 credits of dissertation, and is designed to be completed in 4 years. Required courses include:
Students must pass a preliminary examination that tests their general knowledge base in applied physiology and their ability to critically evaluate scientific literature. The preliminary examination is an oral exam, content of the exam is based on the Advanced Human Physiology I and II courses (KAAP 630 & 631) taken during the student's first year of the academic program, and an area of study that is consistent with the student's planned dissertation work. The preliminary examination must be completed by the end of the student's first year of enrollment.
Virtual Open House
Monday, November 6th, 2023, 5:00 pm
APPLIED PHYSIOLOGY RESOURCES:
Admissions decisions are made by the Applied Physiology Graduate Program Committee. Admission to the graduate program is competitive. Those who meet stated requirements are not guaranteed admission, nor are those who fail to meet all of those requirements necessarily precluded from admission if they offer appropriate strengths.
A Bachelor of Science, Master of Science or equivalent degree from an accredited college or university.
A minimum undergraduate GPA of 3.0 on a 4.0 system is require.
Personal statement (see Graduate Admissions Application Essays for detailed requirements)
Resume
Three letters of recommendation. It is highly recommended that letters of recommendation come from individuals who can speak to the applicants' success in graduate school from both academic and research perspectives.
Supplemental Documentation indicating which faculty member has agreed to serve as an advisor.
Knowledge of mathematics and statistics.
All students will be expected to be sufficiently conversant in English and knowledgeable in the written word to convey clear, logical, and complex written expressions. International student applicants must demonstrate a satisfactory level of proficiency in the English language if English is not the first language. An official paper-based TOEFL score of at least 550, or at least 79 on the Internet-based TOEFL with a minimum speaking score of 18 is necessary for an applicant to be considered for admission.
*Application Process Update: Due to COVID-19, the Applied Physiology PhD program is waiving the GRE requirement for this year. If you wish to apply without a GRE score, please enter a future GRE exam date into the application when prompted. This need not be an actual exam date. Entering any future date will allow your application to be sent on to our review committee where it will receive full consideration. Reporting your scores is entirely optional. If you chose to not submit a GRE score, this will have no bearing on the competitiveness of your application.
Victoria Allen
2012-2016
Advisor: Gregory Hicks
Dissertation: Cardiovascular Health Status in Older Adults with Chronic Musculoskeletal Pain
Current Position: Medical School, Thomas Jefferson University
Matthew Babcock
2015-2019
Advisor: William Farquhar
Dissertation: Blood Pressure Responses to Exercise During High Dietary Salt Intake
Current Position: Postdoctoral Researcher, University of Colorado, Denver
Michael Brian
2012-2016
Advisor: William Farquhar
Dissertation: The influence of chronic and acute sodium loading on blood pressure regulation in normotensive adults
Current Position: Assistant Professor, Plymouth State University
Jennifer DuPont
2010-2013
Advisor: David Edwards
Dissertation: Role of oxidative stress and arginase in microvascular dysfunction in chronic kidney disease
Current Position: Assistant Professor, Tufts University School of Medicine
Sophie Green
2014-2020
Advisor: David Edwards
Dissertation: The Effect of Shear Stress and Urea on Endothelial Cationic Amino Acid Transporter-1 and Endothelial Nitric Oxide Synthase
Current Position: Lecturer, Rider University
John Guers
2012-2016
Advisor: Shannon Lennon
Dissertation: The Effect of Exercise on Sodium Induced Endothelial Dysfunction Independent of Blood Pressure Change
Current Position: Assistant Professor, Rider University
Harshvardhan Singh
2011-2015
Advisor: Christopher Modlesky
Dissertation: Trabecular Bone Microarchitecture and Vibration Transmission in Ambulatory Children With Cerebral Palsy 
Current Position: Assistant Professor, University of Alabama at Birmingham 
Micah Josephson
2013-2018
Advisor: Christopher Knight
Dissertation: Neural Excitation of Muscle in Rate of Force Development and Function
Current Position: Assistant Professor, Alvernia University
Elissa Hoopes
2016-2020
Advisor: Melissa Witman
Dissertation: Sleep Variability and Cardiovascular Health in Undergraduate College Students
Current Position: Postdoctoral Fellow, University of Delaware Dept of Behavioral Health & Nutrition
Christopher Martens
2009-2014
Advisor: David Edwards
Dissertation: L-arginine transport and endothelial dysfunction in chronic kidney disease: the role of exercise
Current Position: Assistant Professor, University of Delaware
Evan Matthews
2011-2015
Advisor: William Farquhar
Dissertation: Blood Pressure Reactivity and Salt Sensitivity in Non-Hypertensive Adults
Current Position: Assistant Professor, Montclair State University
Kamila Migdal
2016-2020
Advisor: William Farquhar
Dissertation:The Impact of Dietary Sodium on Cerebral Blood Flow Regulation
Current Position:VA Advanced Postdoctoral Research Fellowship at the Washington DC War Related Illness and Injury Study Cente
Bryce Muth
2014-2018
Advisor: David Edwards
Dissertation: Cardiovascular Effects of High-Intensity Interval Training (HIIT) compared to Moderate-Intensity Continuous Training (MCT) 
Current Position: Assistant Professor, Stockton University
Sangeetha Nathaniel
2016-2020
Advisor: Megan Wenner
Dissertation: Impact of Entresto on Cardiovascular Function
Current Position:  Clinical Research Lead, Heart Failure Clinic and Chronic Care Management
Jessie Oldham
2014-2018
Advisor: Thomas Buckley
Dissertation: Clinical Implications of Dynamic Postural Control Impairments Following Concussion 
Current Position: Postdoctoral Fellow, Boston Children's Hospital
Meghan Ramick
2012-2017
Advisor: David Edwards
Dissertation: The Effect of Dietary Nitrates on Vascular Function and Exercise Capacity in Chronic Kidney Disease
Current Position: Assistant Professor, West Chester University
Joseph Stock
2015-2020
Advisor: David Edwards
Dissertation: The Effect of Acute Exercise on Pulsatile Load in Healthy Aging
Current Position: Postdoctoral Fellow, University of Delaware Dept of Kinesiology & Applied Physiology
Rachael Torres
2016-2019
Advisor: Adam Davey
Dissertation: Modifiable cardiovascular risk and cognitive function: findings from the Maine Syracuse Longitudinal Study
Current Position: Senior Statistician, Michigan Medicine
Joseph Watso
2016-2019
Advisor: William Farquhar
Dissertation: The Effect of Mild Hypohydration on Resting and Reflex Blood Pressure Regulation in Healthy Young and Old Adults
Current Position: Postdoctoral Researcher, Institute for Exercise and Environmental Medicine, UT Southwestern
Daniel Whitney
2012-2017
Advisor: Christopher Modlesky
Dissertation: Obesity indices and children with spastic cerebral palsy
Current Position: Assistant Professor, University of Michigan, Ann Arbor