The Traditional BSN program is designed for students who want to pursue a career as a Registered Nurse. This four-year program welcomes students directly into the nursing program as freshmen.  Our highly respected, rigorous, and innovative  curriculum prepares students to become healthcare leaders after graduation.
Engaged Learning
A UD SON education includes service-learning, study abroad, community engagement, undergraduate research opportunities, and clinical experiences mentored by nurses in practice.
CSIIDEE
UD's Center for Simulation Innovation, Interdisciplinary Education, and Entrepreneurship (CSIIDEE) builds in students the clinical and decision-making skills necessary to take on a variety of mentored clinical experiences in the surrounding region.
Community Participation
Transforming healthcare starts with transforming your community.  UD SON student organizations like Lori's Hands give students the chance to make a positive impact, both on and off-campus. Follow the link to learn more about how to get involved.
Honors Learning
For those students who want to dive deeper into their nursing education, UD SON offers the Nursing Honors program. Follow the link to learn more.
Program and curriculum information/requirements are subject to change.
IMPORTANT NOTE: The University of Delaware is required to comply with state and federal laws regarding the delivery of distance education.  Please see the University's State Authorization page for more information.
UD nurse juggled clinicals, rigorous coursework with athletics: youtube.com/watch?v=QE2_B7vkZFI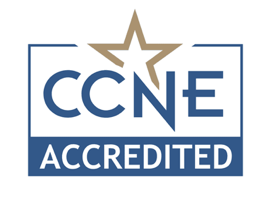 The baccalaureate degree program in nursing, master's degree program in nursing, Doctor of Nursing Practice program and post graduate APRN certificate program at the University of Delaware are accredited by the Commission on Collegiate Nursing Education (http://www.ccneaccreditation.org).