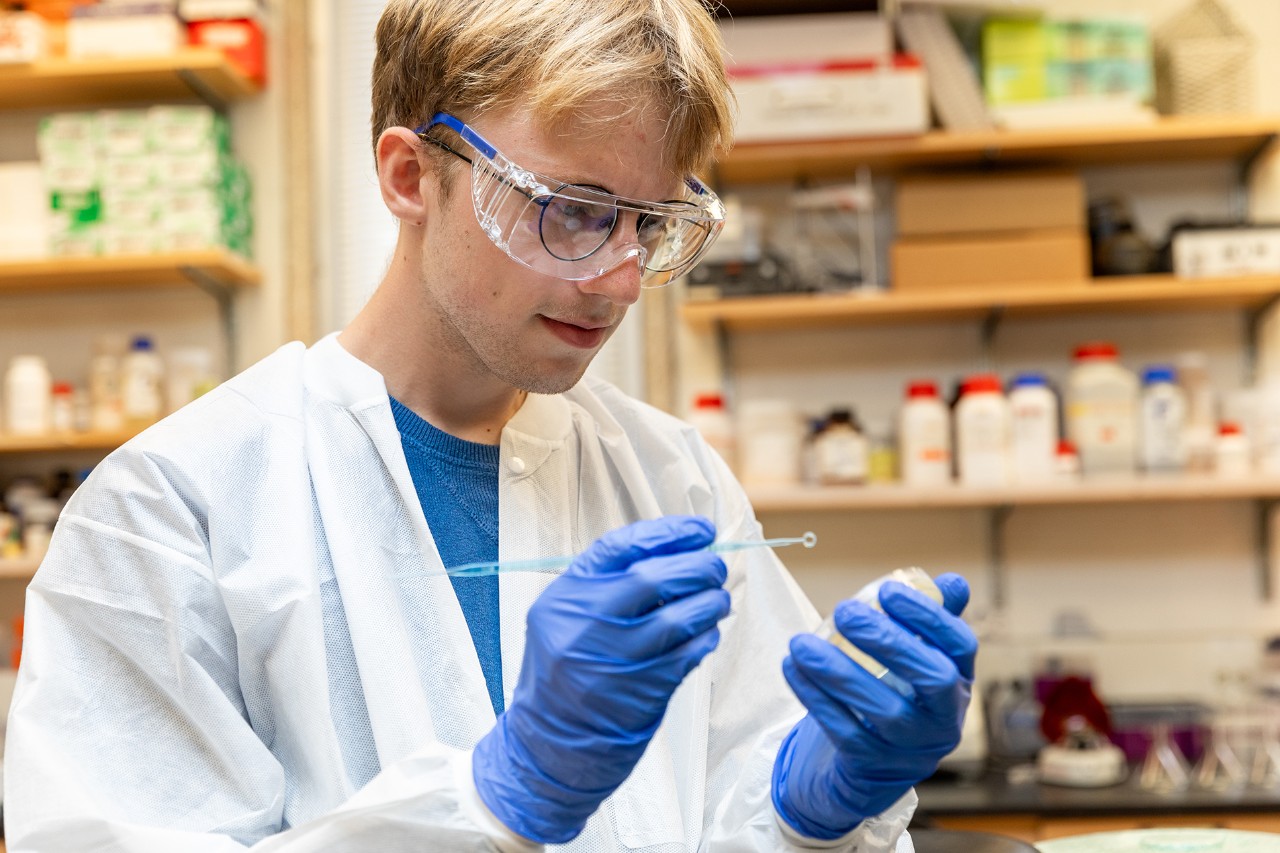 Summer intern studies acute myeloid leukemia at National Cancer Institute
September 07, 2023 Written by Ashley Barnas | Ashley Barnas
John Routzahn, University of Delaware class of 2024 Applied Molecular Biology and Biotechnology (AMBB), won an NIH grant to do summer research at the National Cancer Institute in Fort Detrick as part of the "Translational Control of Gene Expression" section in the RNA biology laboratory, which studies acute myeloid leukemia.
Routzahn applied to the Summer Internship Program at the National Cancer Institute (NCI), which goes toward the Cancer Research Training Award – a research grant for undergraduate college students.
He worked on two main projects during his summer with NCI: "Construction of a peptide reporter assay for studying tRNA dynamics and constructing another cell line for a CRISPR Cas9 genome wide screen to identify genes implicated in cell fitness upon the loss of the TET2 gene (a DNA demethylation gene)" Routzahn says. "Mutations in the TET2 gene are known to lead to acute myeloid leukemia."
He worked on the first project the most this summer, studying translation rates using flow cytometry.
"Before I arrived, my mentor discovered patterns of peptides where ribosomes pause more when TET enzymes are inactive in K562 cells (human chronic myelogenous leukemia cells)," he says. "My work has been introducing these dipeptides and tripeptides with a fluorescent tag into the cells to quantify the intensity of the fluorophore with flow cytometry and study translation rates in vitro.
"The second project was a lot of cell culture work involving maintaining multiple replicates of cells without an inhibited TET gene and replicates of cells with an inhibited TET gene. The goal is to make a CRISPR-Cas9 screen to identify genes that maintain cell fitness when the TET gene is inhibited. All of the cell culture work is finished, and now for this past week I've been working on genomic library preparation. Even though it is almost completed, similar to my first project, I won't be able to see an end to this project, but my boss will finish where I left off."
Routzahn became interested in RNA research while taking courses for his AMBB major.
"When I discovered RNA research, I really found it fascinating," he says. "And I found its applications in cancer biology, which seemed perfect for the kind of research that I discovered at the National Cancer Institute. I had an amazing time, I learned a significant amount and I definitely apply a lot of the skills that I learned here at UD to my time there."