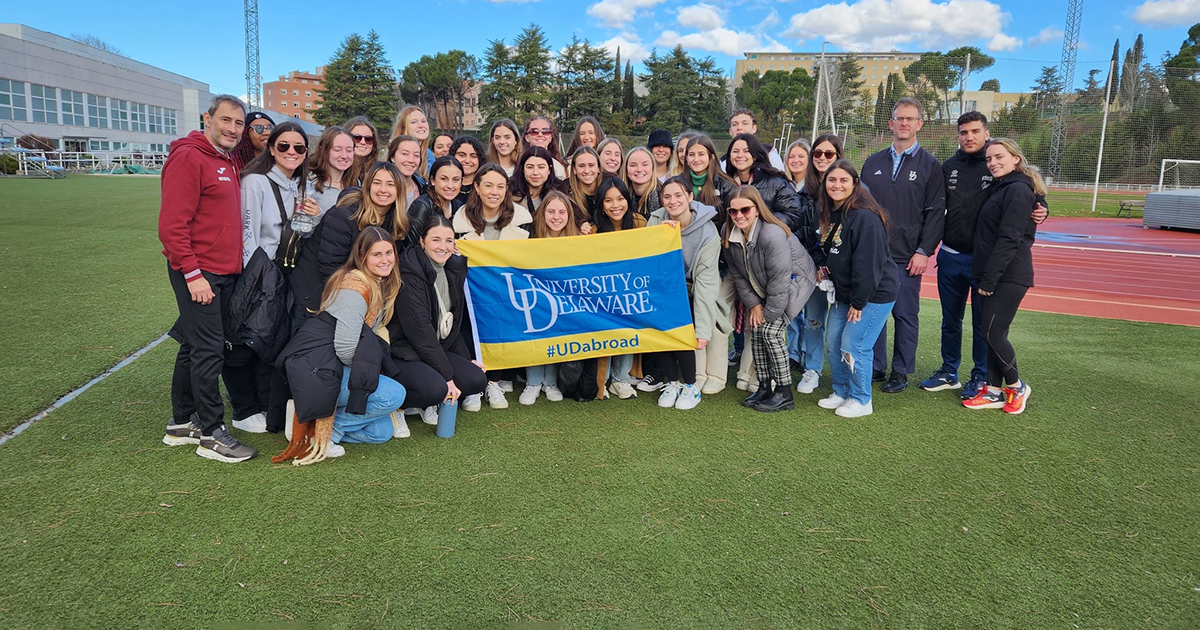 Eye-opening experiences
May 16, 2023 Written by Amy Cherry | Photos submitted by CHS students.
Study abroad experiences in Italy, Spain showcase health on a global scale
Within 10 minutes of stepping inside a hospital in Italy, Ryan O'Connor, saw her first live birth. She saw two more births, including a C-section, that same day.
The sophomore University of Delaware occupational therapy (OT) major was shocked by the opportunities she was afforded inside the walls of San Martino Hospital, a teaching hospital in Genoa, Italy.
"When we're watching the surgeries, we're right next to the surgeon in the sterile field — so close you could touch a body," O'Connor said. "I've never shadowed surgery in the U.S., but I doubt we'd be that close."
Sophomore sports health major Victoria Ciatto traveled to Barcelona, Spain, because she wanted to see how the other side of the world deals with athletes. She had a rare opportunity to watch Olympians train inside the Madrid Olympic Training Center.
"We saw the best javelin thrower in Spain training," Ciatto said. "We saw the women's gymnastics team practice, and the gymnastics coach sat down with us and walked us through an athlete's normal day."
Unique experiences like these inspired O'Connor and Ciatto, who had never been abroad before, to take a risk and travel abroad during UD's Winter Session.
"This experience makes me wish I knew another language. The doctors here, most of them, speak three languages," O'Connor said. "I know my future patients will come from different backgrounds and ethnicities, so this experience gave me a new perspective."
College of Health Sciences Dean William Farquhar and Thomas Buckley, associate professor of kinesiology and applied physiology (KAAP), led 32 students on the trip to Barcelona. Farquhar said the experience has better connected him to students and motivated him as dean to support student-centered programs that facilitate career success.
"The experience reminds me why I am in higher ed –– to help students get ahead in a competitive world," Farquhar said. "Immersive experiences like study abroad can expand a student's mindset. Travel provides an opportunity to view the world