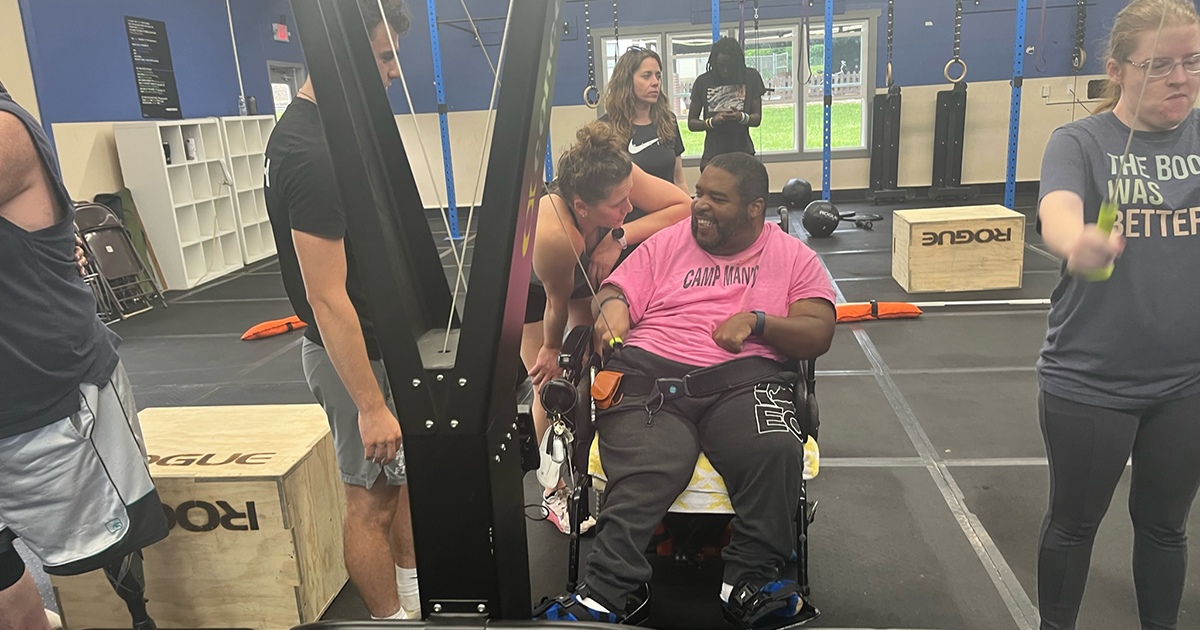 BIOMS doctoral student wins national PT Award
July 13, 2023 Written by Amy Cherry | Photos submitted by Kiersten McCartney
Kiersten McCartney receives the Charlene Mae Nelson Award from the Foundation for Physical Therapy
When Kiersten McCartney was 5 years old, her best friend's father sustained a life-changing spinal cord injury.
"As a kid, I never saw Peter as limited. He always tells people that wheelchair basketball saved his life," McCartney said.
Growing up close to someone with a disability helped chart McCartney's path to physical therapy.
After obtaining her undergraduate degree in biology at The Ohio State University, she moved to Chicago to work at the Shirley Ryan AbilityLab as an exercise physiologist in the community adaptive sport and fitness center. There, her interests in sports and fitness and people with disabilities collided.
"I worked with a lot of patients with neurological impairments," she said. "While I was doing similar work to the physical and occupational therapists I worked with, I didn't have the baseline knowledge I knew I needed to advance my career."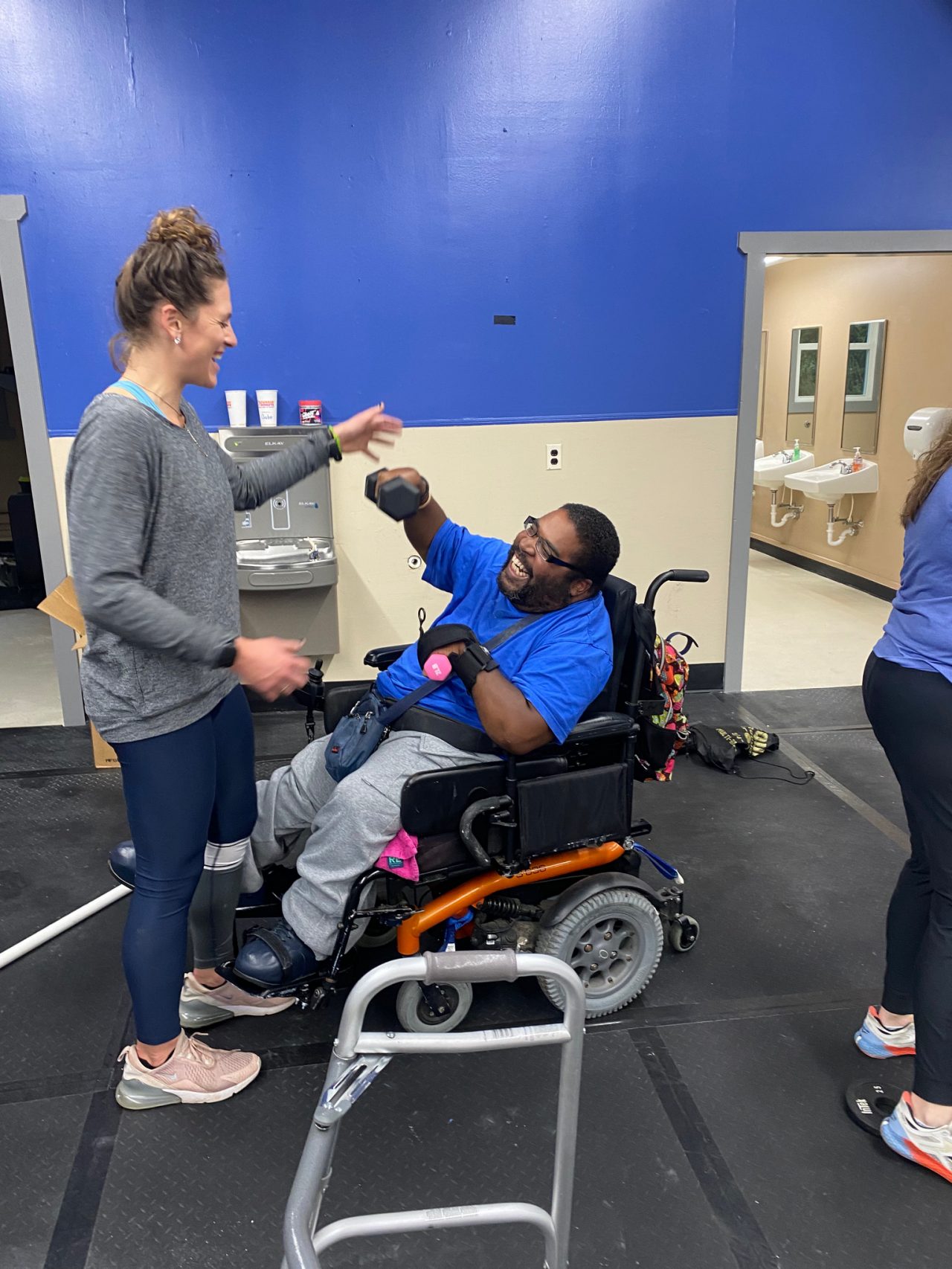 The New York native enrolled in the University of Delaware's number one ranked doctorate of physical therapy program and is on schedule to graduate with her Ph. D. in two years. She graduated from the physical therapy program and officially became a physical therapist in 2020. McCartney now works in the clinic per diem while pursuing her doctorate.
"From working in the clinic, I've learned what's important to patients and how to integrate that into research and practice," McCartney said. "By working with clinicians, I've learned more about the clinical environment and how we can design research studies that are applicable to the clinic. There's a lot of interesting research that can be done but not everything can be applied to the clinic. I want to pursue work that impacts clinical practice so more patients can improve and return to doing things that are important to them. It's been a unique intersection of experiences at UD because these relationships between clinical researchers and clinical practice don't exist everywhere."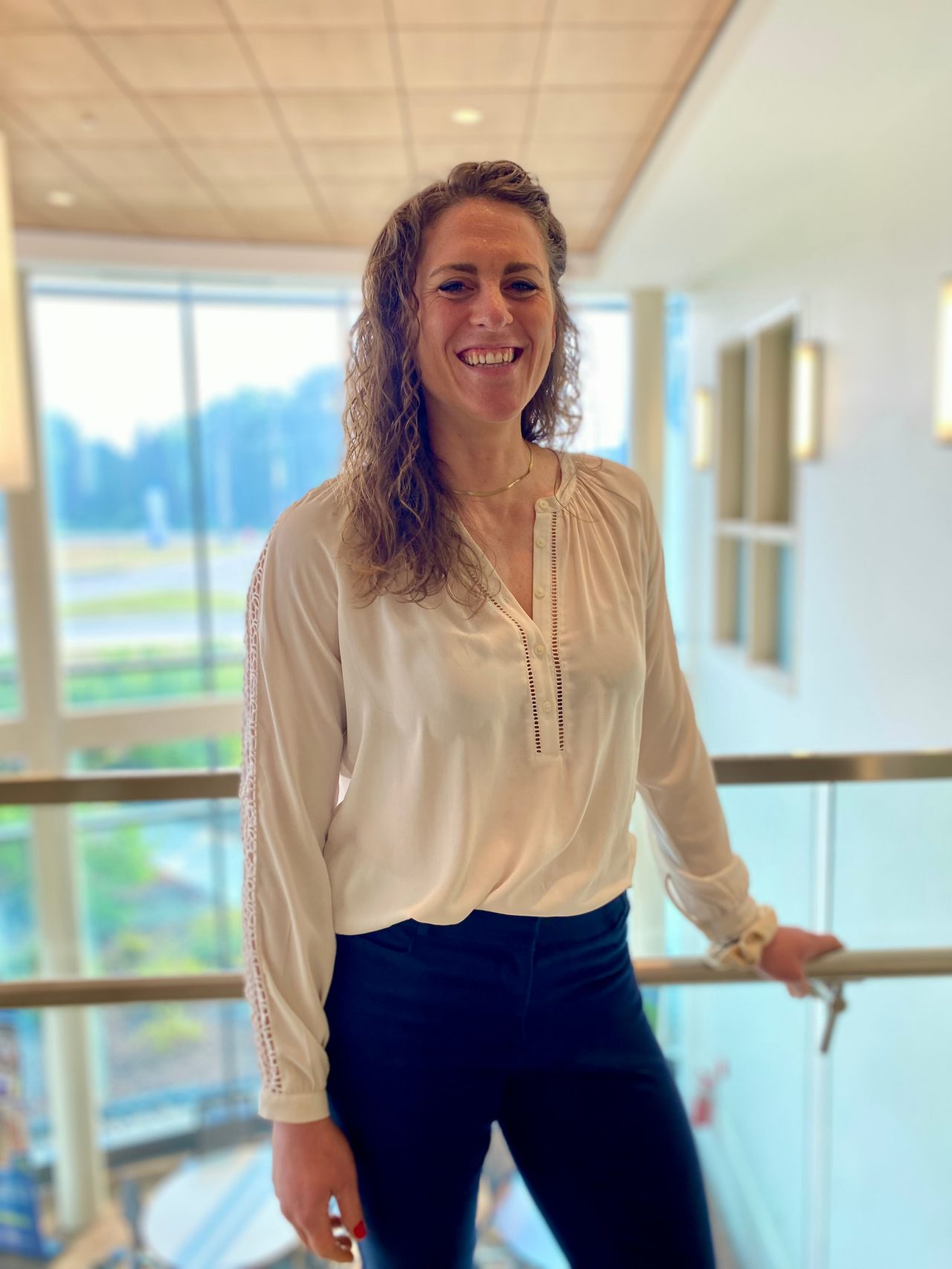 McCartney was recently awarded the Charlene Mae Nelson Award from the Foundation for Physical Therapy Research. The award will support her research into exercise rehabilitation programs that improve walking capacity in people with stroke.
"Too often, people with stroke are grouped together, and that one-size-fits-all approach is doing them a disservice," McCartney said. "For example, we know that high-intensity walking interventions are beneficial to improve someone's walking after stroke, but what's the exercise dose someone needs to achieve these changes? Is that dose different depending on who you are?"
McCartney's research, which uses data from a large clinical trial by Darcy Reisman, professor and chair of the Department of Physical Therapy, seeks the answers to those questions to determine the exact amount and intensity of exercise needed to see a change in walking in patients with stroke.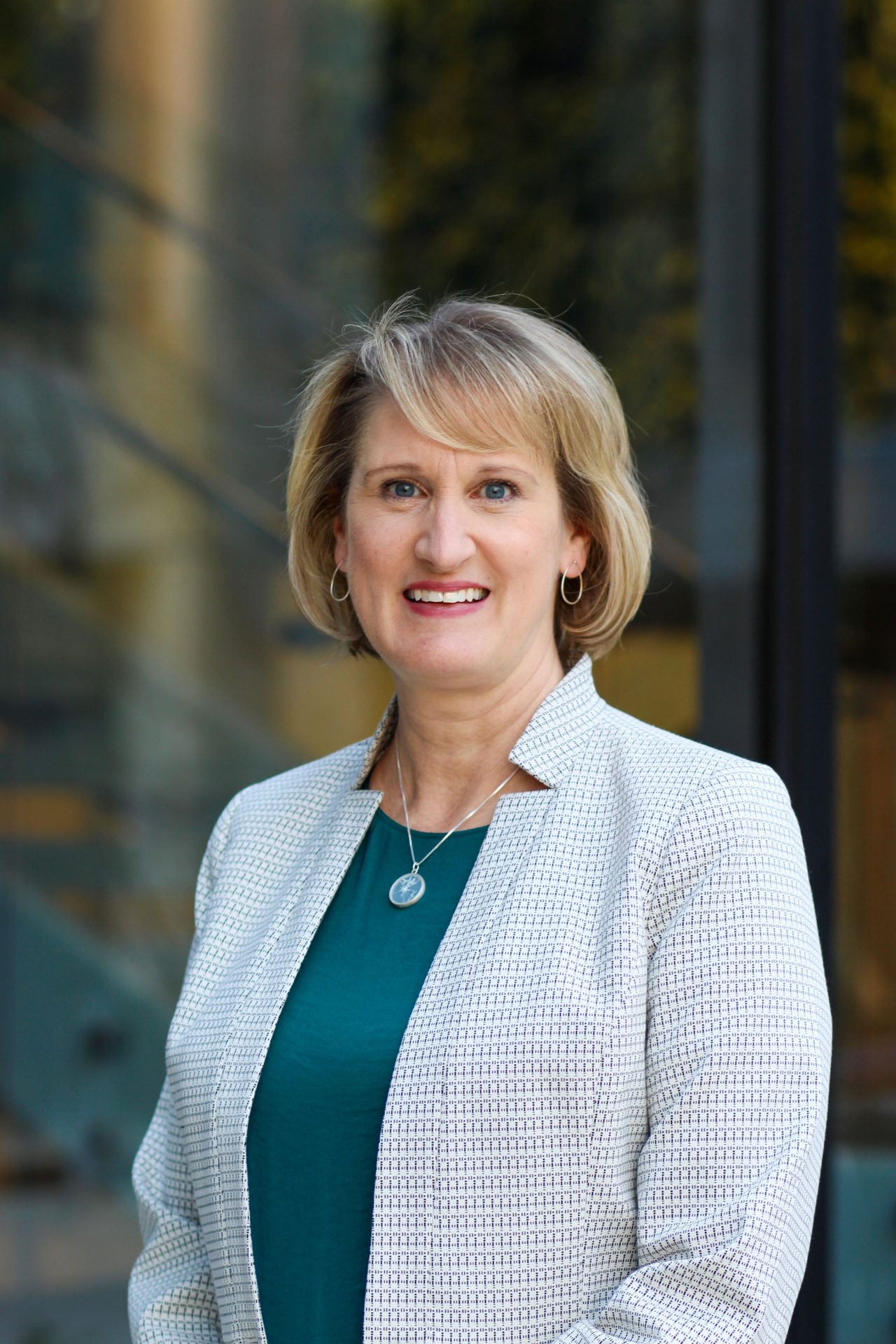 Reisman said the Charlene Mae Nelson Award is a testament to McCartney's hard work and dedication in the field.
"Since arriving at UDPT, Kiersten has been focused on learning to conduct research that would advance the rehabilitation of persons with movement challenges," Reisman said. "The dissertation project she has developed will be the first of its kind for understanding exercise dosing after stroke, and as such, will make a major contribution to the field and the lives of people post-stroke."
Reisman has served as a mentor to McCartney since she started her journey at UD.
"There was an energy about Darcy that attracted me to her lab, and we just clicked. It was exactly where I wanted to pursue this dual degree," McCartney said. "She's taught me how to think scientifically and not to be afraid to ask big questions and seek out people with the expertise to help answer those questions. She also encouraged me to dream big and pursue my goals."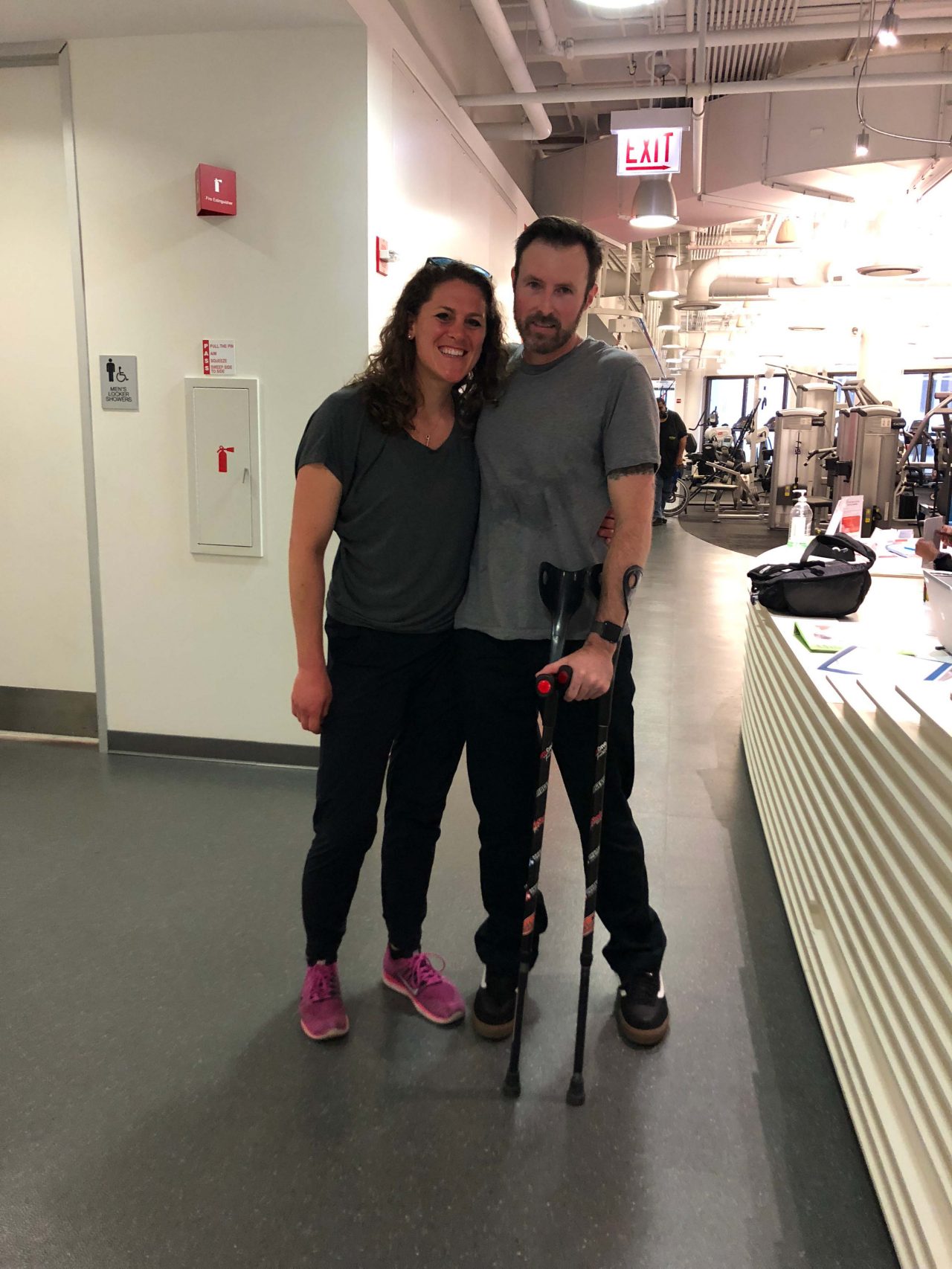 One of those goals Reisman encouraged McCartney to pursue has been her ongoing quest to help people with disabilities. While balancing her doctoral studies, McCartney works with the nonprofit More than Fitness, which runs the Arena Adaptive program in Wilmington, providing an opportunity for people with disabilities to engage in functional fitness.
"It's about allowing people not to be defined by their disability. The work is very rewarding work, but it also transcends the gym or clinic," McCartney said. "Fitness or exercise is a vessel that shows people what they're capable of.
"Too often, people with disabilities are told a laundry list of things they can't do, and this program surrounds them with people who say, 'You can do this.' By showing people, through their own hard work what they're capable of, there's a ripple effect that I believe empowers people with disabilities in other areas of their life. Over the course of my career, I have big dreams to combine my clinical research with community-based fitness programs to improve rehabilitation and long-term outcomes for people with disabilities."