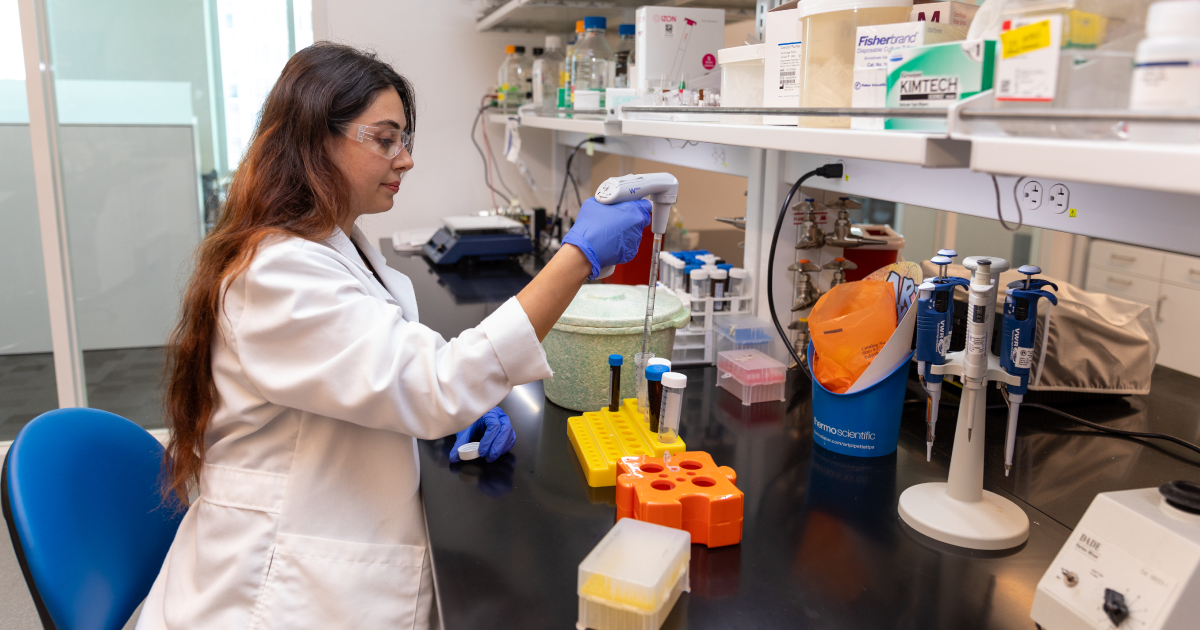 August College of Health Sciences For the Record
September 01, 2023 Written by CHS Staff | Photo by Ashley Barnas
For the Record provides information about recent professional activities and honors of University of Delaware faculty, staff, students and alumni.
Recent appointments, presentations, publications and honors in the College of Health Sciences include the following:
Awards
Haley Powell Smitheman, a physical therapist pursuing her doctorate in biomechanics and movement science (BIOMS), was recently awarded a Promotion of Doctoral Studies (PODS) II scholarship from the Foundation for Physical Therapy Research. Her research focuses on understanding metabolic comorbidities and treatment outcomes in Achilles tendinopathy. She's also examining gait biomechanics in patients with insertional Achilles tendinopathy and how that impacts recovery. "I'm drawn to clinical research because I enjoy figuring out the why and trying to progress the treatments and outcomes we're seeing in patients," Smitheman said. "Working clinically after PT school solidified that for me. When I saw patients who weren't recovering with standard evidence-based treatment, it drove my determination to improve outcomes across the board." Smitheman received the PODS I Award from the foundation last year. "It was great to see continued success in my line of research," she said. "That motivates me more to find the answers." Smitheman said Karin Grävare Silbernagel, professor and associate chair of the Department of Physical Therapy has been a supportive mentor who pushed her to obtain her doctorate. "Hayley has very strong clinical skills and a natural ability to translate clinical problems into well-designed research studies aimed at answering important questions," Silbernagel said. "She will be an excellent clinician-scientist and an asset to our profession." 
Yendelela Cuffee, assistant professor in the Epidemiology Program, was awarded a K01 grant from the National Heart Lung and Blood Institute. The award provides roughly $480,000 in total funding over three years for Cuffee to conduct a storytelling intervention for individuals with hypertension specifically among groups that are traditionally underrepresented in health research. The award will also provide funding to purchase blood pressure monitors, participant incentives, website updates, and training opportunities for Yendelela to learn about motivational interviewing and mobile health intervention development. Cuffee aims to use this training to prepare her for becoming an independent investigator and apply for an R01 grant. "I'm looking forward to seeing if this approach contributes to lower blood pressure and improvements in other health behaviors such as sleep and physical activity," Cuffee said. "My team recently completed recruitment for a Center of Biomedical Research Excellence in Cardiovascular Health study and are excited to move into the next phase of this research." 
Honors
Michelle DePhillips, assistant professor in the School of Nursing, was recently appointed as a fellow in the Global Consortium for Climate and Health Education (GCCHE). During the one-year term, DePhillips will help prepare climate resources for the GCCHE website, as well as aid the nursing working group in additional resource development and strategic planning. She will also be exploring nursing simulations that tie together climate and health research. In her research and teaching, DePhillips is focused on understanding how the environmental links impact both short-term and long-term health for patients. "There's a wide range of literature out there discussing the tie-ins of climate change on health," DePhillips said. "How can we relate this to real life and practice, to make a difference now? Healthcare professionals interact with multiple patients and have the opportunity to disseminate this knowledge to improve overall global health."
Publications
Senem Cevik, a graduate student in the Department of Medical and Molecular Sciences, is the lead author of the recently published article: "Structural and Pathogenic Impacts of ABCA4 Variants in Retinal Degenerations — An In-Silico Study." The article was published in the International Journal of Molecular Sciences with co-authors Esther Biswas-Fiss, chair and professor, and Subhasis Biswas, professor in the Department of Medical and Molecular Sciences. Mutations in the ABCA4 — a gene that produces an enzyme playing an essential role in the visual event of the retina — can lead to severe visual impairments and even blindness. Using advanced computational protein structure analysis, Cevik's research investigated the effects of ten ABCA4 variants of unknown significance. The study aimed to determine the pathogenicity of these variants and validate the efficiency of the computational approach in identifying the consequences of different ABCA4 variants. This approach helped emphasize the importance of a critical first step in understanding the long-term outcomes of genetic variants for effective clinical disease management. "ABCA4-related retinal dystrophies are challenging to diagnose due to the wide range of genetic variants involved. There are roughly 3,000 ABCA4 genetic variants, half of which are missense — changing one amino acid in the protein sequence — and at least half of those are currently of unknown clinical significance," Cevik said. "We developed a computational method that offers a rapid and reliable approach to identify pathogenic variants and distinguish harmless ones. Our goal is to bridge the gap between genetic information and clinical decision-making. Ultimately, this will improve patient outcomes and aid in developing targeted gene therapies."
Presentations
Thomas Kaminski, professor of kinesiology and applied physiology, recently spoke at two prestigious conferences. He was one of two lecturers at the European College of Sport Science Exchange Lecture Program in Paris, France, in early July, and at the American College of Sports Medicine's annual meeting in Denver, Colorado, in late May. At both, Kaminski shared the stage with esteemed colleague Dr. Evert Verhagen, professor of sports health at Amsterdam University Medical Centers. Kaminski's presentation focused on contemporary approaches to sport injury rehabilitation in a talk entitled "DE-ICED: Weaning Sports Health Care Professionals Off Their Dependency on Rest-Ice-Compression 2023 and Beyond!" Said Kaminski, "It was an honor to be selected by these two prestigious professional organizations to spotlight my efforts as a scholar on the international stage."
Appointments
Jennifer Horney, founding director and professor of the epidemiology program in the College of Health Sciences, has been appointed by State Sen. David Sokola to the Delaware Lyme Disease Education Oversight Board. The board was established to improve understanding of Lyme disease in Delaware and includes 11 members, one of whom must be an infectious disease epidemiologist. The group meets monthly, collaborating with healthcare providers and associations such as the Medical Society of Delaware and the Delaware Nurses Association to increase awareness for the prevalence of tick-borne diseases in Delaware. With her extensive research focused on the health impacts of disasters, including disease outbreaks, Horney aims to further spread awareness among both the public and health practitioners of risk factors for being infected with Lyme disease, and how individuals can protect themselves and advocate for appropriate testing and treatment. "As global climate change expands the area in which vectors of diseases can thrive and transmit disease, it is critical that providers and the public effectively understand potential exposure and disease risks," Horney said.
To provide information for inclusion in For the Record, submit a Communications Request Form here. To view a recent For the Record regarding the entire university, search here.