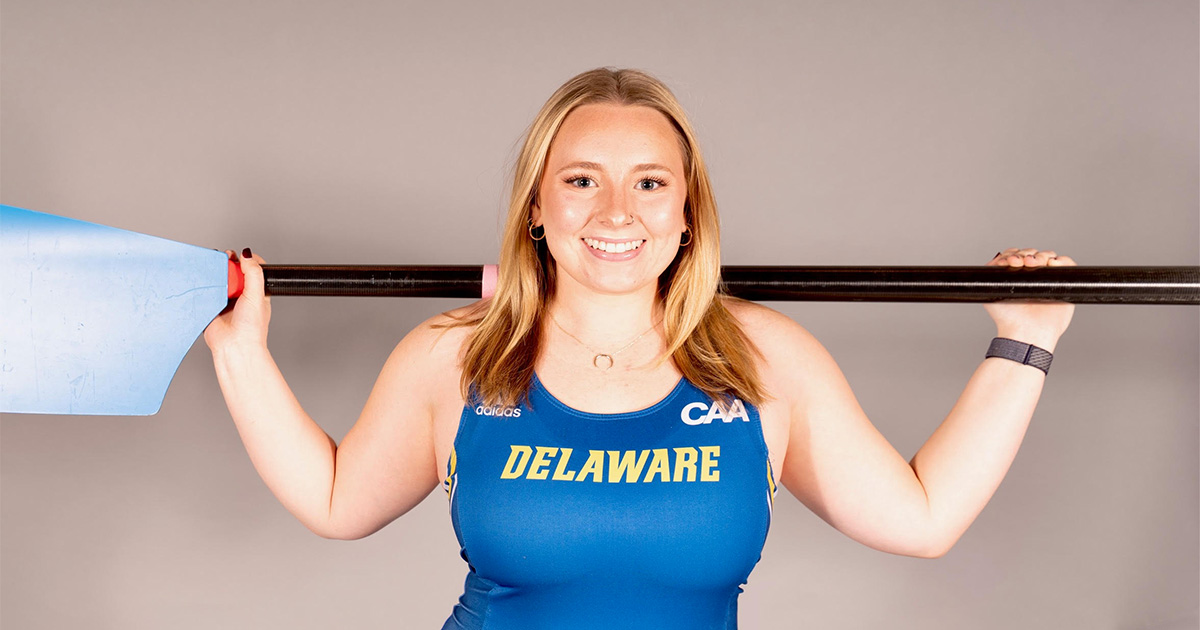 National Student-Athlete Day Spotlight
April 06, 2023 Written by Amy Cherry | Photos by Nick Vuylsteke
Meredith Blowman, Junior, Medical Diagnostics major on the UD Women's Rowing Team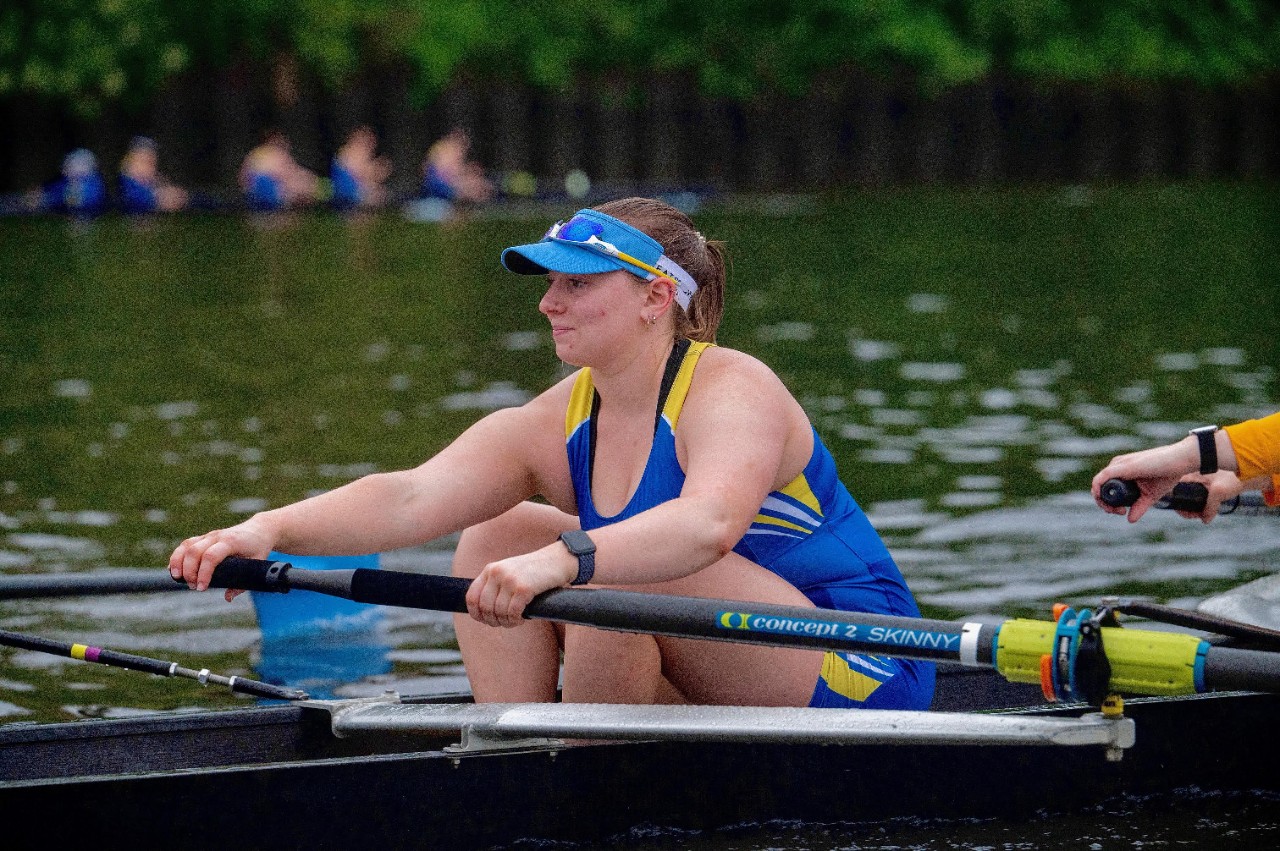 While you're fast asleep, you'll find Meredith Blowman on the Christina River in Wilmington well before dawn five days a week.
The junior on the University of Delaware's Women's Rowing team wakes up around 4 a.m. on weekdays to commute to Wilmington for practice.
She gets off the bus and heads right to Willard Hall for her 8 a.m. class. On top of being a student-athlete, Blowman has a rigorous academic schedule as a medical diagnostics major and student in the Honors College.
"It's a huge time commitment and requires more self-discipline and time management," she said.
But she was confident the medical diagnostics major would set her up for success in whatever healthcare-related career she'd pursue.
"I knew I wanted a more forward-facing and patient-focused role within healthcare because I love interacting and talking with people."
After graduating from UD, Blowman plans to use her gap year to apply to medical schools. She aspires to be a family practice physician but is interested in exploring various specialties during rotations in medical schools.
"Family practice appeals to me because you can see a wide range of patients from pediatrics to geriatrics and have an extended patient-provider relationship," she said. "But I've also considered orthopedics, sports medicine, and obstetrics and gynecology."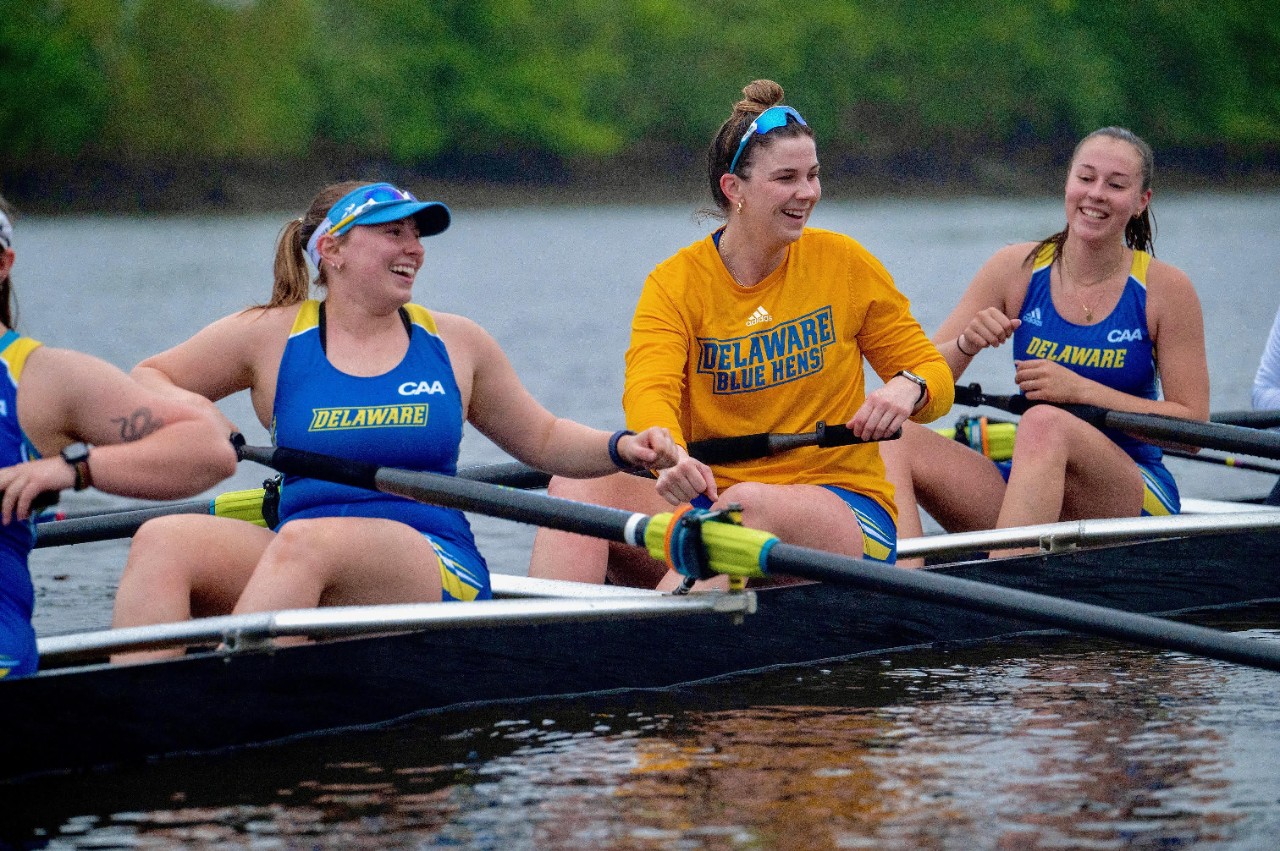 In earlier years, Blowman was a competitive synchronized figure skater and didn't pick up rowing until he sophomore year at Charter School of Wilmington.
"I had spent my whole life dedicated to one sport, but the figure skating team had really kind of dissipated because it's such a high burn-out sport."
She quickly learned she loved being on the water, and the two sports had similarities.
"Rowing takes the team sport mentality to the next level because you're literally all in the same boat," she said. "Rowing also brought in a lot of the things I learned from skating like keeping in time with other people, having good posture, and working with your legs. Rowing is a huge game of mental toughness and grit, and it's the most physically demanding thing that I've ever done and probably ever will do, but it's rewarding."
But back then she would've laughed at you if you told her she'd be a Division 1 rower.
"I never would have believed you. But skating gave me a fantastic foundation to pick up rowing and be successful," she said. "I'm truly so grateful for the opportunity that UD and the coaches have given me. It's a fantastic program that's shaped my college experience for the best."
Rowing keeps Blowman centered and feeling grateful in challenging times. She believes the sport will make her a better doctor someday.
"Managing practices, athletic training, performance nutrition and sports psychology to stay on top of your game while being a full-time student has taught me invaluable lessons about time management, discipline and scheduling."
She added:
"I've never met a group of women so disciplined, so dedicated and so intelligent. Everyone is always pushing their limits in the classroom, on the river, and in the weight room," Blowman said. "It's really inspiring to be surrounded by such a great community of people."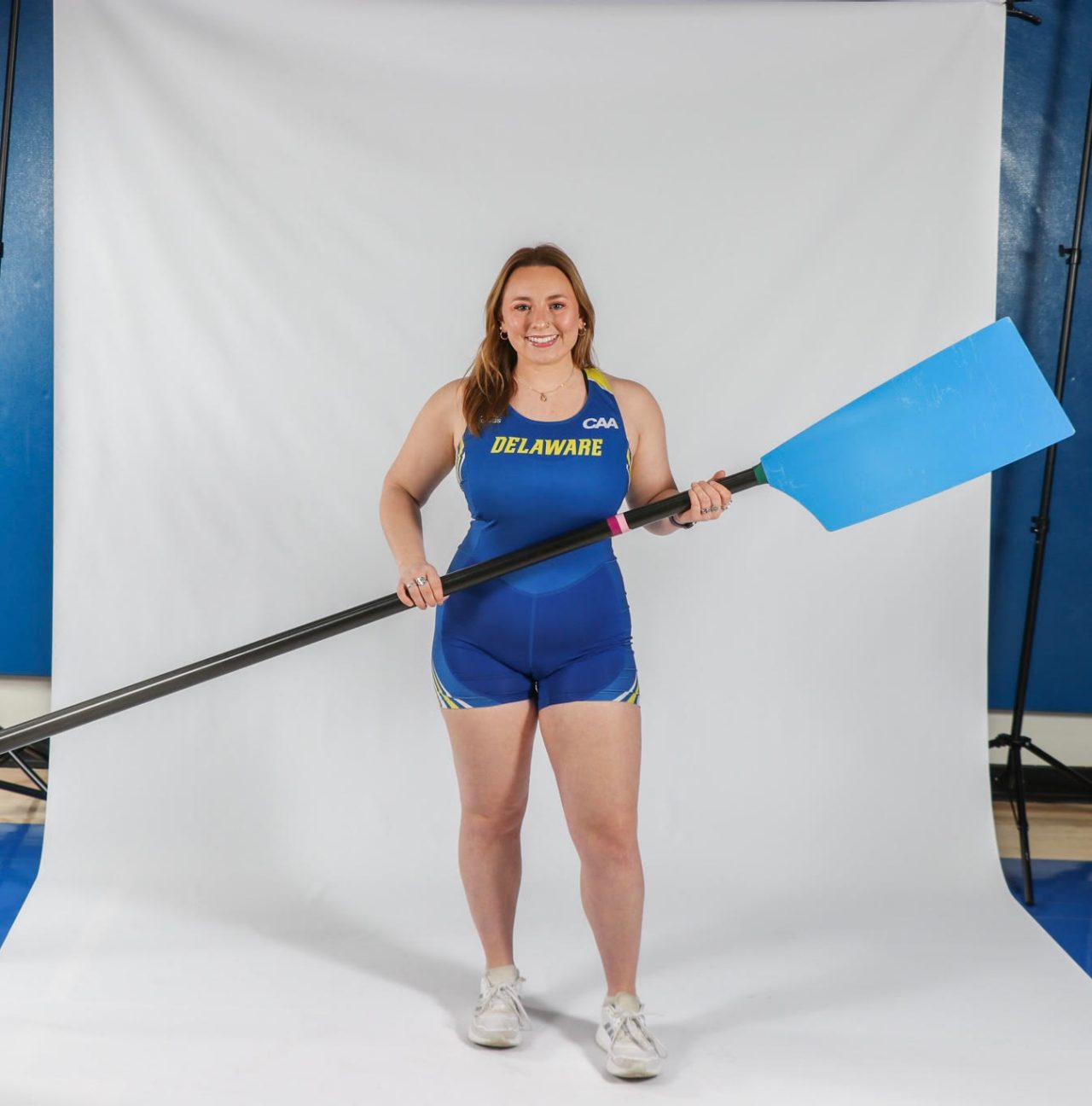 Through athletics at UD, Blowman has also enhanced her leadership skills. This year, she's a junior class representative for the team's Leadership Council.
"It's been fantastic to step up and represent the class and use my voice to make my team even better," she said.
She's also vice president of the Student-Athlete Advisory Committee, and through that group, serves as the student-athlete senator for student government.
"It's been the intersection of all my different identities on campus in one place. When I'm there, I'm not just a student-athlete; I'm also an honors student; I'm also a student in the College of Health Sciences (CHS); I'm also a student on a pre-med track, and that's been a really cool way to see how my identity as an athlete overlaps with my identity as a student and the rest of the Blue Hen community."
Through CHS, she learned about the Phi Delta Epsilon International Medical Fraternity, which has been key to guiding her on her pre-med journey.
"I've learned so much about applying for medical school and the different options available," she said. "It's been great to meet a community of people who have similar goals. It's been a fantastic experience and one I would not trade for anything."
By combining CHS and athletics, Blowman was able to chart the perfect path.
"My time in the College of Health Sciences has been very beneficial to my career, and all of my experiences have reinforced for me that I'm on the right path," she said. "Rowing has seriously changed my life in the best way possible. I'm so grateful that I was able to pick up an oar one day, get into a boat, and fall in love with a sport that has carried me through college and given me so many opportunities."