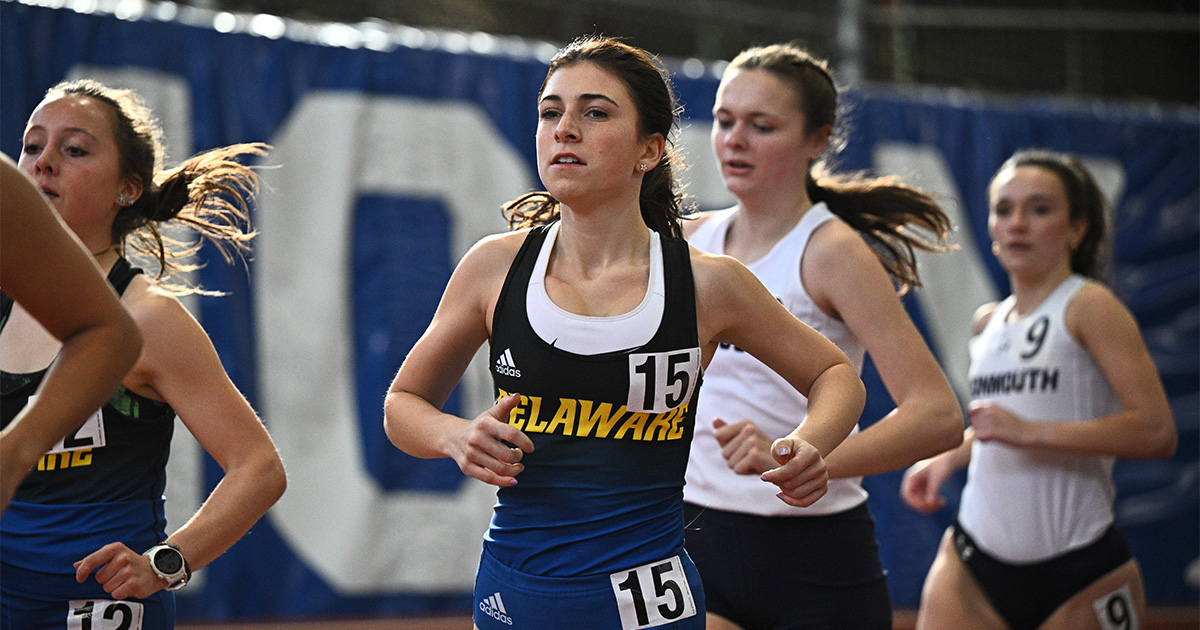 National Student-Athlete Day Spotlight
April 06, 2023 Written by Amy Cherry | Photos by Nicole Sasu-Twum
Anna Cleary, Senior, Nursing major on the UD Women's Cross Country and Track and Field teams
University of Delaware senior Anna Cleary clearly remembers her first "little patient." She didn't know it in the moment, but that child would influence her career path.
"The nurse I was working with told me, 'Good luck because that little girl hasn't talked to me yet today, and she wouldn't talk to the nurse the night before.'"
Cleary asked her what she was playing with, and the two instantly bonded. The silent, scared little girl lit up and became chatty and lively; she might have even cracked a smile. That singular moment during Cleary's UD School of Nursing pediatric clinical rotation fostered her love for pediatric nursing.
"I enjoyed making her day a little better and making her feel a little more comfortable at a time when she was scared," Cleary said. "Working with kids brings a creative aspect to nursing. They're just such a special population that brings me so much joy, and pediatric nurses play a special role in a family's life."
Cleary remembers when she was little too – that's when a career in healthcare piqued her interest.
"I used to play doctor and loved to write prescriptions. I had a bag and a lab coat and wanted to give family members check-ups," she laughed.
Years later, in her finals months at UD, Cleary is applying for pediatric nursing jobs. In the future, she plans to further her education and become a nurse practitioner.
But Cleary has two loves. In addition to pediatric nursing, she discovered her love of running in high school. She initially wanted to play volleyball at Padua Academy, but standing at just 5'1", it wasn't the greatest fit athletically. But with her small stature comes speed. She tried out for the cross country team and wound up loving it. As a sophomore, she was on the varsity team running in the Delaware Interscholastic Athletic Association (DIAA) state championship. She excelled and was recruited to join the UD Women's Cross Country and Track and Field teams.
"At the college level, running is much more elite. You're running with every high school's best runner," she said.
Cleary typically runs 40 miles a week, down from 55 miles, to prevent stress fractures in her lower back; she's suffered two in during her collegiate running career.
"I've been running over a year now without injuries, so that's been great," she said.
But balancing her long runs with her rigorous nursing coursework has been tough, especially once clinicals started her junior year.
"In nursing, at clinicals, we're on our feet all day, and that makes my legs more fatigued, hindering my running speed," she said. "But running gives me discipline and helps me be more efficient with my schoolwork."
Both of Cleary's roommates are also nursing majors on the Cross Country team.
"Oftentimes, I have had to practice with my roommates at a different time than the rest of the team due to our clinical schedules," she said.  
In addition to meeting her best friends at UD, Cleary is also grateful for additional opportunities the College of Health Sciences has provided, including shadowing school nurses and volunteering at Lori's Hands.
"There's just so many opportunities to see different aspects of healthcare, and that's helped me decide what I want to do," Cleary said.
But above all, being a Division 1 student-athlete has been the most inspiring part of Cleary's college career.
"Being a D1 athlete comes with prestige, and you have a responsibility to represent your school well on the track, in the classroom, and everywhere you go," she said. "It's an honor to be a part of UD's Cross Country team, and it's an opportunity many don't get, so I put my whole heart into it and am grateful every day that I have this opportunity."