Women's History Month Department Chair Spotlight
March 27, 2023 Written by Amy Cherry | Photo by Kathy F. Atkinson
Jillian Trabulsi, Chair, Department of Behavioral Health and Nutrition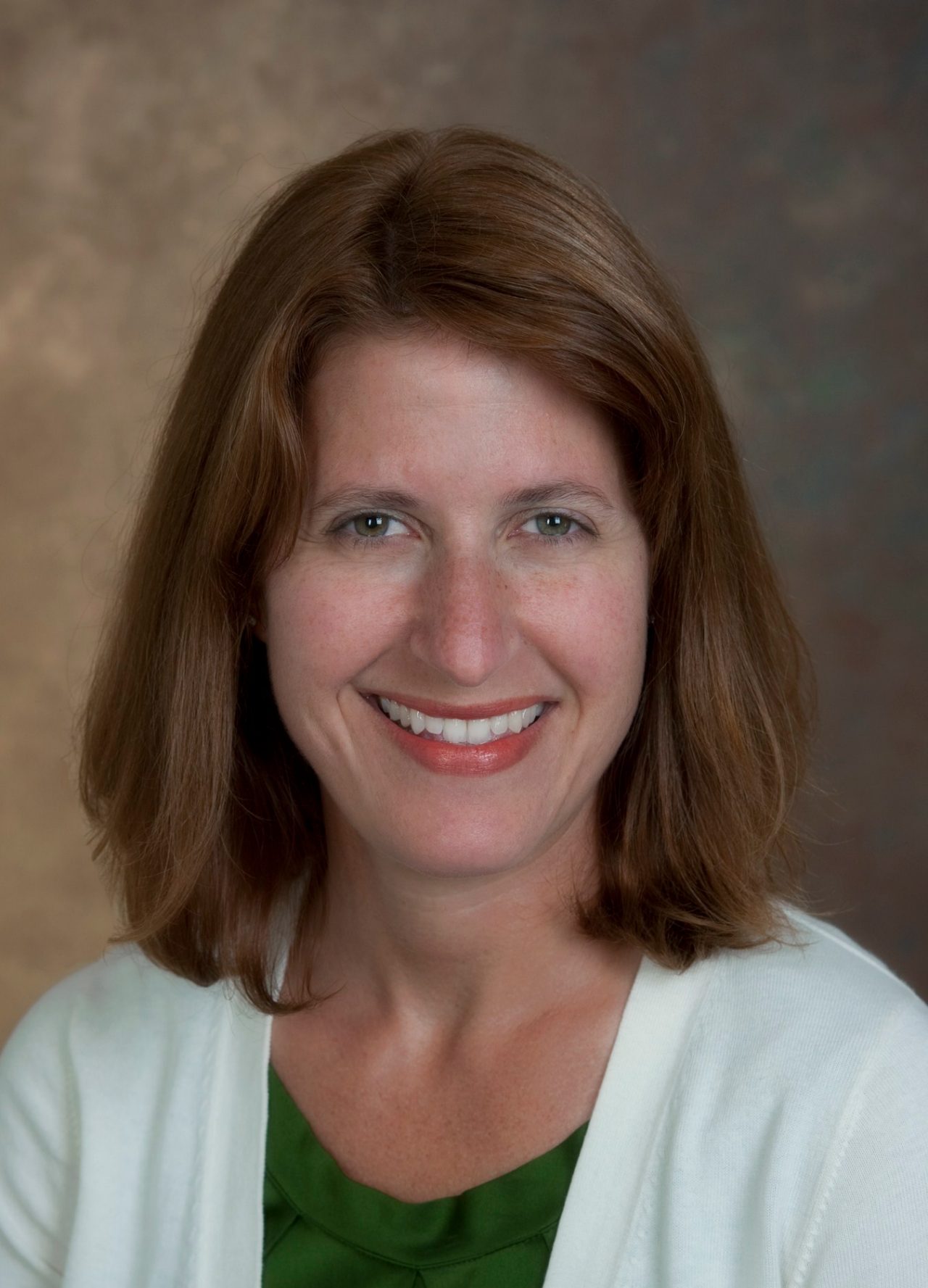 Healthcare was always part of the dinner conversation at Jillian Trabulsi's table.
Her parents immigrated to the U.S. as children. Her dad came from war-torn Beirut, Lebanon, and her mom from England, which at that time, was still suffering the effects of WWII. Their parents came to the U.S. for economic opportunity. Trabulsi's father and mother were first-generation college students, who went on to become an orthopedic surgeon and oncology nurse, respectively. They met on a blind date while her father was a medical student, and her mother was a research assistant at the same hospital.
Trabulsi's paternal grandfather died at 50 after a massive heart attack. At age 14, after her father was diagnosed with heart disease, she felt a call to action that sparked her interest in how diet affects health outcomes.
"I wanted to learn more about nutrition so I could help him," she said.
By the time she was 16, Trabulsi was shadowing registered dietitians in hospitals to hone her career path. She recalled being in the intensive care unit and observing a patient on a tube feeding.
"I was just fascinated that they had to consider the physiology of the disease and how to alter the nutrient composition of the tube feeding to meet that patient's needs," she said.
She went on to obtain her undergraduate degree in dietetics from the University of Delaware.
Trabulsi had worked as a waitress in high school and college. Fresh out of college, at age 21, Trabulsi was employed at an adult hospital, where she had her first experience as a woman in the workplace.
"I had been there one week, and an employer came to me, and he said, 'My boss will be coming down soon, and it'd be nice if you came over and asked us if we'd like a cup of coffee,'" she recalled. "I felt humiliated. Was it because I was a female or because I was young, or both? I'll never know the answer to that."
But she carried that experience with her throughout her career and into academia, and it drives her to help all students achieve their academic potential.
"Every time I work with graduate students, especially females, I'm inspired," she said. "Having a graduate degree puts you in a different place in the workforce, and hopefully, you will be respected for the job you were hired to do and won't be asked to serve someone."
That experience also drove Trabulsi to look for a new job. Soon thereafter, she would spend the next six years as a clinical dietitian at Children's Hospital of Philadelphia (CHOP). She called it a "rewarding" experience to work with patients whose conditions ran the gamut from gastrointestinal disorders to developmental disabilities to infants and teens with HIV/AIDs in the 90s during the height of the epidemic.  
"I met incredible families, and parents, who were often younger than me, caring for children with chronic illnesses and making the most of it," she said. "It makes you realize the gifts you've been given."
Every condition has standards of care that dietitians follow, and Trabulsi knows them all. She instantly recalled that children with cystic fibrosis require exogenous enzymes with meals to make food digestible while many of the children with HIV/AIDS had diminished appetites due to high viral loads, which made eating a challenge.
"I had to teach parents to prepare nutrient-dense foods in small portion sizes," she said. "Many children ended up on tube feedings, so we worked to ensure their tube feeding was at night so they could be typical children during the day."
Trabulsi went on to obtain her doctorate in nutritional sciences at the University of Wisconsin-Madison. There, she spent time researching energy balance and techniques for the measurement of total and resting energy expenditure and assessment of diet and energy intake.
She returned to CHOP for postdoctoral training, and as part of her postdoc established use of the Doubly Labeled Water (DLW) method in the mass spectrometry lab, which was used at CHOP in the study of children with chronic health conditions.  
"DLW is the gold standard for measuring how many calories an individual burns over a specified period of time," she said. "I've applied the method to kids with congenital heart defects and infants as we manipulate diet composition. It answers the question: when children are or not growing, is it the energy expenditure side of the equation that's causing the gains or losses?"
Following her postdoc, she worked for Wyeth/Pfizer Nutrition, gaining four years of experience conducting FDA-quality global clinical trials. She values the research program development and project management skills she learned.
In 2010, Trabulsi returned to UD for the first time since she was an undergraduate student, but this time as an assistant professor. Over the years, she took on roles of increasing responsibility within the Behavioral Health and Nutrition Department, and in 2021, she was named chair of the department that served as the launching pad for her entire career.
"I always joke this is my third career," she laughed. "I've worked clinically, which informs my teaching; I've worked in an industry-setting as a research scientist, which gave me much stronger research skills, and then came to UD and started my own research program. It was my degree from UD and the culmination of all these experiences and skill sets that led me to academia, and one would not have been possible without the other."
Trabulsi's own research focuses on what infants are fed, how it affects their growth, and ultimately, their health outcomes.
"When children gain weight too quickly, they're actually at a greater risk for obesity as a toddler let alone as a school-aged child," she said. "We also look at the composition of breast milk, and infant formula, and the diet that infants are fed and how that affects their growth trajectory, their later diet, and their microbiome.
As a woman leader, Trabulsi is inspired by her immigrant parents' "work hard" mentality. She aims to move the BHAN Department forward in a way that allows all students to reach their full potential and have a positive impact on the health of individuals and communities.
Under her leadership, BHAN has already seen tremendous growth. The Nutrition and Health Coaching clinics have had a 200% increase in revenue and the number of students trained in those settings. Trabulsi is focused on further developing the department's research engine while maintaining excellence in teaching. She's also proud of the department's community outreach, noting that each year, faculty in the department typically engage in more than 30 community research or service projects.  
"Whether it's helping individuals with disabilities or cancer, programs to prevent type 2 diabetes and promote healthy aging, or research on child nutrition or childcare policies, we have a robust community-engaged research and service component to our department," Trabulsi said. "The contributions of our health behavior science and nutrition faculty span from bench to bedside to the community.
"I want our department to expose our students to everything from policy, epidemiology, health interventions and community research to the molecular and physiology side of health, so that with well-rounded experience, our students can follow their passion and improve the health of others."