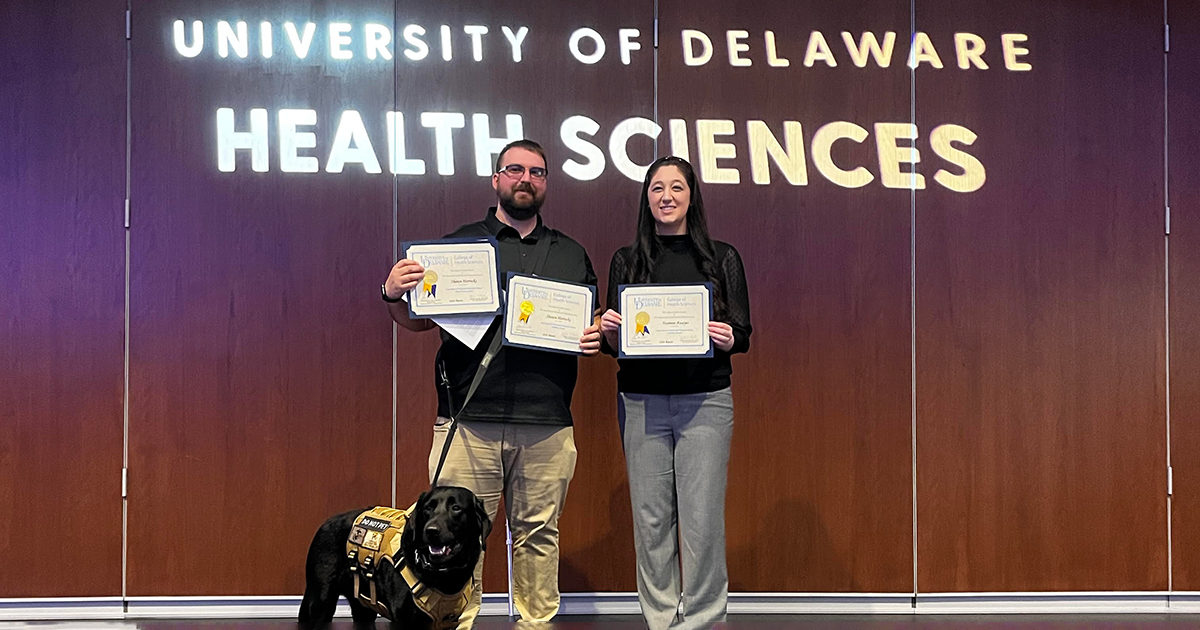 Honorary doggree
May 23, 2023 Written by Amy Cherry | Photo submitted by Shawn Horrocks
Medical diagnostics major and veteran, service dog to be honored at CHS Convocation
Shawn Horrocks and his 7-year-old Black Labrador retriever dress up in matching costumes for Halloween every year.
Shawn and Vinny would show up to the University of Delaware's campus for class dressed up as Batman and Robin or wearing matching dinosaur costumes.
Later this month, both Horrocks and his service dog will be donning a cap and gown at the College of Health Sciences Convocation and the University Commencement, both in Delaware Stadium. As Horrocks, a medical diagnostics major with a pre-physician assistant concentration accepts his diploma at the CHS Convocation, Vinny will be awarded an honorary doggree.
"I submitted the request kind of as a joke, but he deserves it; he's been to every single class with me," Horrocks said. "I like to think of Vinny as the College of Health Sciences' unofficial mascot."
When the Department of Medical and Molecular Sciences (MMSC) received the unusual request, they were happy to seek University approval and pleased to see the request granted. Horrocks and Vinny have been "students" together in three of MMSC Senior Instructor Leslie Allshouse's classes over the years.
"Shawn epitomizes the term perseverance when faced with challenges," Allshouse said. "Vinny is always by his side and a welcome guest in the class, and it is heartwarming to know that Vinny will be recognized with Shawn at Convocation."
Allshouse will be cheering loudly along with the rest of the MMSC Department for Horrocks and Vinny at the CHS Convocation on May 26, and called this a special moment of recognition.