Beloved Health Behavior and Nutrition Sciences professor Steve Goodwin retires after 30 years
July 10, 2023 Written by Amy Cherry | Video and Photos by Ashley Barnas
Goodwin left an indelible mark on his students
Everyone sits in a giant circle in Dr. Steve Goodwin's Art of Happiness class. On this day in April, dozens of students were asked to share what they did over spring break, their dream car, and their favorite day of the year. Steve went first.
"I got a Tesla. I waited for the Model 3, and my favorite day of the year is my anniversary," as he looked over at his wife of 24 years, Jean.
Students took turns sharing their dream cars, which ranged from an Old Bronco and Scooby Doo-style mystery van to a red Ferrari or a '69 Camaro. The majority picked their birthday, 4th of July, or New Year's Eve as their favorite day. Few said Christmas, while even fewer said the first day of summer, Halloween, and Easter. Over Spring Break, students' experiences ranged from catching up on some much-needed sleep to leaving the country for the first time; another student said she got over her fear of flying.
"It was my first time on a plane since I was 5 years old, but I puked on the way home," said Ryann Johnson.
Some chuckled and others looked at Johnson with empathetic eyes, and even that unpleasant memory got many, including Johnson, to smile.
Goodwin teaches students to take time to appreciate their accomplishments—no matter how big or small—to be grateful for the home-cooked meals they ate on spring break and the long-lasting friendships they've forged as some were preparing to part ways.
The class, that's undoubtedly one of the most popular elective courses at the University of Delaware, has a waitlist that's a mile long. And after observing just one class, it's no wonder why. Everyone leaves the therapy-style class 50 minutes later happier than when they walked in.
"I learned something new every day in Professor Goodwin's classes. He's very inspiring," said rising senior Kelsey Bompane, who's majoring in operations management and minoring in health and wellness. "My biggest takeaway has been that every day there's room for self-growth, and my interactions with others directly impact how they go about the rest of their day."
Something as simple as a thank you or a compliment can set the tone for a person's entire day.
"I want my students to be better people," Goodwin said. "Being a better person can take on a lot of different aspects of their life, and certainly being healthier is being better in some ways, but I've always felt it was really important to affect them in the way they interact with others and treat others with respect. If you can help people do that, they're a better person.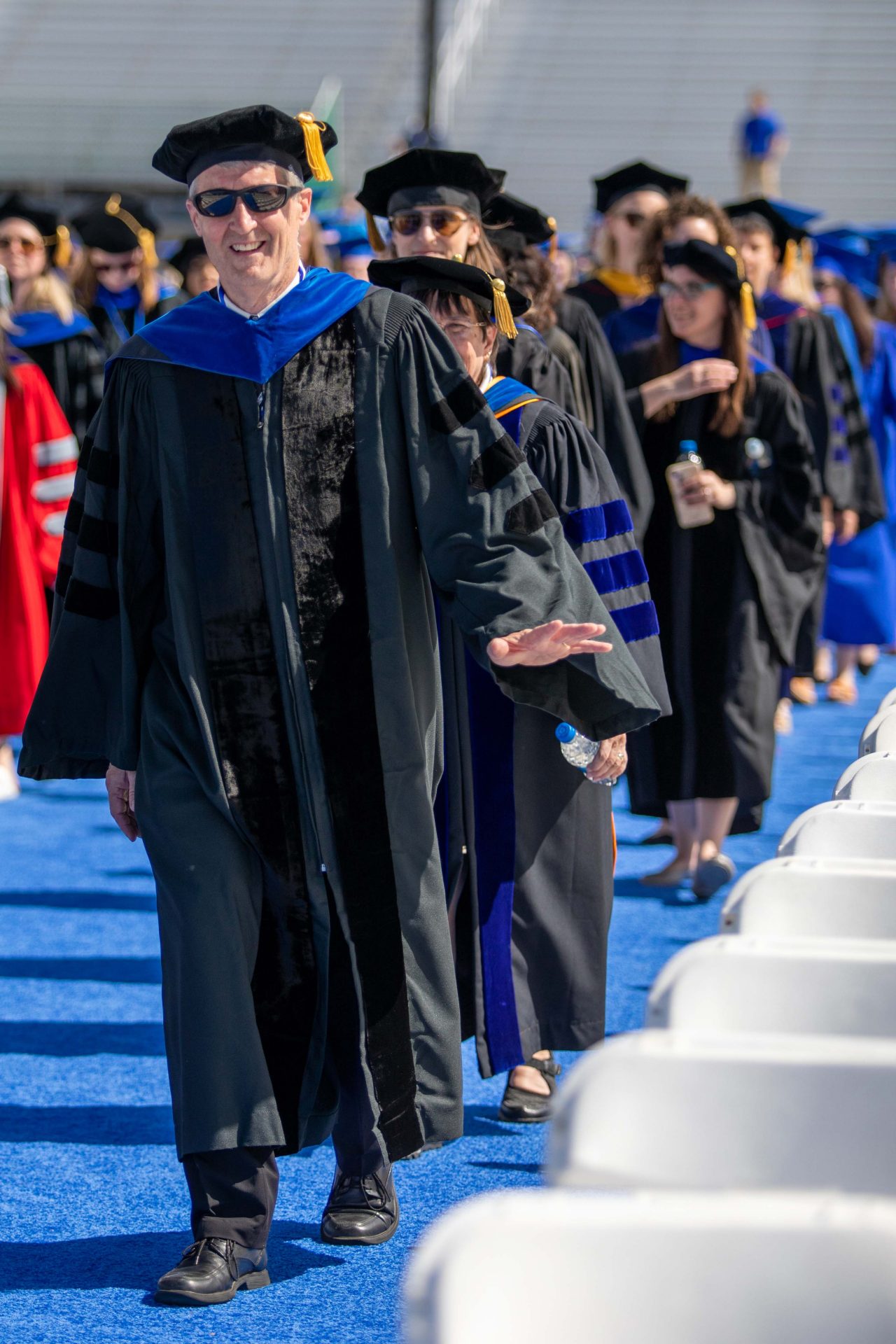 Goodwin, an associate professor of health behavior and nutrition sciences, who's retiring after 30 years, was inspired to start the class about halfway into his career at UD after re-reading The Art of Happiness by the Dalai Lama.
"The most positive health decisions we make in our life come when we're happy about things. Most of the negative health decisions we've made in our life come when we're unhappy about things," Goodwin said. "So, in health education and health promotion, we want to encourage people to engage in healthy behaviors, but if we don't address that aspect of it, I don't know why we ever think we'd be successful."
At the beginning of every semester, Goodwin tells students:
"This is a course where you get out of it what you put into it."
But his goals for the students to become better people are much loftier. Molly Camphausen, a rising senior majoring in biological sciences, felt the push.  
"He makes us better people and makes us think about the world differently," Camphausen said. "He has so much confidence in his students, so it's hard not to feel that confidence in yourself after you've taken a class with him."
Now, after three decades of raising better people, Goodwin is retiring. The news brings happy tears to the eyes of many, who've been impacted by Steve's teachings and compassion.
"He is the kindest human being that you have ever met. He's inclusive and wants everyone to feel valued and as though they're part of something," said chair of the Health Behavior and Nutrition Sciences Department Jillian Trabulsi. "He's a quintessential educator, and we're going to sorely miss him. He has really big shoes to fill, and I don't know that anybody can truly fill his shoes. He's one of a kind."
Goodwin hopes to publish a fourth children's book he's been working on with his wife in retirement. He also aims to be a bit more bicoastal so he can see his young grandson Wyatt more. Wyatt looks forward to more wrestling and pancakes with Grandpa.
But even with more time to travel and see family, Goodwin's mission to create better people will never be complete. He hopes to bring his Art of Happiness class to more people by teaching at the YMCA or a similar organization.
"I want to inspire more people to be better people," Goodwin said. "My time here at UD, quite simply, has been wonderful."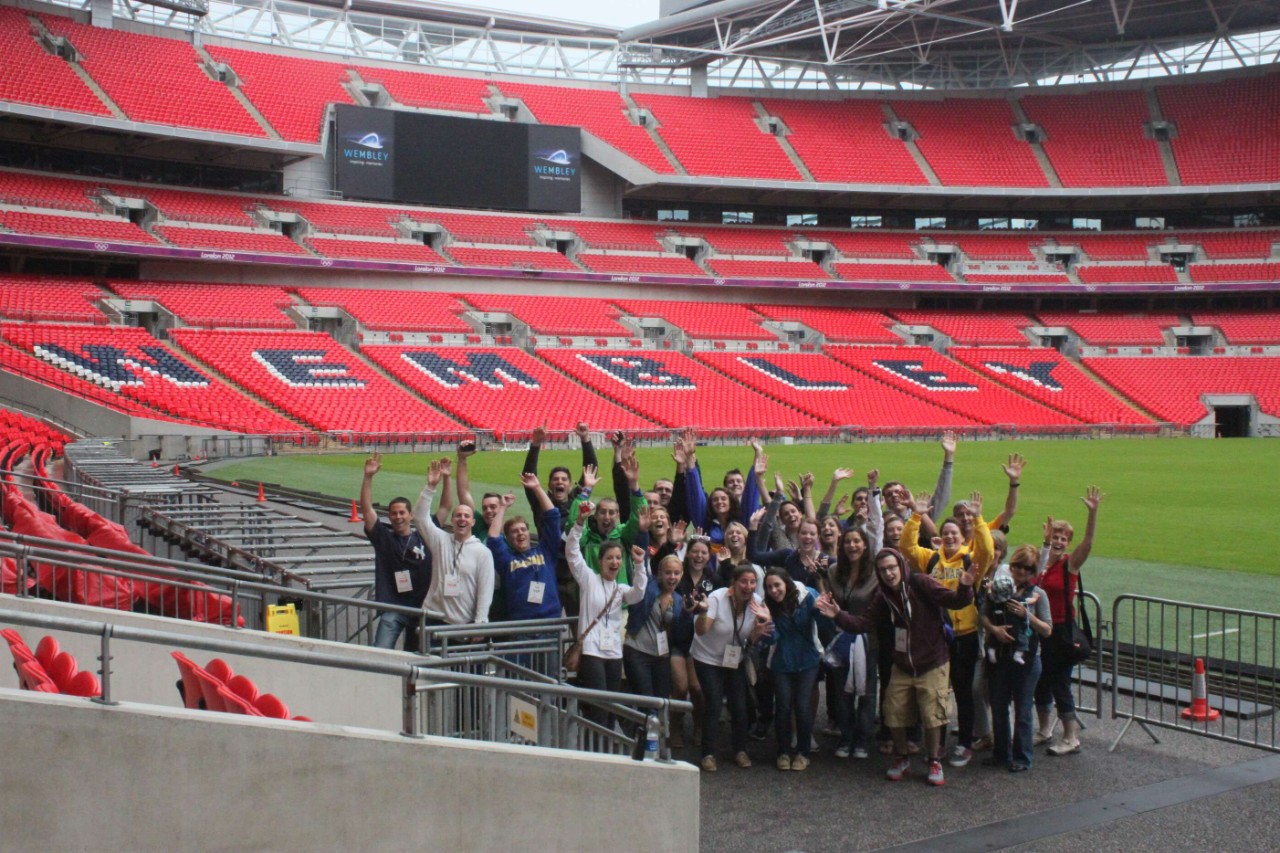 Goodwin has also fueled his love for travel by leading countless study-abroad trips to countries like South Africa, Brazil, Ecuador, and Costa Rica. He's attended the Olympic Games and World Cups and given students unforgettable experiences.
"Being in South Africa alone is wonderful and breathtaking, but Dr. Goodwin adds an element of fun to the learning. He really engages you and gives you lifelong lessons," said Keslie Lussier, a rising senior majoring in nutrition and dietetics.
Lussier experienced some homesickness while abroad, but she was in luck -- Goodwin's forte is turning a negative into a positive. She and many other students affectionally call him "Goody." The nickname is short for Goodwin but also represents the wealth of good within Steve.
"I had a hard time while I was away, and I could go to Goody and talk and just feel so comforted.
"He's our grandpa now," joked Kate Hamelin, a rising senior majoring in nutrition and dietetics as Lussier interjected, "He adopted us!"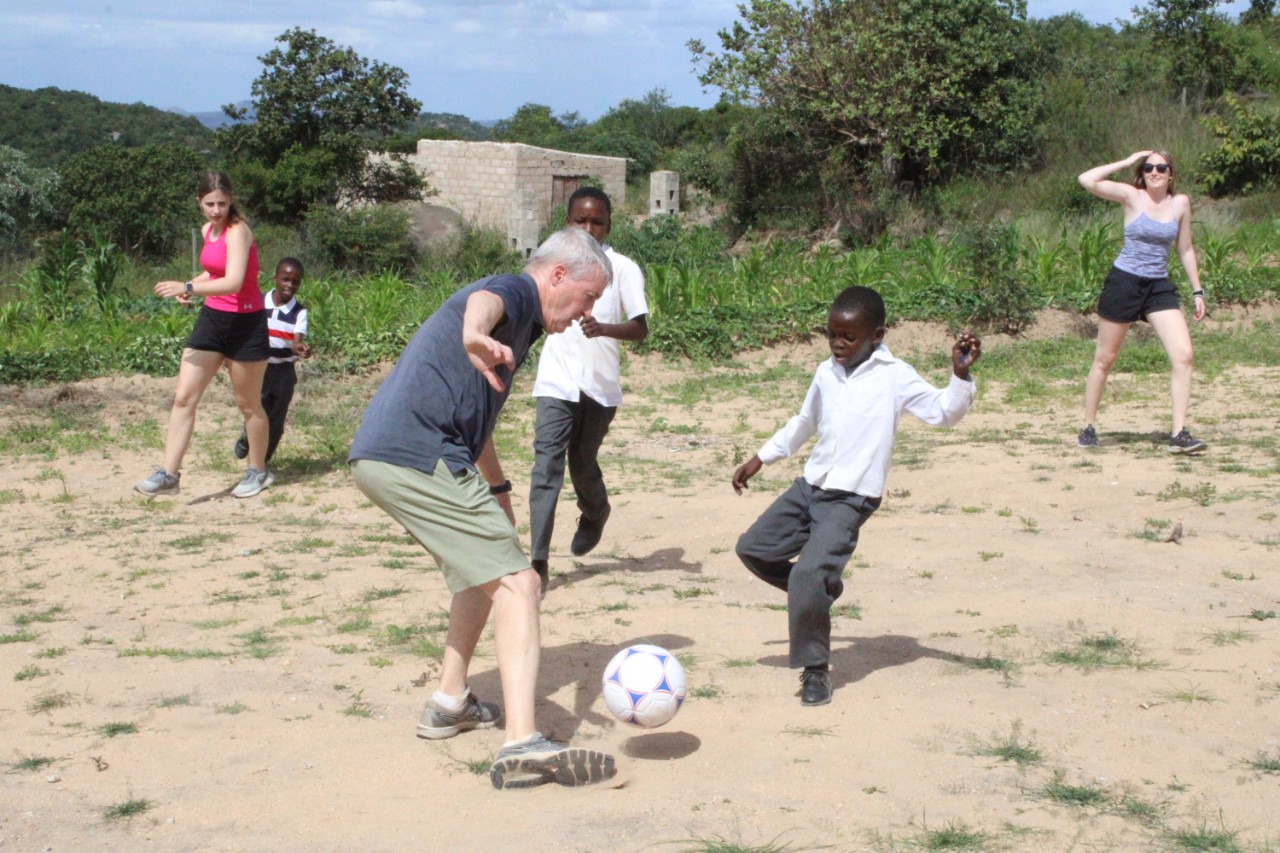 During his travels, Goodwin loved meeting incredibly disadvantaged yet generous people.
"People who have very little were among the first to give us food," he recalled. "In South Africa, the kids just want to hug you, talk to you, and play with you. Those experiences have helped students gain a healthier appreciation for what's important as well as see compassion, generosity, and kindness."
His work on this front isn't finished either. Next summer, Goodwin will lead a study abroad trip to the Paris Olympics. He's an awfully busy man for someone who's retiring.
"If he will rest during his retirement, he deserves it, but I doubt it very, very, very much," joked his wife.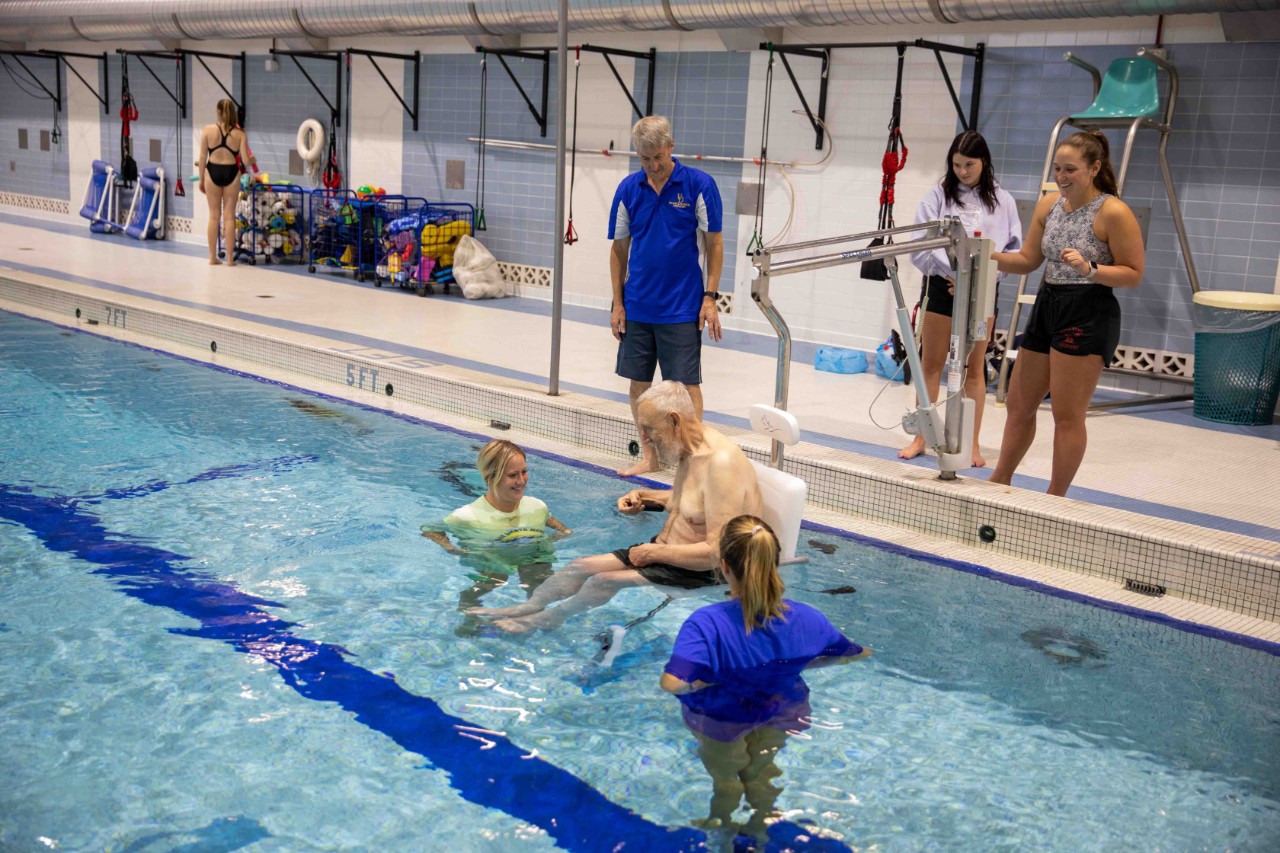 But perhaps Goodwin's most rewarding work of all has been the steps he's taken to lift people with disabilities. As a staunch advocate, Goodwin taught adaptive physical education, which gave people with disabilities an outlet to move in ways they hadn't previously thought was possible.
Vickie George has multiple sclerosis and was told by so many that she couldn't exercise. When she met Goodwin, everything changed, including her outlook on life.
"One of Steve's students helped me get on the leg press and exercise, and we both cried; my muscles engaged, and it was just exhilarating," she said. "That moment changed my life forever, and it was also the beginning of founding Yes U Can, which helps people with disabilities get exercise."
Goodwin has left an indelible mark on her heart.
"He helped me find another way to redefine my life, and it gave me a voice that I didn't know I had," George said. "When I say Steve Goodwin has affected the lives of thousands, that's an understatement. Every person he's touched has paid it forward to the next person and the next person."
George choked up as she described the ripple effect of good created by Goodwin.
"The many things I've accomplished are because of that one act of kindness," said George through tears. "He's just an incredible man. I've never met anyone so pure."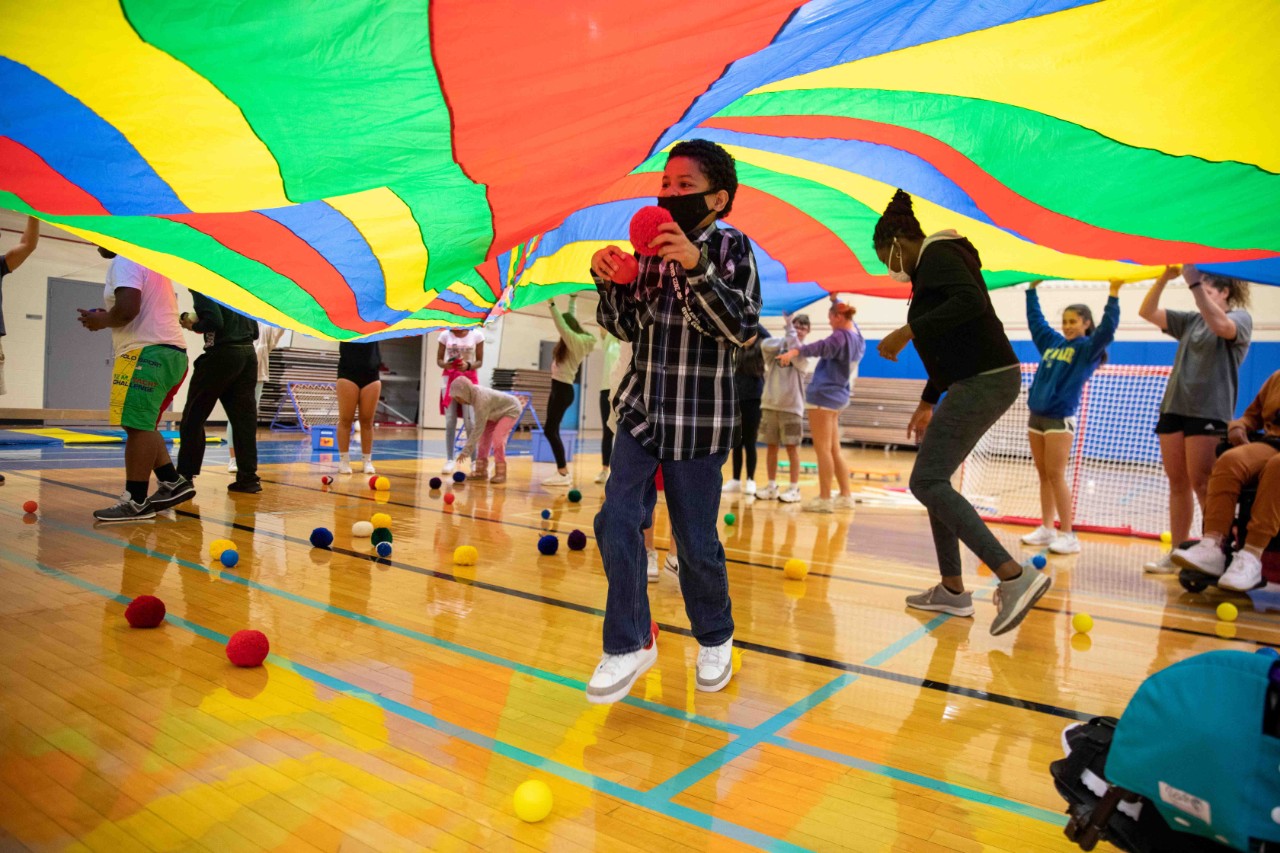 Wynton Shelton, who teaches adaptive physical education in the Christina School District, said he's a better educator for having met Goodwin.
"He taught me how to better understand and reach my students with disabilities," Shelton said. "I will miss Steve immensely; no one will ever be able to replace that man."
Goodwin's wife, Jean, has watched her husband follow in the footsteps of his father, who was among the first in the nation to specialize in adaptive physical education. She describes the same heartwarming ripple effect George identified.
"He has a real heart for anyone with a disability," Jean Goodwin said. "First and foremost, he wants his students to be comfortable around people with disabilities and to interact with them. It's so good for the students, for the community, and helps everyone in the long run."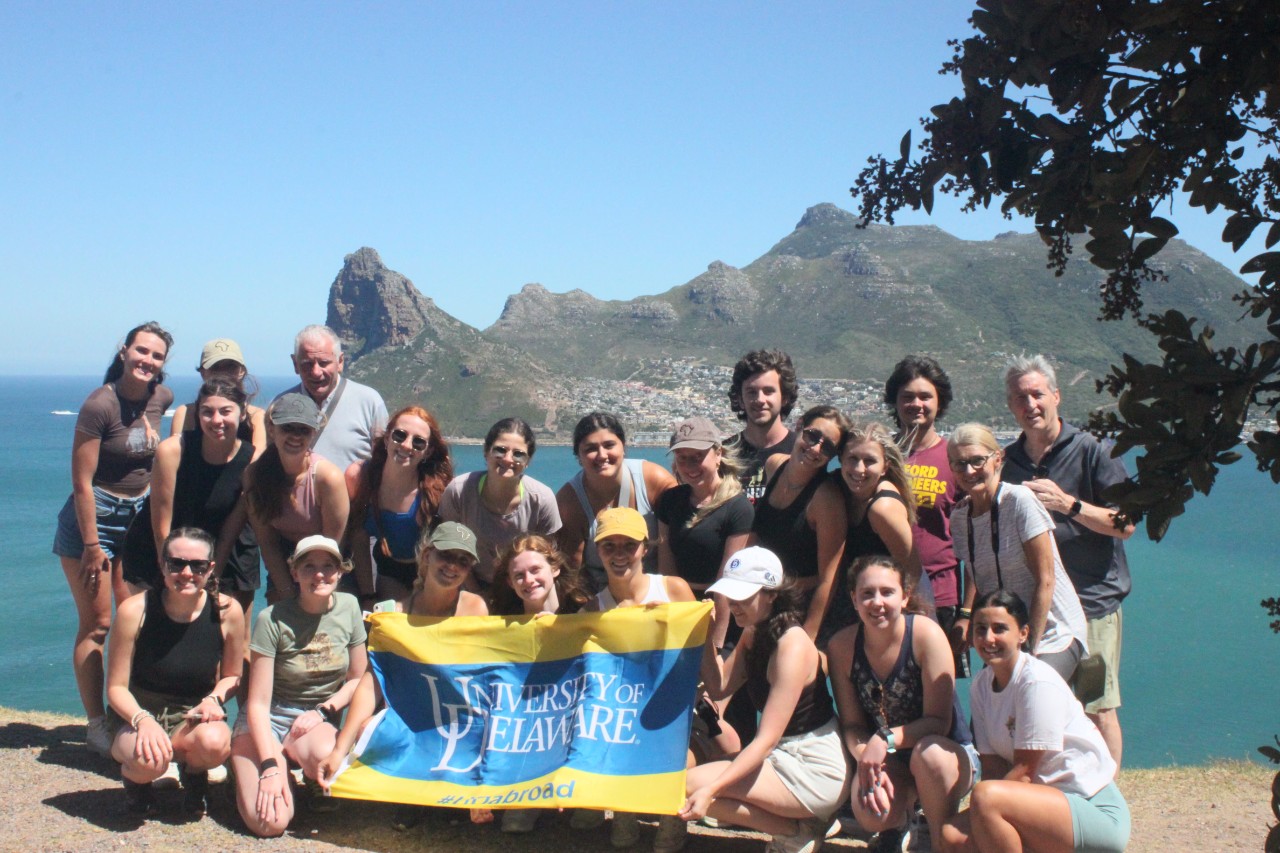 Jean made cookies for the Art of Happiness class and watched thoughtfully as Steve led the class in an engaged discussion of gratitude.
"He's a good person. If you choose somebody that's a good person, who's good to you, that's what you have to look for in a partner for life," she said. "We help each other grow."
And Goodwin has also undoubtedly helped his students grow.
"When I'm around him, I feel like I'm the best version of myself, and I want to carry that with me for the rest of my day," said Alexandra Lee, a rising senior with a double major in exercise science and health and wellness.
"I've never had a professor like Goody," said Johnson. "I've never had a professor who goes out of the way to make sure that you succeed without making things too easy for you. I've had a lot of family problems, and he's been there for me every step of the way."
Kate Cohen, who got her undergraduate and master's degrees from UD, traveled from Florida for Goodwin's retirement party in White Clay Creek State Park. She recalls the very first day she met Steve.
"We had an instant connection because we're both very extroverted!" she exclaimed.
The now sport psychology doctoral candidate at Florida State University said Goodwin inspired her career path.
"I knew in my heart I always wanted to teach, but Dr. Goodwin is the reason that I realized I wanted to be a college professor," Cohen said. "I want to follow in his footsteps and connect with students as much as he did. There's always a point where someone says they want to make a difference, and then a few do. Dr. Goodwin absolutely made a difference, and he means the world to me."
And for Goodwin, the feeling is mutual.
"I hope I've helped some people be a little bit better people and be more compassionate and kind. That's how they've changed me," Goodwin said. "The class for people with disabilities, the study abroad trips, and the Art of Happiness class, have forced me to look at things from a different perspective, and I don't think you can teach about compassion without learning more compassion yourself. So, I think the students have changed me in the same way I hope I've changed them."