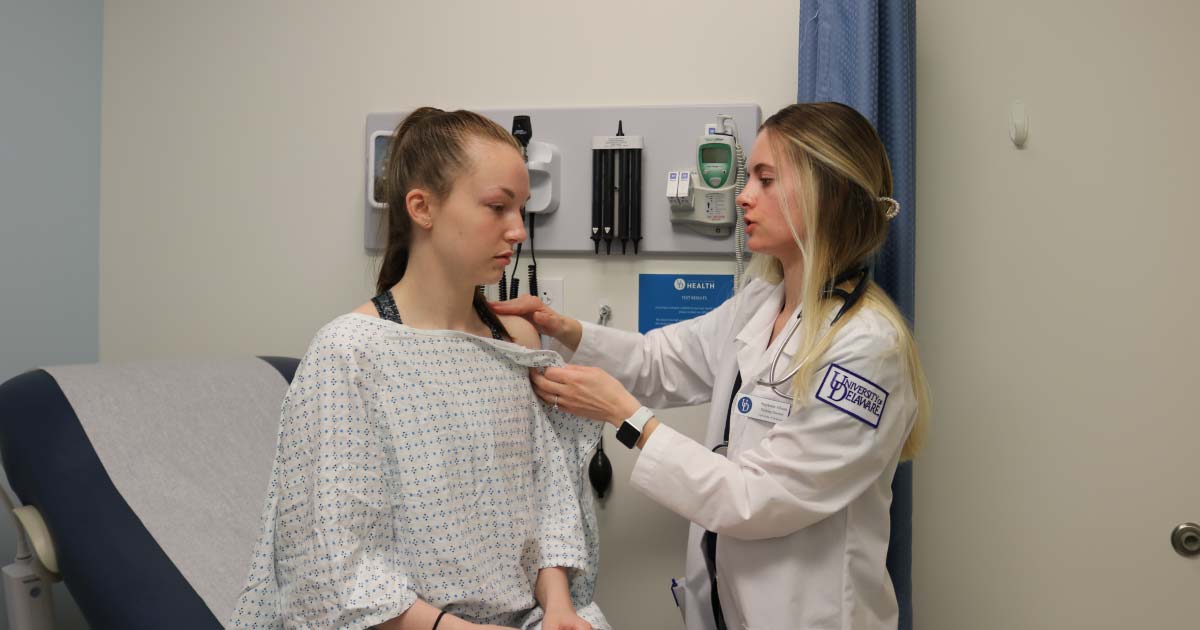 Modeling teamwork in nursing care
June 20, 2023 Written by Colin Heffinger | Photos by Kristen Troy
To prepare graduate students in the University of Delaware's School of Nursing Nurse Practioner Program, associate professor Beatrice Gaynor hosted an innovative simulation designed to foster collaboration experiences between nurse practitioners and pharmacy residents. The spring-semester simulation included nine UD nurse practitioner students, three pharmacy residents from Bayhealth Medical Center, and a group of UD Healthcare Theatre actors who played the role of patients.
Recommended by the Institute of Medicine, this simulation provides an interprofessional education experience for two healthcare disciplines. By doing this in advance of their careers, it creates an environment that feels natural to collaborate across disciplines that result in direct benefits to improve patient care.
"Students are given a scenario to act out with a Healthcare Theatre student as a patient," Dr. Gaynor said. "The scenario we provided was a 66-year-old patient with stage IV chronic kidney disease with multiple comorbidities. This created a unique opportunity for nursing students to engage with the patient, understand their symptoms, and consult with the pharmacist for care options."
Georgia Cassedy, a nurse practitioner graduate student who participated in the simulation, explained the different steps of conducting the simulation. "After reviewing history of the patient's present illnesses, we discussed their current symptoms, conducted a physical evaluation, and used differential diagnosis to determine what's causing their primary complaint," Cassedy said. "The differential diagnosis allows us to narrow down our list of potential causes to best fit each patient's conditions."
"From here, we consulted the pharmacy resident for their expertise," Cassedy continued. "In this example, we collaborated on possible solutions to treat their shingles diagnosis by factoring in the patient's other pre-existing conditions of diabetes and chronic kidney disease. This helped us determine the best medication to minimize discomfort and avoid additional complications."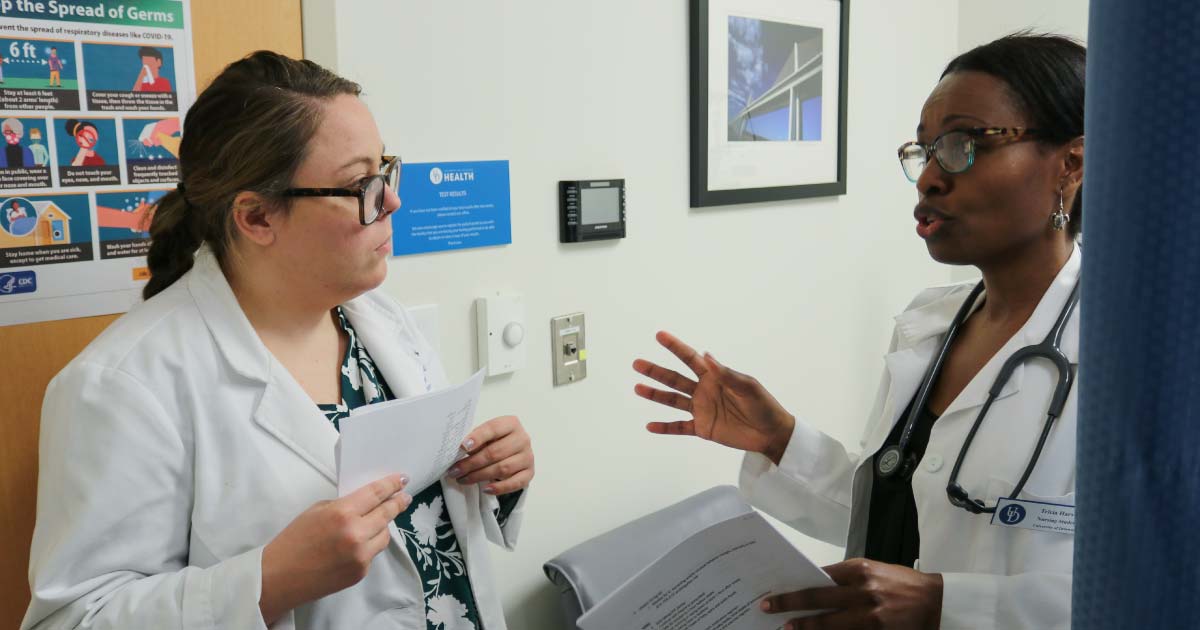 After discovering the best course of care, nursing students returned to the patient room to discuss the diagnosis and how it would impact the patient and their family. In conclusion of the simulation phase, patients provided their feedback. Patient actors discussed what was done well and what could be improved upon to enhance the NP student's bedside manners.
Following the simulation, nursing students and pharmacy residents gathered for an interprofessional debriefing session to review what they learned. The debriefing was led by Anthony Gariba, a nursing PhD student working with the Center for Simulation, Innovation, Interdisciplinary Education Entrepreneurship (CSIIDDEE) to enable the learner's self-reflection of their actions and that of their peers, as well as enhancing the transfer of knowledge to future simulations and clinical practice.
 "In this session, nurse practitioner students were able to make sense of their learned experiences and derive relevant lessons," said Gariba. "Going forward, they had a clear concept about changes to make in order to provide patients with the best possible care."
Gariba emphasized the simulation's importance for creating "a safe space to make decisions and learn to make the right choices" before directly working with patients in the field. "The interactions are what pulls together all the pieces of theory learned in the classroom to help students use their clinical judgement and collaborate effectively. With the increased complexity of patient care, this integration is a key driver for future quality healthcare delivery."
After the debriefing session, nursing students attended a suture workshop to practice suturing wounds on a prosthetic device. Simultaneously, Dr. John McCormack, a recently retired radiologist from ChristianaCare Health Systems, presented his lifetime of knowledge and experience to improve student understanding of diagnostic imaging tests.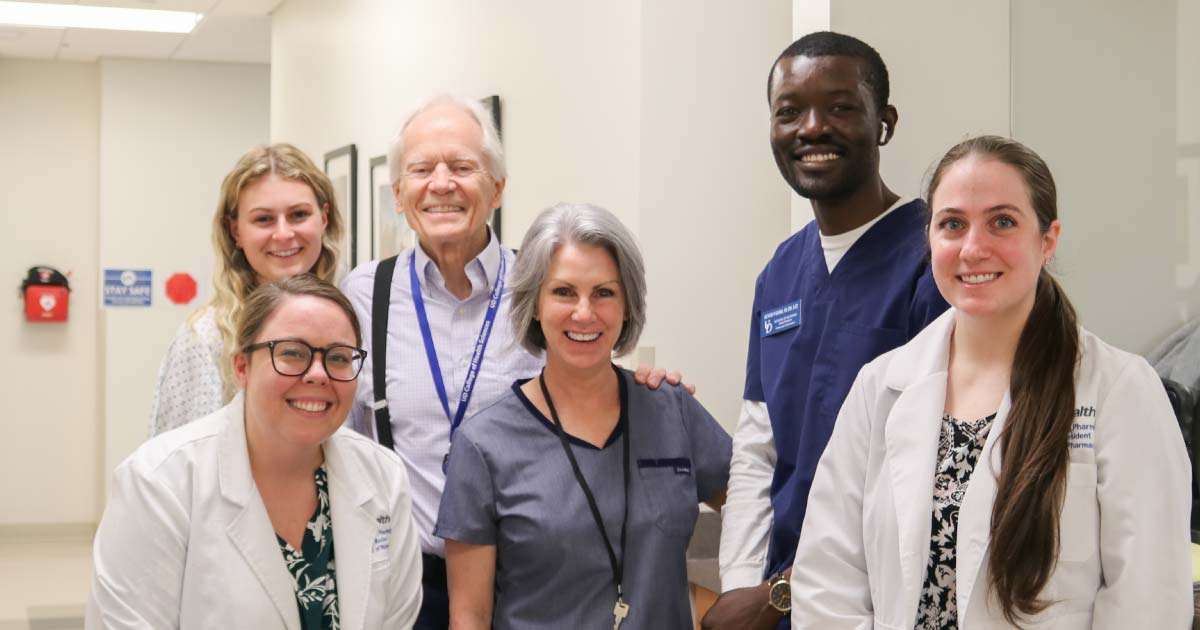 The nursing students were thrilled to have attended the simulation, gain hands-on experience, and learn from interdisciplinary pharmacists and a radiologist.
"I've been working towards hosting this simulation in-person since 2019, and of course COVID-19 created a delay," Dr. Gaynor said. "These NP students and pharmacy residents met face-to-face for the first time this spring semester after learning together throughout the academic year over Zoom. It was rewarding to see how well the students and residents worked together and appreciated each other."
Looking forward, Dr. Gaynor aims to conduct interprofessional simulations in the fall and spring semesters.
"Now that I've seen this experience in action, I'd like to see them face-to-face for the simulation in the fall and spring semesters," Gaynor said. "Integrating their assignments further will help to continue  to improve student outcomes and patient care."