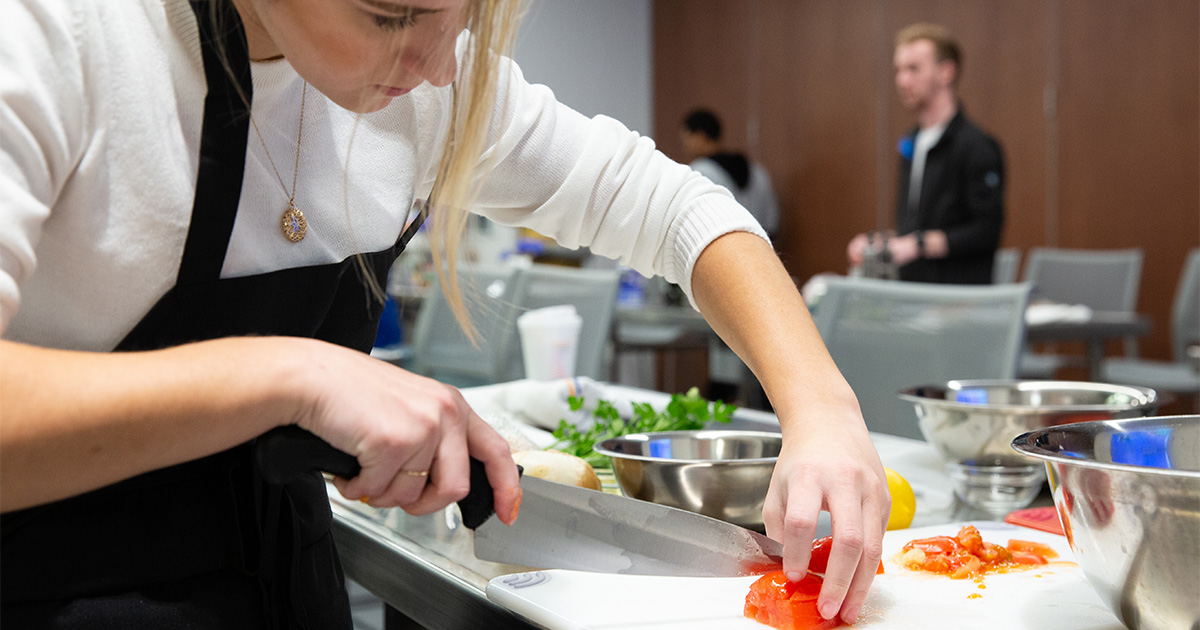 Score every time with these delicious Super Bowl options
February 08, 2023 Written by Amy Cherry | Photo by Ashley Barnas
Super Bowl Sunday Eats
First comes the New Year's resolutions, then it's Super Bowl Sunday, followed by Valentine's Day, and before you know it, Girl Scout cookie season is right around the corner. As the seasons of overindulgence set in, this Super Bowl Sunday, the College of Health Sciences wanted to ensure you've got some healthy options on the table to celebrate the Eagles in the Super Bowl. Go Birds!
Jen Muzzi, Behavioral Health and Nutrition instructor and nutrition outreach coordinator with Employee Health and Wellbeing offers various tips for ensuring your Super Bowl party is well-stocked with healthy options for every kind of eater.
For Starters - Dive into the dips
Salsa, guacamole pico de gallo (recipe below) and hummus are all strong appetizer or snack options. And you don't have to make your own.
"Sabra hummus is the official dip of the NFL," Muzzi said.
But beware, some jarred salsas can be high in sodium, so she advised--check the label.
If you do want to cut down on salt and make your own salsa, Muzzi offers this easy tip:
"You don't have to chop up all the ingredients. Just add the onion, tomatoes, cilantro, jalapeno and garlic and throw it into a blender."
Carrots broccoli, bell peppers and the Tostitos multigrain scoops all make great dipping options.
"The yogurt-based ranch dressing in the produce section of the grocery store is a great option that's lower in saturated fat."
Nachos are another solid appetizer choice.
"Load them up with beans. Even refried beans are OK but try the vegetarian version, and swap out sour cream for plain nonfat Greek yogurt."
Main Events
Wings are such a Super Bowl staple. And while Muzzi said wings aren't bad so long as you haven't been eating them every Sunday during football season, she said consider:
"Air fryer buffalo chicken sliders (recipe below) made up of ground chicken, celery, carrots, and buffalo sauce," she said. "Using the air fryer avoids being outside using the grill, and it's a little less messy to clean up."
Buffalo cauliflower in the air fryer is another great option that gives you a meatless crunch and satisfies the need for spice.
Instead of the high-calorie Philly favorite cheesesteak, Muzzi recommended portobella cheesesteaks made with the popular mushroom variety.
If chili is your Super Bowl celebratory food of choice, make sure beans are a big part of the recipe (hint: they can even replace meat entirely) for added fiber.
And if you can, watch more of the game (and the commercials) standing up instead of sitting down.
"Just standing up is good exercise, and it's easy to do with all the excitement, so it might just come naturally," Muzzi said.
Drinks
Look ahead to St. Patrick's Day for inspiration on green-themed cocktails or mocktails to celebrate the Eagles in the Super Bowl. Muzzi recommended mocktails made with non-alcoholic seltzer waters.
"Just be careful not to get the seltzers with added sugar. There's a lot of hidden calories in some of the seltzer waters," she said. "Pick versions that are just carbonated water and fruit flavoring like Lacroix or Perrier.
Light beer – limit two – is also a way to save on calories.
The Next Day
For those who overindulged on Super Bowl Sunday, Muzzi recommends a reset.
"Skip the scrapple, egg and cheese for breakfast, and instead opt for a breakfast with a lot of fiber. Consider overnight oats or toasted peanut butter and banana, or yogurt – something that will make your gut happy," she said. "Also, drink plenty of water or hydrate with an electrolyte beverage."
And make sure to move – even going for a short walk will make a difference in your energy levels and your overall health.
"It's always just about being aware of how much you're consuming, what you're doing, and moving your body," Muzzi said. "Treat yourself well mentally and physically and that includes what you put into your body."
Hopefully, we'll all be waking up a little tired but reenergized to celebrate an Eagles win with a Super Bowl Parade on the streets of Philly.
Recipes:
Air Fryer Buffalo Chicken Sliders
By Chef Jen Muzzi, RDN/LDN
Ingredients:
Blue cheese mixture:
2 tablespoons mayonnaise
1 tablespoon 2% reduced-fat milk
1 ounce blue cheese, crumbled
Patty mixture:
1 pound ground chicken breast
1/3 cup panko (Japanese breadcrumbs)
1/3 cup shredded carrot
1/3 cup shredded celery
1/2 teaspoon paprika
1 large egg white, lightly beaten
1 garlic clove, grated
Cooking spray
Buffalo sauce
¼ cup hot sauce
2 Tbsp butter, melted
whole-grain slider buns, split;
-Option to toast in oven (350⁰)
Preparation:
Combine first 3 ingredients in a small bowl; set aside.
Place chicken in a medium bowl; add panko, carrot, celery, paprika, egg, and garlic. Mix just until combined. Divide into 10 patties.
Pre-heat Air Fryer to 400⁰F.
Lightly coat Air Fryer pan with cooking spray. Add patties, 7 minutes and flip, cook for 8 more minutes or until thermometer inserted reads 165⁰. Combine hot sauce and butter in a medium bowl; add patties to bowl, turning to coat.
Layer bottom half of each bun with 1 patty, about 1 teaspoon blue cheese mixture, top bun. (option to toast slider rolls in oven)
**Ranch dressing can be substituted for blue cheese sauce.
Pico de Gallo and Homemade Lightly Salted Tortilla Chips
By Chef Jen Muzzi, RDN/LDN
Ingredients:
4 ripe plum tomatoes, seeded and finely diced
½ small red onion, finely diced
1⁄2 cup cilantro leaf, chopped (or more to taste!)
1 garlic clove, minced
1 jalapeno pepper, seeded and finely diced (to taste) (may sub green bell pepper)
Juice from 1 lime
Tortilla Chips for dipping (see recipe below)
Preparation:
1. Prepare as listed and combine all ingredients. Will last up to 5 days in refrigerator.
Lightly Salted Tortilla Chips:
Ingredients:
- 4 fajita or taco sized white, corn or whole wheat tortilla shells
- 4 tbsp olive oil
- ½ tsp salt
Preparation:
1. Heat oven to 350⁰F.
2. Brush both sides of the tortillas with olive oil and lightly sprinkle with salt.
3. Cut tortillas into 8-10 pie like slices and transfer to a parchment lined baking sheet.
4. Cook for 8-12 minutes or until crispy.