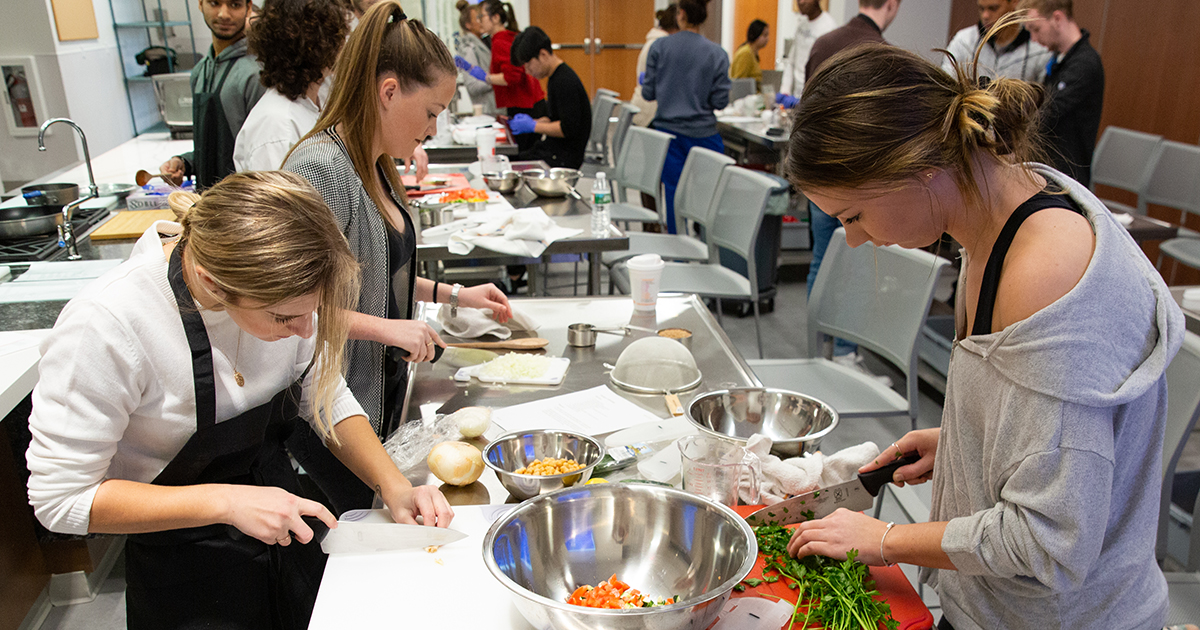 Class of 2023 Spotlight: Behavioral Health and Nutrition
May 23, 2023 Written by Amy Cherry | Photos by Ashley Barnas
We're honoring the Class of 2023 by shining the spotlight on some of the best and brightest graduates from the Behavioral Health and Nutrition Department in the College of Health Sciences.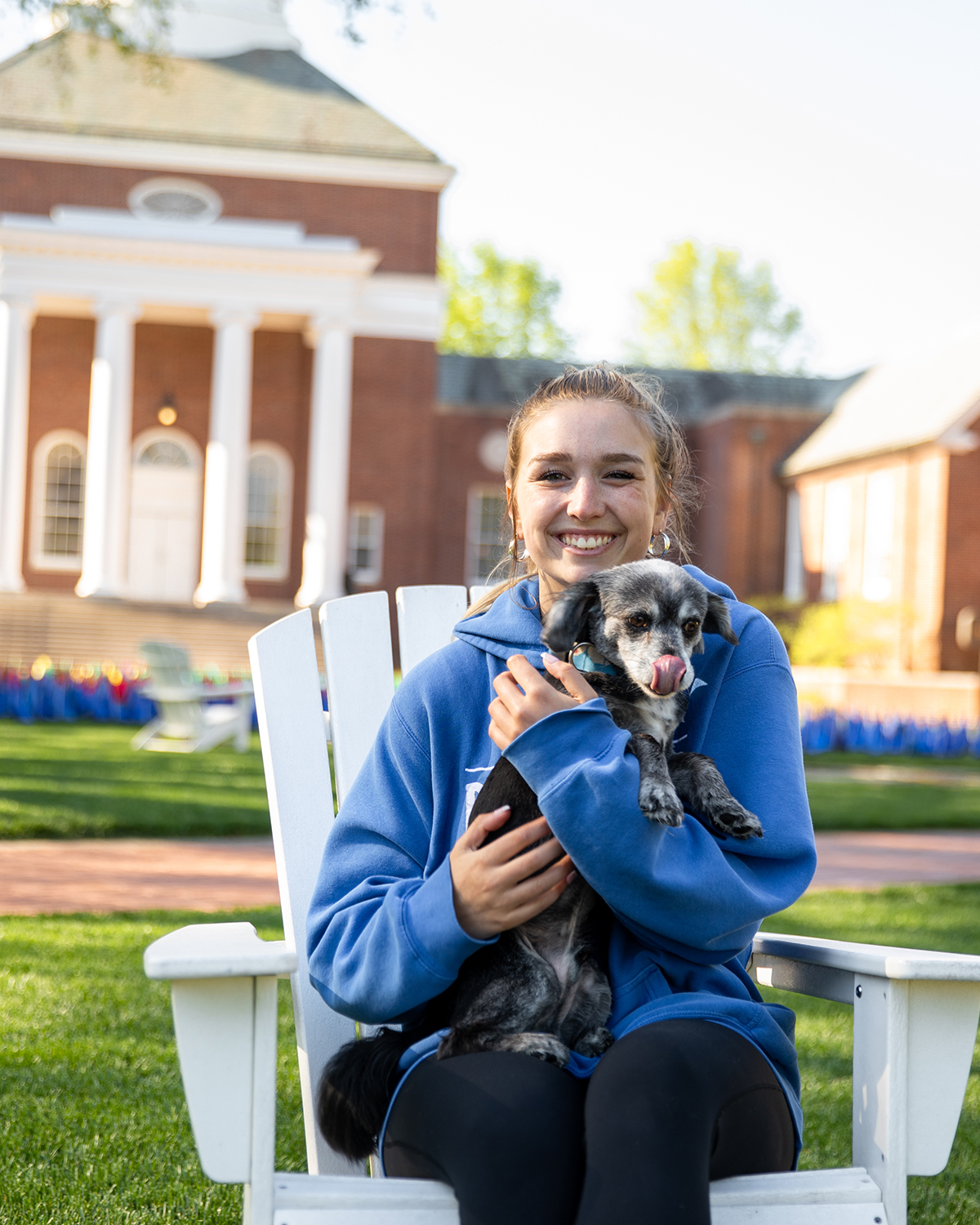 Delaney Moore | Honors Health Behavior Science Major
Three words to describe the UD CHS experience: Transformational. Busy. Connected.
When Delaney Moore first stepped foot on the University of Delaware's campus on Easter weekend several years ago, it was love at first sight.
"My mom came here, and a lot of my uncles and other relatives had come here, and so it instantly felt like the right place," she said.
Now, you'll spot her frequently walking across the Green with her beloved dog Georgie.
In addition to loving campus, the honors student also immediately fell in love with UD's health behavior science major.
Like many teens, Moore struggled with her body and exercise, and it inspired her to study nutrition.
"I realized that food is fuel, and there are ways to fuel your body, and exercise does more than change your body, it helps with your mental health so much, and it changed my life."
But health behavior science allowed her to take her love of nutrition to the next level.
"For me personally, I won't do what someone tells me for my health because that's not how my mind works—there's more to it," she explained. "If I understand why I should do something and how I can go about it, that's important to sparking a behavior change and helping people accomplish their goals."
After graduation, Moore plans to stay at UD. She got an assistantship with the Health Promotion master's program. Since September, she's also been working part-time as a mental health initiative intern for the Cecil County Health Department.
"I helped to implement a health promotion program in the community to try to lessen the stigma associated with mental health," Moore said. "With the COVID-19 pandemic, mental health has become a big concern, so we're trying to help community members and get people trained in mental health."
Now, she's conducting rebranding research and hopes to stay on with the department while pursuing her master's degree.
 "The experience has been amazing," she said. "I've learned there's no one-size-fits-all approach to a community because there are so many different members, needs, and disparities, so you have to find a way to help everybody not just one group. It's tough because there's no perfect solution, but if you work hard to figure out what areas go unnoticed, you can make a big impact."
In the future, Moore hopes to design health promotion programs for communities on the federal or state level.
Since her early days at UD, Moore said Behavioral Health and Nutrition Professor Dr. Beth Orsega-Smith has served as her mentor.
"She's completely shaped the way my experience has been at UD, and the person I am today," Moore said. "I'm so thankful for the amazing professors, who really care about their students, academically and personally, and just want to help them grow."
Over the years, she's worked closely with Orsega-Smith as a summer research fellow. Together, the two collaborated on a stimulating brain program, but because of COVID-19, they couldn't test it in senior centers, so they pivoted to give Moore another research opportunity.
"We created a new study for pickleball and examined the psychosocial factors associated with the sport in older adults. From the interviews I conducted, I saw a lot of interesting factors associated with motivation, so I wrote my senior thesis on the motivational differences among pickleball-playing older adults."
Last summer, Moore also worked as a summer research assistant for Disordered Eating Delaware, where she worked with college-age women studying nutritional messaging.
Moore also speaks at UD Decision Days and aims to inspire future UD students.
"I tell the students that I used to sit in their seats, and people would talk to me about research, and I thought, 'There's no way I'm doing that. I just want to go to college, get my degree, and move on.' And I think what really was impactful for me at UD was that I became that student, and I never expected that. But working with professors and developing those close relationships, I became somebody I used to look up to, and I get to help other people do the same."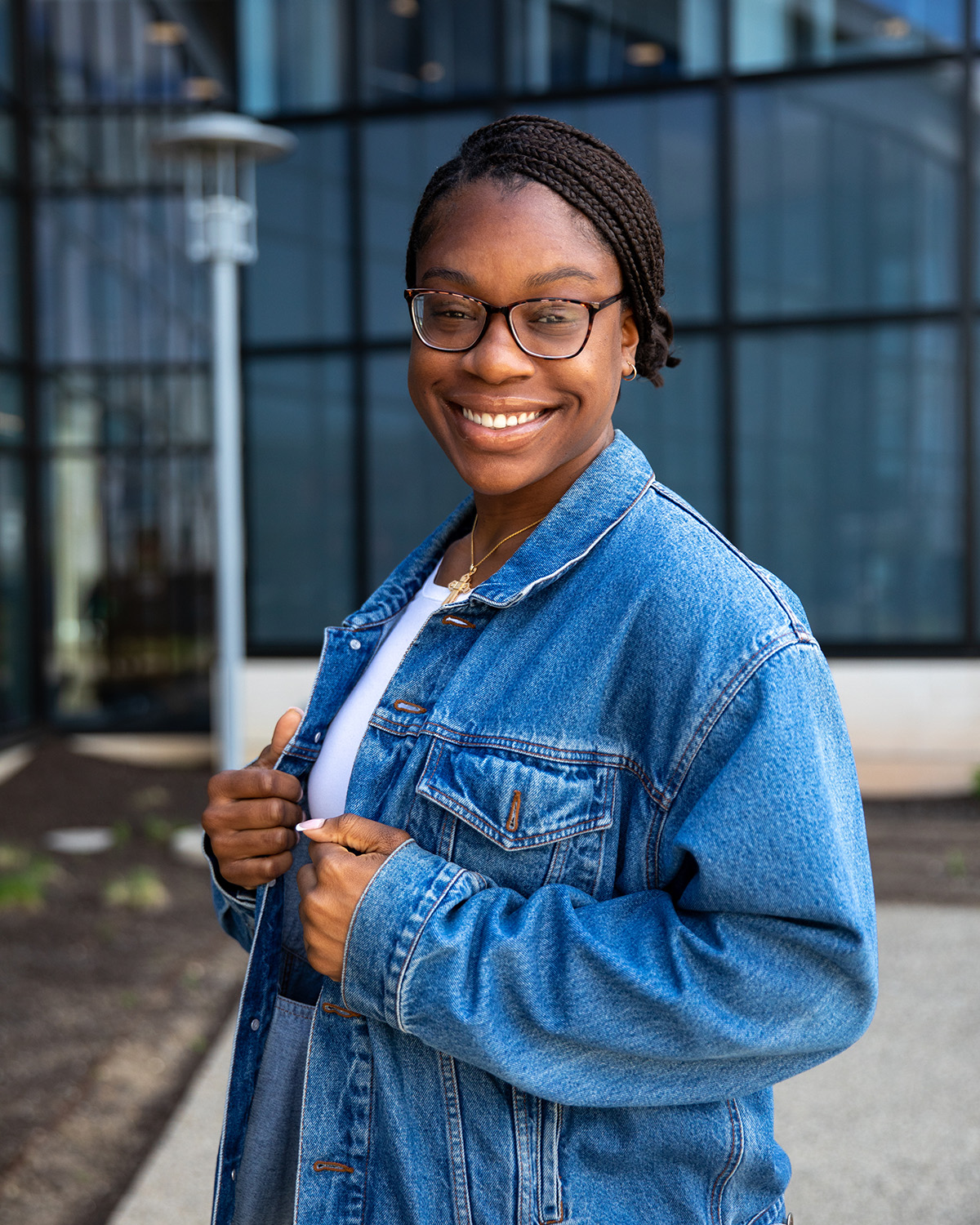 Chioma Njoku | Nutrition & Medical Sciences major
Three words to describe the UD CHS experience: Insightful. Challenging. Inspiring.
Chioma Njoku has been a student-athlete her entire life. That played a major role in her decision to come to the University of Delaware.
"I picked UD mainly because I had gotten a scholarship to compete on the Women's Track and Field team, throwing hammer and weight throw," she said. "UD was also close to home, which I really wanted at the time."
As an athlete considering dental school in the future, Njoku was advised to major in nutrition and medical sciences.
"I thought it was a great fit because I'm an athlete, and I wanted to learn how to better take care of myself," she said. "It gave me a lot of insight into my long-term health, and it's made me look at what I eat differently."
Njoku said she quickly had to learn time management skills to balance her rigorous coursework with her demanding athletic schedule. But it was all worth it because being a Division I athlete is important to her.
"D1 athletes must be resilient and hardworking, and they must persevere even when things don't go their way," she said.
As graduation looms, Njoku has decided to put dental school on hold. Instead, she's decided to pursue a master's in business management at the University of Maryland.
"Ultimately, I want to have a business of my own. Even if that ends up being dentistry, I'd want to have my own practice," she said. "If I choose to go elsewhere career-wise, being well-versed in business would be beneficial for me. I'm so excited for what could be."
Njoku has also become a leader among student-athletes. She's worked on diversity, equity, and inclusion efforts and worked with HenMinded, which focuses on the mental health of student-athletes.
"As athletes, we put a lot of pressure on ourselves, especially on our performance. On top of that, we have schoolwork, and it can be a lot. Sometimes, people just don't know how to handle that in a healthy way; they don't know who to talk to, and they feel vulnerable talking about it.
"As athletes, we're conditioned to be resilient and strong, but there's not a good balance between knowing when to be strong and knowing when to just let it all out and take care of yourself."
Additionally, Njoku has served on the Leadership Council for track and field, acting as a liaison between student-athletes, coaches, and administrators.
As she prepares for the next step on her journey, Njoku is thankful for UD.
"UD has challenged me in a lot of ways, shaped me, and made me a stronger student and better all-around person," she said. "UD has made me realize my potential and learn that I'm capable of a lot more than I give myself credit for."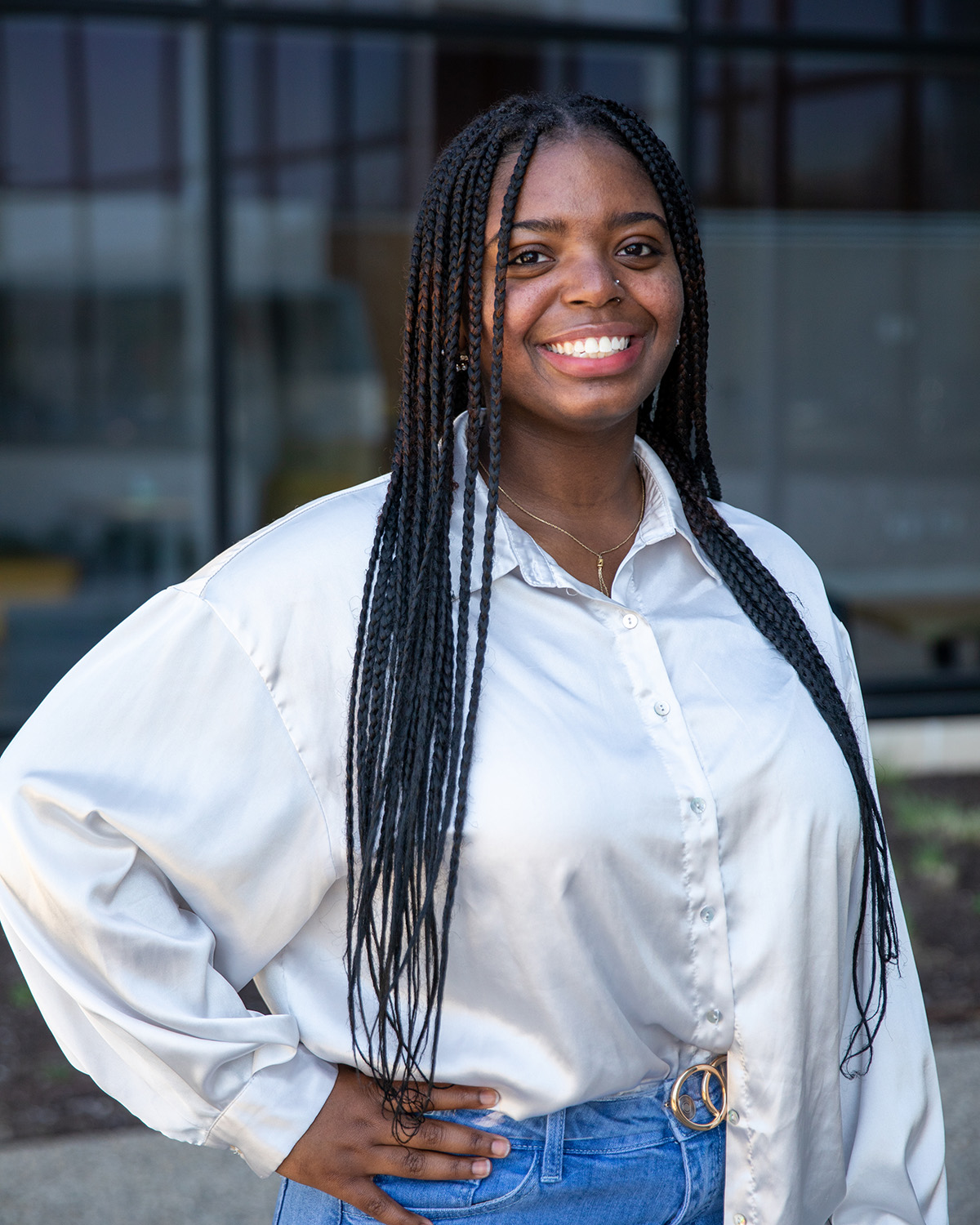 Danielle Whyte | Health Behavior Science Major
Three words to describe UD CHS experience: Enlightening. Fun. Successful.
During her senior year of high school, Danielle Whyte worked for the Office of Health Equity and Inclusion at Nemours Children's Health. It marked the first time she was exposed to health equity and social determinants of health. That experience inspired her to major in health behavior science at the University of Delaware. Whyte also picked up a double minor in public health and psychology.
During her time at UD, she's worked closely with the Partnership for Healthy Communities and the Epidemiology Program, conducting Community Assessment for Public Health Emergency Response (CASPER) surveys in communities hard-hit by the COVID-19 pandemic.
"We gather demographic information on people's well-being, and we use that information to make a report on Delaware that's used to suggest different policies that could improve health in different counties," Whyte said.  
Whyte has participated in a number of clubs and organizations on campus during her time at UD, including the peer mentoring group Each One Reach One through the Center for Black Culture. She also joined the Delta Sigma Theta Sorority Mu Pi Chapter.
"That sorority really created a sisterhood for me and aligned me with like-minded women," Whyte said.
She's also been a member of the Cultural Programming Advisory Board since she was a freshman at UD, and ultimately served as the board's president. She said that experience shifted her perspective of UD.
"Being a minority on campus was a bit intimidating--I came from a predominantly diverse high school and was a very small percentage here. So just being surrounded by people who look like me and have similar goals has definitely motivated me," she said.
Whyte is also a McNair Scholar, which offers opportunities for minority students on campus to conduct summer research.
"This past summer, I worked with Dr. Ann Bell, associate professor of sociology and criminal justice, to study how reproductive care and the quality of care can differ depending on race.
"I examined how women are prescribed birth control and how it affects them and their opinions on the type of care they receive," she said.
After commencement, Whyte is heading to graduate school at Drexel University's Dornsife School of Public Health, where she's confident she'll succeed.
"Working with Epidemiology Program Director Dr. Jennifer Horney has given me a lot of insight on what to expect going into graduate school," she said. "I also work closely with other grad students, and I think that helped prepare me. I'm so lucky to have gotten experience so early in certain areas through my coursework and experiential learning opportunities. I feel way more prepared than I would have felt if I had attended a different university."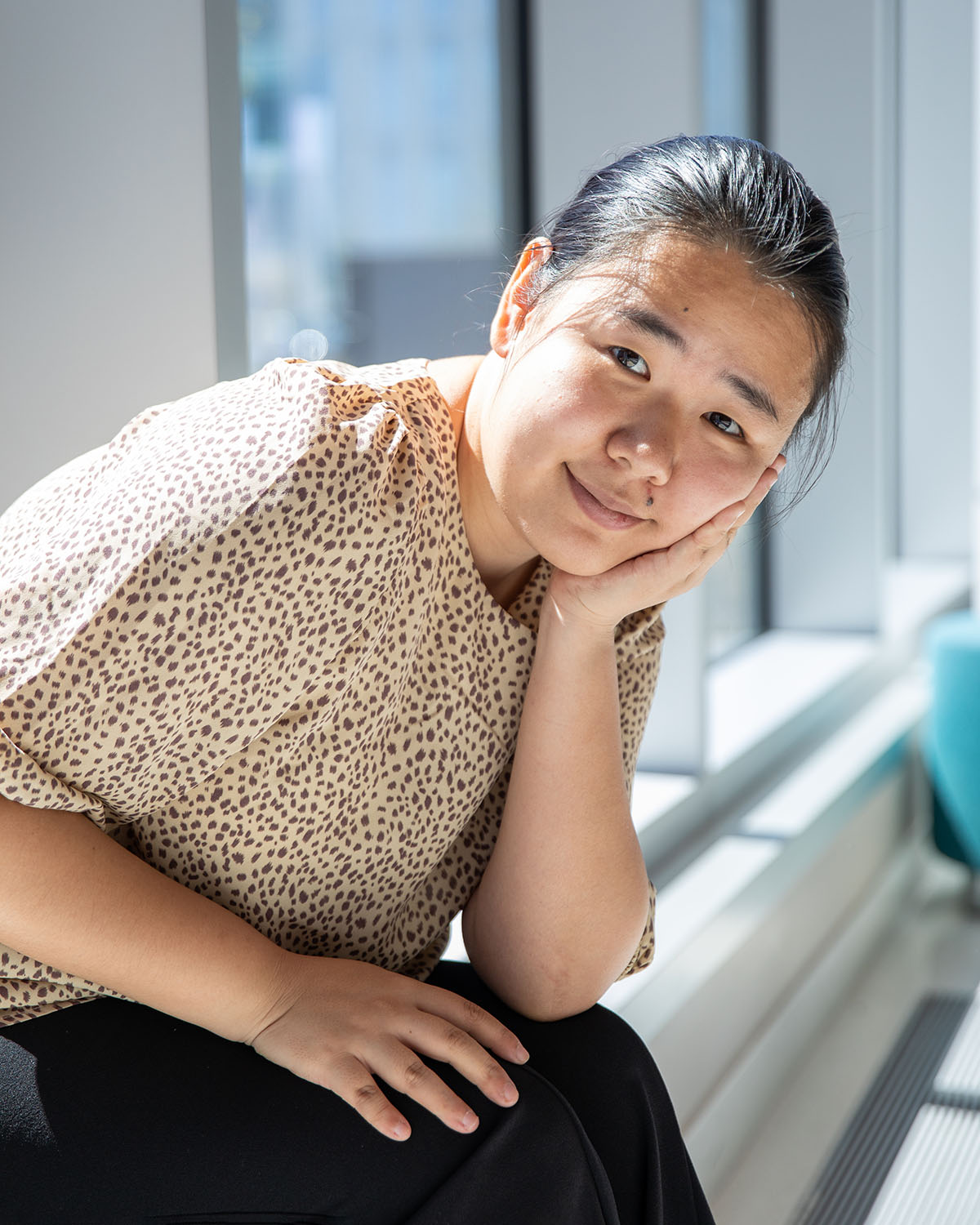 Pengjun Zhang | Nutrition and Dietetics Major
Three words to describe the UD CHS experience: Engaging. Friendship. Persistence.
Throughout her life, Pengjun Zhang noticed that she and her friends and family in China struggled with diet and weight management. That inspired her to want to study nutrition.
She had never been to the United States before stepping foot on the University of Delaware's campus.
"UD's nutrition program ranked highly, and once I took my first courses in nutrition, the program impressed me, and I was assured that I made the correct decision."
As an international student majoring in nutrition and dietetics, Zhang said she's experienced a welcoming environment at UD.
"Everyone in the department has encouraged me in all my training and courses, and that is very heartwarming, especially after being isolated during COVID," Zhang said.
She came to UD just before the COVID-19 pandemic but looked at it with a glass half-full perspective.
"It actually gave me time to gradually adjust and focus on my coursework," she said.
After the return to in-person learning, Zhang joined the Chai Nutrition and Health Research Laboratory, led by Dr. Sheau Chai, a registered dietitian and associate professor of behavioral health and nutrition.
"Spending time in the lab forced me to look deeper into what I learned in my coursework and put theories into practice," she said. "You have to work with people to know how nutrition works."
She encouraged other students to do the same.
"Future students should get more involved in extracurricular activities on campus that will enrich their insight into all the concepts they learn, and it will help build your resume," she said.
During her time at UD, Zhang worked as a teaching assistant for several nutrition classes, an opportunity she cherished.
"It's been so rewarding, and why I think that being a professor could be a future pathway for me," Zhang said. "I like interacting with students, and I like when they tell me they've learned new things from me."
After graduation, Zhang is off to Purdue University to get her doctorate in nutrition. She plans to study estrogen and its interactions with the microbiome in the gut. Ultimately, she wants to work in education as an elementary school educator or professor. 
"I want to spread the influence of nutrition to more and more people to educate people about their diet and the influences of their diet on their health," she said. "Coming back to work at UD would be a brilliant opportunity. But I don't want to give up the opportunity to go back to my home country. People everywhere need nutrition, so any way that I could help the most people  is what I want to do."
CHS Class of 2023 Convocation Video
The top graduates across departments in the College of Health Sciences class of 2023 share their memories and what had a lasting impact on their time at the University of Delaware.
2023 CHS Seniors Video: youtube.com/watch?v=zLwMSPqwllo