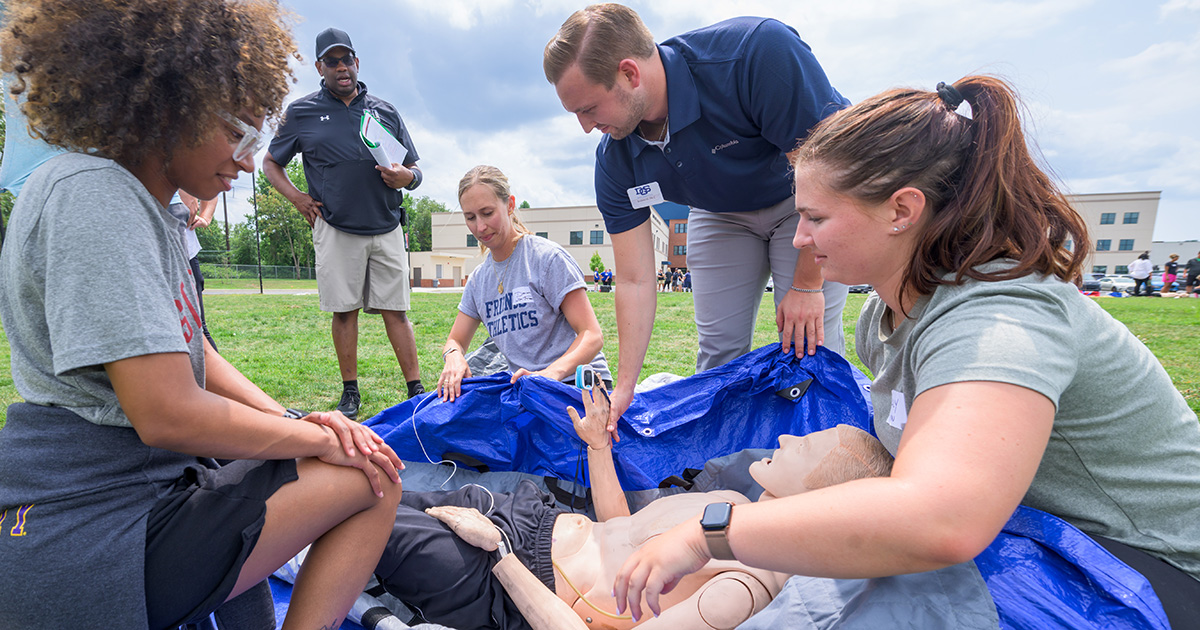 Athletic trainers in action
September 06, 2023 Written by Amy Cherry | Evan Krape
UD cohosts hands-on workshop for high school athletic trainers led by UD alumnus
A cross-country runner collapses at a meet as high school athletic trainers (ATs) rush to his side. Simultaneously, the coach, his parents and roommate, and someone from the stands hurried over. 
"He's got to finish that race; he's going to PR," the coach yelled.  
"Wake up! Honey, what's wrong?" Mom said, tears brimming as she tried to hold her son's head.
Certified high school athletic trainers in Delaware check vital signs, including his pulse and blood pressure, to determine the next steps. After deciding the runner is suffering from exertional heat stroke, they move to quickly cool him through an ice bath immersion using a body bag — not a tarp. 
"I'm a doctor, and I'm not sure you're doing that right. Has anyone checked his blood sugar?" asked the man from the stands. 
"What kind of doctor are you?" asked one of the athletic trainers.
"I have a Ph. D. in history," the man replied. 
"Sir, please step aside," said the athletic trainers, who continued their work around a host of distractions as the athlete's roommate hyperventilated and one of the ATs tended to her. 
This is a scenario that high school and college-level athletic trainers could face at any moment as the fall sports season gets underway. It's also one of several simulations using high-fidelity mannequins that 65 members of the Delaware Athletic Trainers Association (DATA) faced in a recent hands-on workshop by Sports Medicine Emergency Management, a company co-owned by University of Delaware College of Health Sciences (CHS) graduate Darryl Conway and Ed Strapp, a Maryland State Police trooper, flight paramedic and athletic trainer. Conway, who obtained his undergraduate degree in 1993 in athletic training, went on to work for the University as an assistant professor and athletic trainer. He's now in his eleventh season with the University of Michigan athletic department as executive senior associate athletic director and chief health and welfare officer.