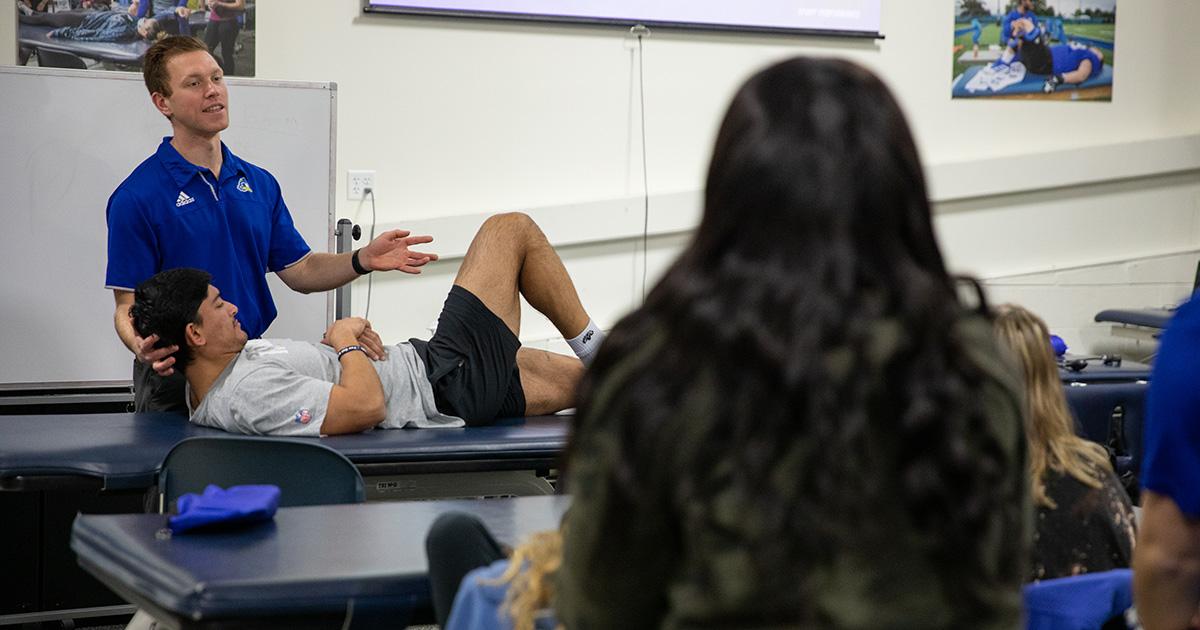 Department of Kinesiology and Applied Physiology welcomes new faculty
August 28, 2023 Written by Amy Cherry | Photo by Ashley Barnas
The Department of Kinesiology and Applied Physiology welcomed one new faculty member this fall. Nikki Yates joined the department as an assistant professor after recently obtaining her doctorate from the University of St. Augustine for Health Sciences. Yates comes to KAAP from Athletics, where she was the associate athletic director of athletic training. 
Learn more about Yates and what inspired her to pursue a career in teaching.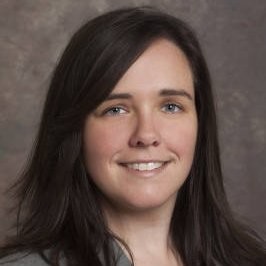 Nikki Yates
Athletic training has been a huge part of Nikki Yates' life for the past 15 years, but she's always had a knack for teaching.
"At some point in my life, I realized I was teaching my friends and classmates all the time, and I really enjoyed it," Yates said.
Yates started her career as an associate athletic trainer and was promoted to associate athletic director of athletic training during her nearly decade-long career at the University of Delaware. Now, she's moving into a full-time teaching position in the College of Health Sciences (CHS).
Yates, who worked primarily as an athletic trainer for the UD Men's Lacrosse Program, will now be an assistant professor with the Department of Kinesiology and Applied Physiology. For Yates, who's a new mom of a seven-month-old baby girl, the timing couldn't be better.
"I've loved every minute of athletic training, but it's a demanding, high-stress job," she said. "I'm looking forward to the lifestyle shift and having more time with my family. I'm really looking forward to teaching full-time. Over the last three to five years, I've noticed a shift in my preferences; I'm more excited to read journal articles about teaching than I am about ACL injuries."
For the past seven years, Yates worked as an adjunct faculty member for CHS, teaching psychosocial aspects of athletic training and other healthcare courses. This fall, Yates will be teaching anatomy and physiology at various levels and a sports health course.
Yates, a Jacksonville, Florida native, recently obtained her doctorate in education with a specialization in teaching and learning from the University of St. Augustine for Health Sciences. She obtained her undergraduate degree in athletic training from the University of North Florida and her master's in athletic training from the University of Kentucky.
"Teaching was always part of my long-term plan," Yates said. I was also a clinical preceptor, and I get a lot of fulfillment from those 'lightbulb moments,' where it's clear someone understands a new concept. I have a knack for translating information and skills in ways people understand."
Yates loves working with college students because they keep her current.
"I like seeing the challenges young folks are up against today and how that differs or is similar to when I was an undergrad," Yates said. "I like hearing their perspective on the world, the university system, and their classes. I also love getting feedback from my students about how I run the course, especially as preferences change generationally. I like knowing what kind of tech they like, so I can stay fresh and relevant as an educator."
She also wants her students to know that learning is fun.
"Even something like anatomy, which is a pretty heavy subject, can be fun," she said.
While she's looking forward to this new chapter of her career, some of her most memorable moments center on athletic training.
"Returning an athlete to play after a long process is a special feeling," she said. "When you have someone who's struggled a lot or suffered a traumatic injury, as an athletic trainer, you're in the unique position to be there for them from start to finish. You're there when the injury happens; then you're rehabbing with them four to seven days a week for months, and then you're getting them back out on the field or the court doing the thing they really love.
"I've had a few cases involving student-athletes, who worked really hard for a number of months and got back into full play when there were points where we didn't think that would happen, and that's just really special. Being a part of that every step of the way makes my heart smile."
As much as she's looking forward to teaching full-time, Yates won't be fully letting go of athletic training. In her free time, she plans to pick up some per diem athletic training work. She also loves woodworking and building things with Lego. Her next Lego challenge – building Assembly Square.