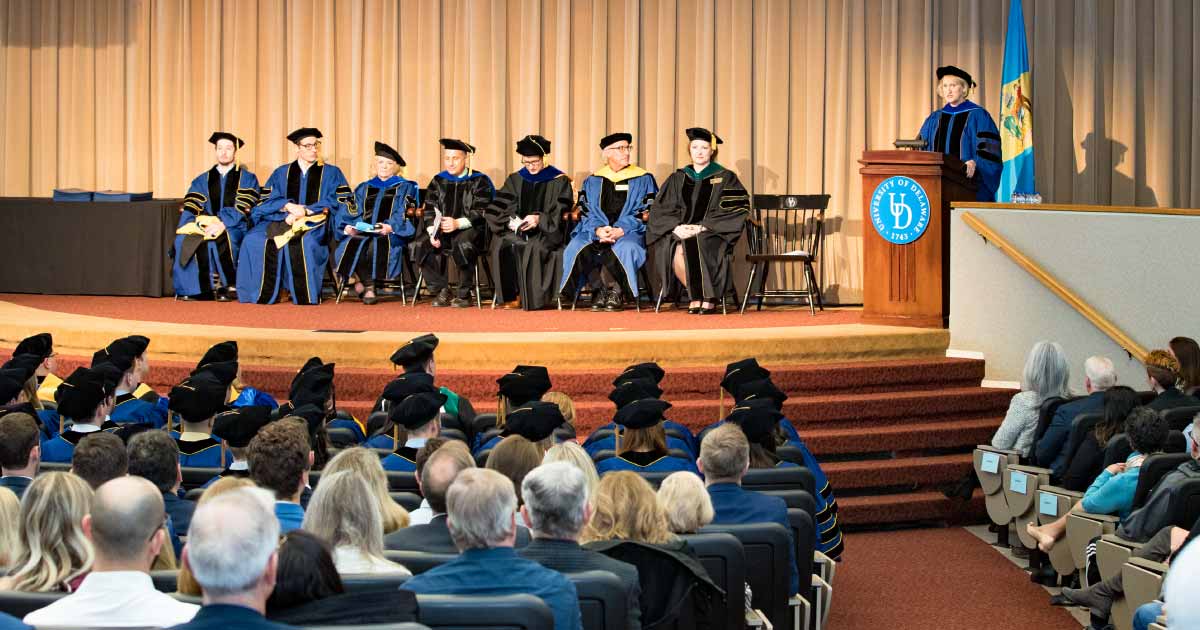 Physical Therapy Graduation: Class of 2023
March 24, 2023 Written by Colin Heffinger | Photo by Kathy Atkinson
At the Physical Therapy ceremony for the recently graduated Class of 2023, 55 students were recognized for their dedication in completing the University of Delaware's Physical Therapy program. The ceremony honored UD's 47th class of PT students and the 19th graduating class of students since establishment of the Department of Physical Therapy.
This year, the physical therapy graduation was completed fully in person for the first time since the COVID-19 pandemic began. Hundreds of students and their families gathered to recognize and celebrate the graduating class.
Darcy Reisman, Chair of the Department of Physical Therapy, led the ceremony. She explained how "physical therapy school is always a time of challenge and growth" for students. "But the past three years have truly been like none before," said Reisman. "Certainly, the pandemic, along with the other events of the past three years, shaped the future of the Class of 2023."
I believe these challenges have made them more ready than ever to tackle whatever life has in store, both personally and professionally," Reisman continued. "Over these years, they have shown patience, empathy, resilience, creativity and complete determination to get out into the world and make a difference."
Many of the newly graduated students plan to pursue career opportunities ranging from hospital-based pediatrics to outpatient orthopedics clinical work. Some students will also be continuing their studies at UD through the BIOMS program and in the Residency programs.
William Farquhar, Dean of the College of Health Sciences, provided closing remarks to the newly graduated students. "Many healthcare workers experience periods of burnout," Farquhar said. "Be mindful of this. Find the right balance between work, play, and family so you can continue to find pleasure in the service of others. Society needs you at your best."
"The faculty and staff here at UD will be quietly cheering for your continued success," Farquhar concluded. "Keep in touch with us. We are all very proud of the Class of 2023 PT graduates and wish the best as they launch their careers."