School of Nursing welcomes new faculty
August 30, 2023 Written by Amy Cherry | Photo by Ashley Barnas
The School of Nursing is welcoming three new faculty members for the 2023-24 school year. They include Nicole Donahue, Amanda Watson and Sandra Lockhart.* Learn more about what inspired Donahue and Watson to become nurse educators.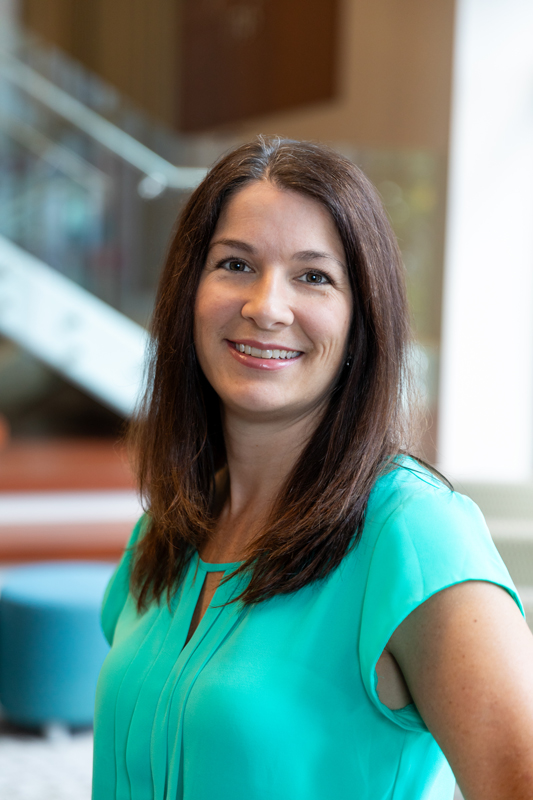 Nicole Donahue
Nicole Donahue remembers being a teenager in the hospital with her grandmother, who was diabetic and blind.
"Seeing what she went through health-wise and the nurses who took care of her inspired me to become a nurse," she said.
After nearly two decades as a labor and delivery nurse at ChristianaCare, Donahue is making the jump to academia. She's joining the University of Delaware School of Nursing full-time as an instructor. Donahue had previously worked as an adjunct instructor at UD.
"I love what I do, and it was a really hard decision to leave, but I want to devote all of my energy to UD," Donahue said.
Her passion is women's health and simulation and how the two intersect.
"Simulation, which continues to become more sophisticated, allows students to put what they've learned from books and class into practice in a safe setting," she said.
 This fall, Donahue will teach the simulation piece of the Women's Health Across the Lifespan course, where students will practice a natural birth, a postpartum hemorrhage, and post-partum depression.
"The students are so motivated and interested in learning; they want to soak it all in," Donahue said. "Even if I've delivered probably 10,000 babies, the person I'm taking care of – that's their first or second baby – so the students just remind me that you're really helping somebody."
Donahue got her undergraduate degree in nursing from UD's College of Health Sciences and her master's in nursing education from Wilmington University. While she recognizes not everyone wants to be a labor and delivery nurse, she hopes her nursing students keep an open mind.
"We need nurses, so teaching new nurses and helping bring them out into the world is really exciting to me," she said. "My hope is that students fall in love with something they never expected they would enjoy."
In her free time, Donahue likes to read historical fiction and mystery books on the beach and spend time with her family. She has two children, ages 15 and 12, and loves to travel. The top destination on her travel bucket list – Greece. She also loves skydiving.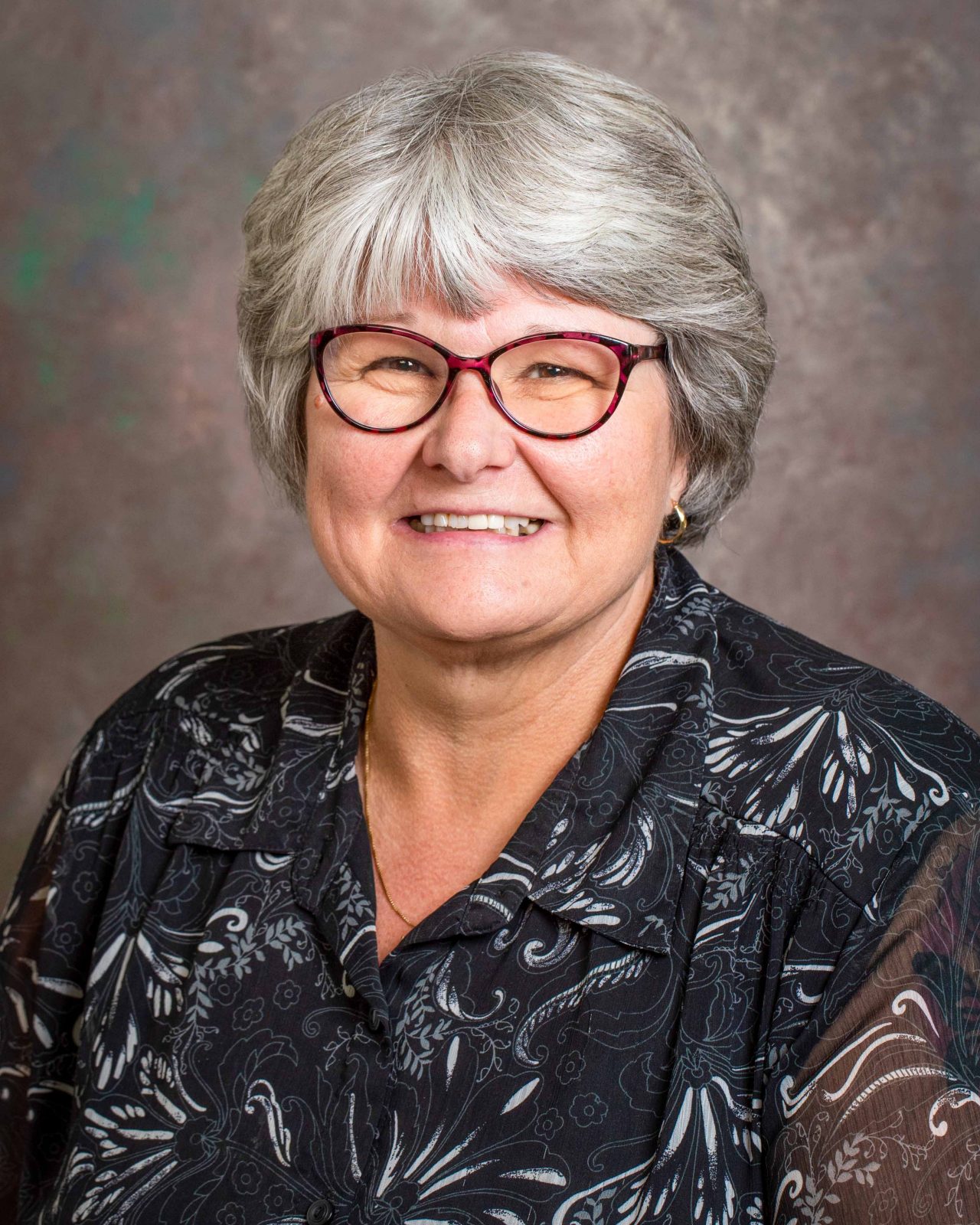 Sandra Nolan
From her youngest days, Sandra Nolan knew she wanted to be either a nurse or a teacher. Her grandmother lived with her family and was in and out of the hospital her entire life.
"I grew up in hospital lobbies watching nurses," she said. "Seeing the nurses come out in white dresses and blue capes, I was fascinated by them and fell in love with it."
One day, she realized she could do both.
"Having the opportunity to bridge nursing and teaching together was magical for me," she said.
Nolan graduated from the University of Delaware School of Nursing in 1993. She obtained her master's in nursing and healthcare administration from Wilmington University. She worked in the VA healthcare and now-ChristianaCare health systems for a few years before working as a nurse educator at Delaware Technical Community College in 1999.
She most recently taught at Immaculata University before her life reached a full-circle moment. Nolan has returned to her alma mater as an assistant professor in the School of Nursing.
"I love seeing aspiring nurses come in with a clean slate. You have an opportunity to teach them skills but also to impart the importance of empathy," Nolan said. "One of the greatest rewards I've had is when students thank me for teaching them empathy because it wasn't a part of the syllabus or something they could learn from a textbook."
Over the years, she's observed the field of nursing change.
"I've watched nursing develop into its own profession with its own guidelines and evidence-based practices, and now nurses have a voice at the table for what healthcare will become," Nolan said.
She's also watched education change.
"When I was in school, there was no email. We had just started surfing the internet with AOL," she said. "Now, everything is on the computer."
However, the technology and simulation experiences have transformed nursing education at UD.
"The simulation experiences are phenomenal," Nolan said. "I would have given anything to have that opportunity as a student because it gives you a chance to learn in a safe space, and if you make a mistake, you learn from it rather than hurt someone."  
Nolan still remembers the phenomenal nursing instructors who taught her at UD and hopes her future students remember her in this way.
"Dr. Beaman was my role model and remains my role model. She took us under her wing and educated us, which has been my philosophy throughout my teaching career," she said. "UD left an imprint on me 30 years ago that I never thought would come full circle."
Nolan adds Beaman taught her that every day is a learning opportunity for educators.
"As an educator, if you feel you can't learn from your students, it's time to retire," Nolan said. "Students come with a fresh slate; they have no idea, and their questions make you think within yourself."
She added, "And I think it's important when I don't know the answer to a question that they know I don't know; they need to know I don't know everything. As a nurse, if I don't know something, I need to know how to find the answer. They will learn from me that we're not expected to know everything and that asking questions is OK. If a new nurse goes into practice and is afraid to ask a question, they will make a mistake."
Her biggest accomplishment in her career, thus far, has been obtaining her doctorate. But she's also thankful to have a job she loves.  
"Every graduation, when I see students cross-over, and I know I played a part in that, that is very moving for me," she said. "I don't feel like I ever go to work. To be a nurse and an educator, that's a gift of gratitude that's almost impossible in today's world."
While at UD, Nolan also hopes to advance her research on compassion fatigue in medical-surgical nursing. She points to a recent American Nurses Association study showing that 40% of nurses leave the practice within two years.
"At that rate, we won't have nurses, and I can't help but believe that in nursing school, we're not already sending them out fatigued and burnt out because nursing school is not easy. We need to make the educational journey less stressful," said Nolan. "I'm certified in holistic nursing, so we've got to find a way to give them that work/life balance at the start of their career, which begins with their first nursing course versus halfway through their career, and they're leaving because they can't cope anymore."
Nolan also hopes to get involved in community healthcare for people experiencing homelessness.
She also serves as the director of program development for the Delaware Nurses Association and was appointed by the governor to serve on the Adult Correctional Healthcare Review Committee.
For fun, Nolan loves being a grandmother to her five grandchildren, ranging in age from 7 weeks to 15 years old. She has two dogs and four cats and is very involved with her church; she loves puzzles and reading fiction.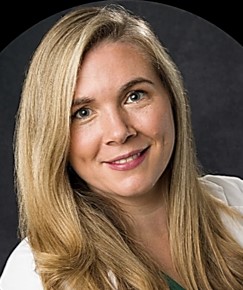 Amanda Watson
Dr. Amanda Watson never imagined she'd become a Certified Nurse Midwife (CNM) when she was an undergraduate student majoring in international relations and women's studies at San Francisco State University.
"There, I became interested in global healthcare disparities for women. I looked for ways to bridge that gap to increase access to women's healthcare for underserved and marginalized populations, and midwifery became a field that merged all of my interests together."
She began her career towards becoming a Certified Professional Midwife (CPM) in Oregon after attending her first delivery in 2007. In 2011, she moved back to the East Coast, got her accelerated bachelor's degree in nursing from Wilkes University in Wilkes-Barre, Pennsylvania, where she later taught as an obstetric clinical instructor in the Passan School of Nursing until 2019. Watson completed her Masters of Science in Nursing (MSN), Certified Nurse Midwife (CNM) and Doctorate of Nursing Practice (DNP) from Frontier Nursing University, all while being a single mom of two young children.
For the past several years, Watson has worked as the director of the Women's Health Department at La Red Health Center in Sussex County during a time when women's health was in crisis due to a shortage of ob-gyn's and hospital delivery services. During her time there, she's made great strides to improve women's healthcare access for underserved women, delivered hundreds of babies at Tidal Health Nanticoke, Bay Health Hospital, Kent Campus, and precepted a dozen Nurse Practitioner students in women's health care at the Federally Qualified Health Center.
"During my time at La Red, I was instrumental in developing new relationships with the different hospital systems in Sussex County to coordinate safe deliveries for a really high-risk patient population that doesn't have access to health insurance coverage," Watson said. "I feel a great responsibility towards this patient population and towards Sussex County because there's just a lot of broken pieces that have been stitched back together in the last 18 months."
Now, Watson is ready for her next challenge. She's joining the University of Delaware School of Nursing as an assistant professor. This fall, she's teaching Women's Health Across the Lifespan, and coordinating the clinical component of this course, where she'll encourage her students to be vigilant, use their instincts, and think critically.
"Even if they go into primary care, I want them to have a basic level of understanding of some of the emergency situations that happen with pregnant or recently pregnant women, who could walk through their emergency room or end up in a primary care setting," Watson said. "I want them to have awareness of the reproductive system, how it affects women's bodies and how they can make a difference in those non-obstetric settings by responding in the right ways to the people in or at-risk of crisis who walk through their doors.
"A lack of general understanding and awareness about women's health, coupled with severe social determinants of health disparities, are why we have such high morbidity and mortality rates; we are losing our specialized resources, especially in rural areas, and so it takes all hands on deck to really think about women's health from an integrated perspective," she said.
While at UD, Watson is looking forward to developing research on healthcare literacy and alternative forms of information-sharing that can improve health literacy and healthcare navigation for recently immigrated populations. She also hopes to study pre-conception and environmental factors that contribute to birth defects and genetic anomalies.
"I want to examine these issues from a population health perspective. For example, why does a certain community have a higher number of confirmed anomalies? Is it because we're not managing diabetes in advance? Is it because we're not getting people in for primary care visits? Is it because they're not taking prenatal vitamins? I want to find what's contributing to these anomalies."
Her doctorate research, which she plans to submit for publication at the end of the fall semester, is on effective entry into prenatal care for underserved women.
In her free time, Watson enjoys traveling to new cities with her 6-year-old daughter and 8-year-old son. She also enjoys camping, dancing, gardening, and cooking.