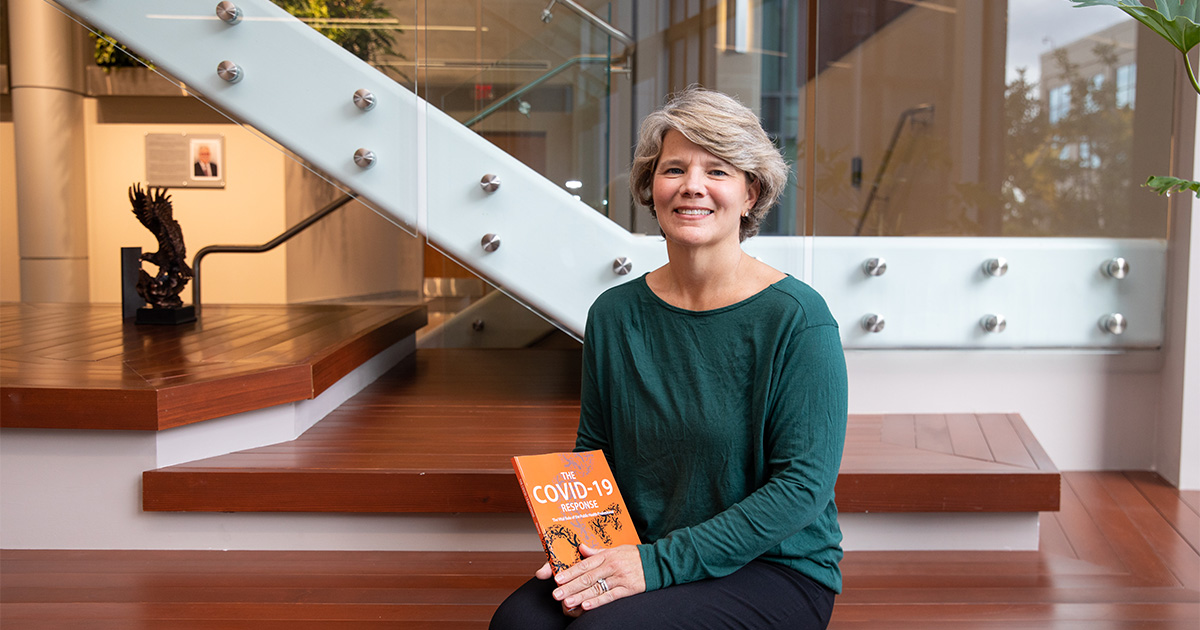 February College of Health Sciences For the Record
March 01, 2023 Written by CHS Staff | Photo by Ashley Barnas
For the Record provides information about recent professional activities and honors of University of Delaware faculty, staff, students and alumni.
Recent appointments, presentations, publications and honors in the College of Health Sciences include the following:
Publications
Jennifer Horney, professor and founding director of the Epidemiology Program within the College of Health Sciences, has coauthored a recent report by the Johns Hopkins Bloomberg School of Public Health Center for Health Security. The report, Post-Pandemic Recovery: From What, For Whom, and How? aims to look beyond the COVID-19 pandemic and critically think about what recovery from the largest public health crisis in our lifetime looks like. "Recovery from the pandemic cannot be a return to a pre-pandemic normal. We are facing more frequent and more diverse biologic threats and that means we must work to create a new normal that is more resilient with the engagement of impacted communities and policy makers," said Horney, who also serves as core faculty at UD's Disaster Research Center. The report serves as a strategic blueprint for governments and partnering agencies to ensure comprehensive pandemic recovery.
Jennifer Horney, professor and founding director of the Epidemiology Program within the College of Health Sciences, has published her third book. COVID-19, Frontline Responders and Mental Health: A Playbook for Delivering Resilient Public Health Systems Post-Pandemic, published by Emerald Group Publishing, focuses on the impacts of the pandemic on the health of first responders and the public health and emergency management workforce. The book also highlights the inequities exacerbated by COVID-19 and makes recommendations for changes needed to address growing gaps in workforce capacity. Horney, who serves as core faculty at UD's Disaster Research Center, has also authored The COVID-19 Response: The Vital Role of the Public Health Professional, published late last year, and Disaster Epidemiology: Methods and Applications, an academic text, published in 2017.
Appointments
Anjana Bhat, associate professor of physical therapy in the College of Health Sciences, has been selected to lead the Delaware INBRE Developmental Research Pilot Program. Bhat was chosen for this leadership position because of her extensive experience in clinical research, her strong understanding of the requirements needed to become an independent investigator and her ability to inspire students to engage in research. Bhat is a former DE-INBRE pilot project investigator, who parlayed DE-INBRE funding into an NIH grant focused on gross motor difficulties in children with autism. That research is currently the focus of her push to change the definition of autism to include gross motor difficulties as a specifier to create more clinical pathways for physical, recreational and gross motor therapies that would improve the quality of life of children with autism. "It is an honor to be selected as the pilot program director of DE-INBRE. My own research career is a product of funding support from IDeA programs such as DE-INBRE and CTR-ACCEL," Bhat said. "I felt it was the right time to pay it forward by supporting the careers of future early career investigators in Delaware." Bhat will also work with DE-INBRE pilot investigators to incorporate undergraduate students into their research programs to support DE-INBRE's mission to advance the biomedical workforce in Delaware.
Honors
Yendelela Cuffee, assistant professor in the Epidemiology Program and associate director of the Partnership for Healthy Communities, has been accepted into the 2023-24 Society of Behavioral Medicine Leadership Institute. Just 30 people were selected nationally for the Institute's seventh cohort. Cuffee has been an engaged member of the professional association for more than a decade. The mid-career yearlong professional development program leadership training opportunity kicks off with a two-day conference in Phoenix, Arizona, in April. This opportunity is designed to train leaders in behavioral medicine in collaborative research and mentoring. Through the program, Cuffee will be paired with a career coach and mentor who will work with her to bolster leadership skills and advance her research. "I am at a pivotal point in my career, and this program provides an opportunity to think about transitioning into a leader in behavioral health research and stepping more fully into the role of a mentor and advisor for students," Cuffee said.
Brandy Neide, a 2003 graduate of the College of Health Sciences, recently received the Lab Superstar Award from the American Society for Clinical Pathology Board of Certification. Neide was among five honorees recognized nationally for outstanding service in the field of laboratory medicine. "There's so many wonderful people in our field doing great work, so I was both surprised and humbled to receive this national honor," Neide said. Neide, who was a medical laboratory science (MLS) major at UD, has worked for Children's Hospital of Philadelphia for two decades. She currently serves as the director of laboratory operations in CHOP's Department of Pathology and Lab Medicine.
To provide information for inclusion in For the Record, submit a Communications Request Form here. To view a recent For the Record regarding the entire university, search here.