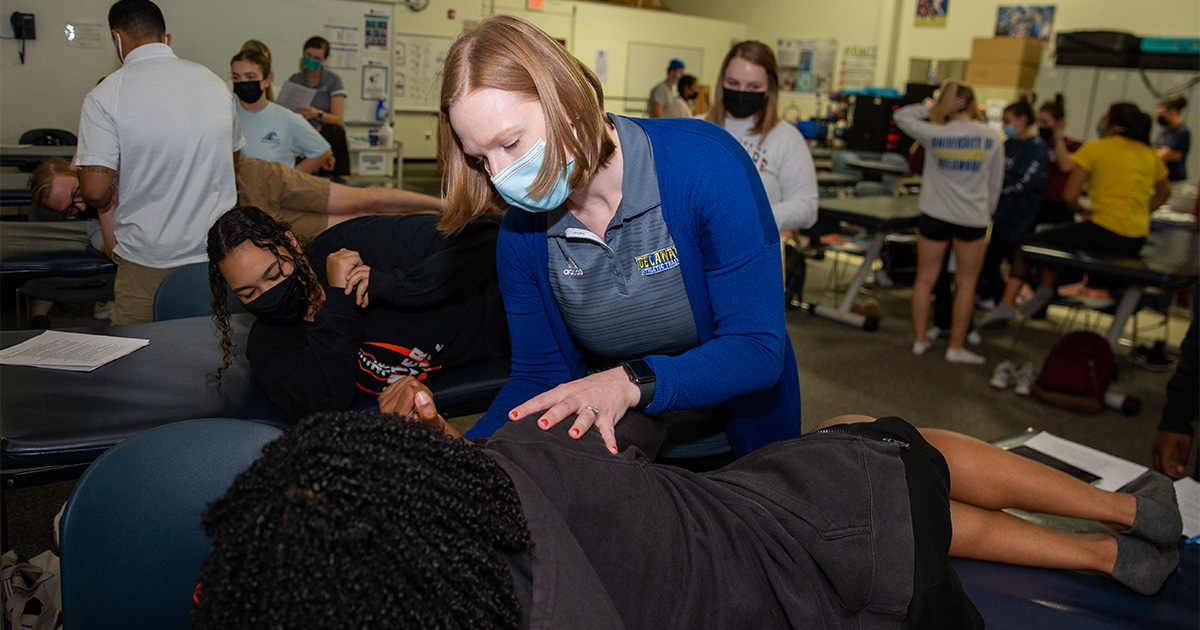 Wisthoff named director of athletic training education
March 15, 2023 Written by Amy Cherry | Photos by Ashley Barnas and Kathy F. Atkinson
The undergraduate sports health and master of science athletic training (AT-MS) programs within the Kinesiology and Applied Physiology Department (KAAP) have a new leader.
Assistant KAAP Professor Bethany Wisthoff was named director of athletic training education on January 1, succeeding the program's longtime leader, Thomas Kaminski.
"KAAP is very excited to have Bethany leading the AT program," said KAAP Department Chair John Jeka. "She has been intimately involved in its development and brings a fresh perspective. I have the utmost confidence that the program will flourish under her leadership."
Wisthoff became an assistant professor at UD in 2019 after completing her Ph. D. in biomechanics and movement science. She believes her experience in strategic processes within the department led to her new leadership role.
"I was part of the process for the curriculum development of our new master's program and recruitment of our students," she said. "I was also involved in similar processes when the sports health undergraduate major was established in 2019 to serve as a 3+2 mechanism for our athletic training program."
In high school, Wisthoff was a swimmer, who suffered from chronic low backpain. Those experiences would shape her career path.
"That sparked my passion for anatomy, how the body moves and works, why we're injured and how to treat those injuries," she said.
She served as a student athletic trainer in high school, taping and treating some injuries, and went on to pursue formal education in that field.
A native of Indiana, Wisthoff obtained her bachelor's degree in athletic training from Indiana University. She went on to obtain her master's in kinesiology and post-professional athletic training at the University of Hawaiʻi at Mānoa, where she was exposed to teaching for the first time and a new love was fostered.
"As a first year master's student, I was thrown into teaching emergency management course, teaching CPR and first aid skills," she said. "I had to learn on the fly, and I enjoyed teaching someone a skill and seeing that light bulb go off."
Now, as UD's director of athletic training education, she's spending a lot of time listening to students.
"I've enjoyed communicating with and working with students to learn about their perspectives, show them our offerings and the types of careers they could potentially pursue as they determine what they want to do."
She enjoys getting and implementing feedback from students too.
"I've used their feedback to adjust my syllabus mid-course," she said. "I might add a topic or adjust how I create a course or even completely rewrite a course, if that's what it takes, because each group of students learn differently."
As a lifelong learner, Wisthoff is also embracing her opportunity to learn and grow as a leader.
"I really enjoy seeing the innerworkings of a program, but also seeing students go from start-to-finish feeling supported," Wisthoff said. "I want to ensure we've provided them with a safe learning environment, and that by the end of the AT-MS program, they feel prepared to sit for their board certification."
In addition to her leadership responsibilities, she's teaching three one-credit courses this semester, including two sports health seminars, one for freshman and one for juniors.
"I just opened up the junior-level seminar to our sports health students, who are not pursuing athletic training or the 3+2 Program, so they can get pre-professional experiences with resume and interview development. Those skills will help them whether they're preparing to go to graduate school or enter the job market," she said.
While the undergraduate sports health major has seen tremendous growth over the past few years, Wisthoff wants to change perceptions.
"It's not just a mechanism to go into the AT-MS program. Students can obtain a four-year degree in sports health and pursue certifications in strength and conditioning, sport psychology or sport nutrition," she said. "It's about seeing where the job market is for our students and showing them how to potentially go down that path and achieve their goals."
She's also implementing strategic plans to grow and diversify the AT-MS program.
"I'm focused on inclusivity and ensuring an evaluative and holistic admissions program that expands our student population," she said. "Currently, the bulk of students enrolled in the AT-MS program at UD are students, who are part of the 3+2 Program. We'd like to accept more students, who've completed four-year degrees from other institutions, to help bolster the experience of all students by adding value and bringing in other perspectives."
In the future, she hopes students describe the sports health major as an immersive hands-on opportunity.
"I hope the sports health major prepares students for athletic training or another graduate program working with athletes," she said. "I hope they specifically develop the ability to communicate with others and skills related to anatomical structures for musculoskeletal injuries, strength and conditioning, or ankle taping to prevent ankle sprains."
As both programs continue to grow, Wisthoff wants to expand faculty and is leading efforts to improve facilities at the Fred Rust Ice Arena, creating student-integrated spaces by turning empty offices into student study rooms.
For the AT-MS program, she aims to develop and continue the program's relevance nationally.
"We must continue to think outside the box, move the bar forward, and be inclusive and welcoming to all of our students while creating a fun and safe environment for them to learn and become competent advanced athletic trainers," she said.