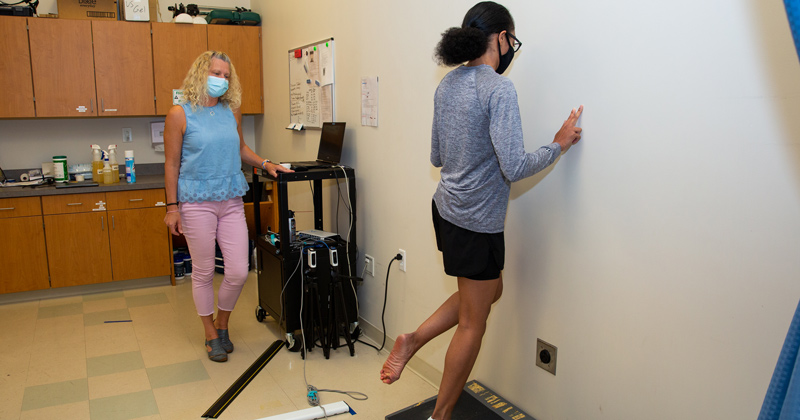 April College of Health Sciences For the Record
May 01, 2023 Written by CHS Staff | Photo by Ashley Barnas
For the Record provides information about recent professional activities and honors of University of Delaware faculty, staff, students and alumni.
Recent appointments, presentations, publications and honors in the College of Health Sciences include the following:
Presentations
Karin Grävare Silbernagel, professor and associate chair of physical therapy, was recently featured on the E3Rehab Podcast, which features world-renowned experts in rehabilitation, performance and pain, to discuss Achilles tendinopathy, Achilles tendon ruptures and the recovery process. "Generally, recovery from Achilles tendinopathy takes six months to a year," Silbernagel said. "I don't consider you fully recovered until you have no pain for one year. That's a very high bar, but I've seen so many patients that get well doing their exercises, then they stop doing their exercises and they don't fully recover. You must continue that maintenance on the road to recovery." Silbernagel also gave a sneak peek into the results of a new study she conducted that shows the timeline for recovery from Achilles tendinopathy can vary. "Our data shows a large improvement at eight weeks, which I wasn't necessarily expecting," she said. "By teaching them about their injury, they get a lot better, and they continue to progress. Then, they hit a plateau at four to five months. So, we see this progression where some people improve really quickly, and others take a longer period of time." The discussion also centered on the largest findings in tendon-related research over the past two decades as well as risk factors, surgical and non-surgical considerations, recommendations and objective testing for tendon-related injuries. The podcast is available or download on Spotify and iTunes.
Jennifer Horney, founder of UD's epidemiology program and core faculty for the Disaster Research Center, recently appeared on the Emerald podcast series to talk about her latest book, COVID-19 Frontline Responders and Mental Health: A Playbook for Delivering Resilient Public Health Systems Post-Pandemic. "We know that people involved in the response to disasters, outbreaks and public health emergencies are actually impacted, physically and mentally, by being a participant in the response," Horney said. On the podcast, Horney also discussed lessons learned from the COVID-19 pandemic. "It's very easy to return to the status quo. It's harder to critically examine what we did well, what we did not do well and change," she said. "In a pandemic, it's harder to define what that status quo looked like, but we shouldn't go back to a time where people came to work sick because they didn't have any sick time." Horney's book also makes recommendations for changes needed to address growing gaps in the public health workforce as the COVID public health emergency prepares to expire in Delaware in May. "I hope that the end of the emergency doesn't mislead us into thinking there isn't more work to do. Because there is a lot more work to do especially around equity."
Honors
Kayla Seymore, a fourth-year doctoral student in biomechanics and movement science, has received a prestigious F31 Fellowship from the National Institutes of Health. Seymore was awarded the Ruth L. Kirschstein National Research Service Award for Individual Predoctoral Fellowships to Promote Diversity in Health-Related Research. Seymore's research focuses on Achilles tendon injuries in adolescents. "There's not a lot of acknowledgement of people from underrepresented or minority backgrounds succeeding in STEM," Seymore said. "This award means a lot to me, and I'm proud to represent the University of Delaware and underrepresented populations as we work to advance the science around the treatment and prevention of tendon injuries." Seymore is working closely with Karin Grävare Silbernagel, professor in the Department of  Physical Therapy in the College of Health Sciences, who's received international recognition for her research into tendon injuries. "It has been amazing to see Kayla grow as a scientist since she came to UD," Silbernagel said. "She is a very deserving recipient of this highly competitive fellowship."
Alicia Downer, facilities coordinator for the CHS Facilities Team, recently received the 2023 Zeta of the Year award. Downer was originally initiated into Zeta Phi Beta Sorority Incorporated, Chi Theta Chapter, in May 1992. She has served more than 22 years as a professional painter for the University of Delaware, which aided her to take classes and finish her degree. During her employment, Downer served critical roles as vice president and executive board member for the American Federation of State, County and Municipal Employees 3472. She was the first woman to serve as vice president in the local 3472's history, the first woman in the skilled trades to attain the title of Senior in the University of Delaware's history, and led negotiations for multiple collective bargaining agreements. Downer was promoted to facilities coordinator last month and is an active member of the Epsilon Rho Zeta Chapter of Zeta Phi Beta Sorority Incorporated where she serves on three committees. 
Jennifer Graber, associate dean of academic affairs and practice initiatives for the School of Nursing, was honored at the International Society of Psychiatric-Mental Health Nursing's (ISPN) 2023 conference in Southern California in late March. She received the ISPN Education Award, which recognizes exceptional creativity and effectiveness in curriculum development and teaching strategies. ISPN Education Award recipients are considered mentors and role models by both colleagues and students. UD School of Nursing doctoral alumna Rebecca Ivory nominated Graber for the award. "This is my specialty area, and it's a great honor to be recognized at an international conference," Graber said. Graber has been an active member of ISPN since 2016. She currently serves as the coordinator for the Northeast region. At this year's conference, she presented along with Ivory on Operator Syndrome and Navy SEALs and what their brain health predicts about asymmetric warfighters' and survivors' future mental health needs from the Ukrainian battlefield and beyond.
Junior nursing major Rayne Roberts took home first place in the undergraduate poster contest at the Eastern Nursing Research Society's annual conference in Philadelphia. This year's conference theme was "Promoting Liberty: Addressing Determinants of Health Through Nursing Science." As a Summer Scholar at UD, Roberts worked with Lauren Covington, assistant professor of nursing, in her ongoing research into sleep and stress in socioeconomically disadvantaged families. Roberts conducted data analysis on a past study of Covington's and found correlations between depressive and anxiety symptoms in caregivers' sleep efficiency. She also found those mental health symptoms impacted child sleep efficiency as well. "This was my first time conducting research, so I was in shock when I received the first-place ribbon," Roberts said.  "It's surreal to think I'm not even 20 years old, and I've already surpassed many goals I've set for myself. It's a humbling experience." 
Covington was impressed with Rayne from the moment she met her. As a Summer Scholar, Roberts received research training and one-on-one mentorship from Covington. "She is the first undergraduate nursing student, who reached out to me unsolicited, having already reviewed my research program. She was eager to get involved in any way she could," Covington said. "I was thrilled to have Rayne represent my work. My time working with Rayne has highlighted her passion for working with underserved groups, her sharp critical thinking skills and her desire to enhance her knowledge in all areas. She's a budding nurse scientist, and I'm incredibly proud of her hard work and perseverance."  Roberts also won second place at the College of Health Sciences Research Day poster competition.
Nursing science doctoral candidate Sanaz Taherzadeh won third place in the Ph.D. poster contest at the Eastern Nursing Research Society's (ENRS) annual conference in Philadelphia. This year's conference theme was "Promoting Liberty: Addressing Determinants of Health Through Nursing Science." Taherzadeh's research included a secondary analysis of the association between sleep disturbances and pain and the impact of social determinants of health on these associations in people over the age of 40 with arthritis. "It was so unexpected," said Taherzadeh, who's in her second year in the program. "It's so competitive. Many great universities had amazing research on display at the ERNS conference so it's a great feeling to have contributed to nursing science and an honor to represent the University of Delaware at ENRS." Xiaopeng Ji, assistant professor of nursing, served as a research mentor to Taherzadeh during her independent study, which provides new insights for mitigating health disparities in pain management among Black adults through improved sleep health. "I'm incredibly proud of Sanaz for winning this prestigious award. The competition is impressive with many great schools and Ph.D. programs represented," Ji said. "Being recognized as among the best of the best is a significant accomplishment, and it's a reflection of the hard work and dedication of Sanaz and the School of Nursing's great commitment to student success."
To provide information for inclusion in For the Record, submit a Communications Request Form here. To view a recent For the Record regarding the entire university, search here.